Lesbian, gay, bisexual and transgender (LGBT) rights groups are not happy about a radio contest that led to the marriage of two straight men in the name of rugby tickets.
New Zealand's The Edge radio station launched its "Love You Man" contest last month. The contest was set up to see how far two best male friends would go to win a trip to the Rugby World Cup in 2015. The Edge has apparently made a name for itself staging outrageous weddings, starting 13 years ago when they married two complete strangers.
"After the announce this morning, and the positive reception from our listeners, I am confident 'Love You Man' will add to The Edge's reputation of pushing the boundaries," Program Director Leon Wratt said in an August press release. "We're not out to offend, just to make entertaining radio."
Offend it did, however.
After contest winners Travis McIntosh and Matt McCormick were legally married on Friday, Sept. 12, at Eden Park stadium in Auckland, gay rights groups spoke out against the stunt.
"Something like this trivializes what we fought for," Neill Ballantyne, coordinator of the Otago University Students' Association Queer Support, told the New Zealand Herald. He said the contest positioned same-sex marriage between two men "as something outrageous that you'd never consider."
Alex Greenwich, a member of the Australian Parliament and former leader of the group Australian Marriage Equality, expressed his disapproval to the Sydney Morning Herald.
"It essentially makes a mockery of marriage. Marriage is a really important institution about love and commitment and it's sad to see that there are people who are making a joke out of that," he said. "Gay and lesbian people are fighting for the right to marry in Australia and have been fighting for the right in New Zealand, and it's because they take marriage extremely seriously, and the commitments and responsibilities that come with that. Here are two straight guys making a joke of that, and that's deeply concerning."
McIntosh downplayed the backlash, telling the New Zealand Herald: "We are not here to insult anyone. We are here to do our own thing and travel our own path."
Marriage equality passed in New Zealand last year, making it the 13th country in the world and the first in the Asia-Pacific region to legalize same-sex unions, according to the Associated Press. However, the fight persists in Australia.
A spokesperson for The Edge was not immediately available for comment.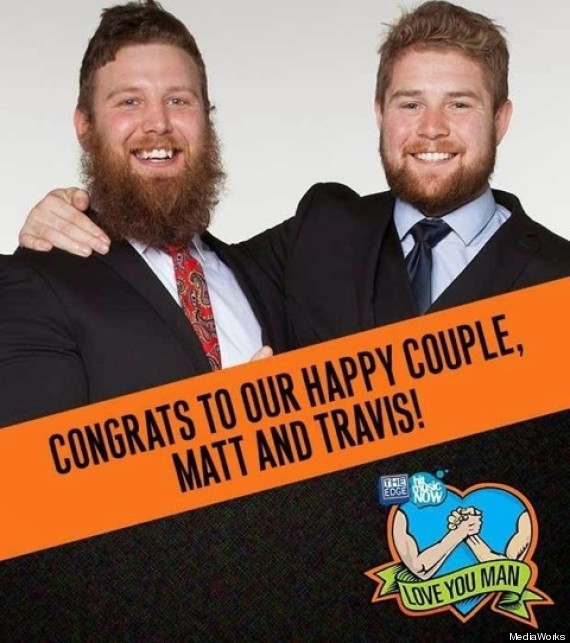 h/t Gay Star News