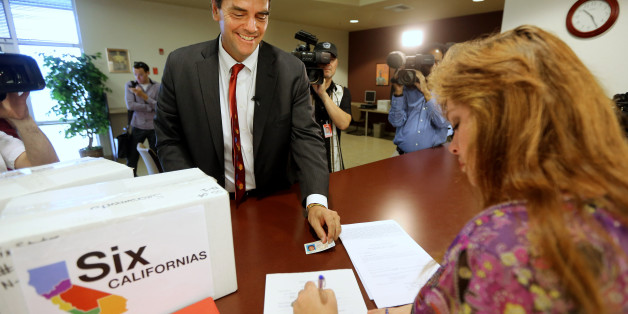 A starry-eyed ballot initiative to split California into six separate states will not appear on the November 2016 ballot because it failed to gather enough qualifying signatures, the state announced Friday.
Just 66 percent of the signatures on Silicon Valley venture capitalist Tim Draper's petition were valid, California Secretary of State Debra Bowen's office tweeted with the release of the measure's rejection. Petitions require 807,615 valid signatures, but the proposal, dubbed "Six Californias," fell short, with just 752,685 valid signatures.
It became clear days before the Friday deadline that making the ballot would be a long shot, as the petition would need an unlikely 207,752 valid signatures from Los Angeles County and three others that had not yet reported their petitions, according to the San Francisco Chronicle.
The initiative reasoned that California was too big to function as one government and should be split up into six autonomous states: Silicon Valley, West California, North California, Central California, Jefferson and South California. Even if the proposal had made it on the ballot and been approved by Californians, the likelihood of Six Californias becoming a reality would remain incredibly far-fetched, as Congress would need to approve the legislation.
BEFORE YOU GO
PHOTO GALLERY
10 Ways The U.S. Is Getting Worse For Most Americans