TOP STORIES
U.S. TRYING TO BUILD BROAD ANTI-ISIS COALITION "In declaring that the United States would degrade and 'ultimately destroy' an al-Qaeda offshoot in Iraq and Syria, President Obama articulated an objective that the United States has yet to achieve against any of the Islamist adversaries it has faced since the Sept. 11, 2001, attacks." The U.S. is hoping to enlist an international coalition made up of "Arab states, European allies and long-time U.S. adversaries such as Iran and China" in the fight against the extremist group. A CIA spokesman revised previous manpower estimates for the extremist group, saying it could "muster between 20,000 and 31,500 fighters across Iraq and Syria." James Foley's mother said she was "embarrassed and appalled" with how the U.S. government had handled her son's captivity, and detailed how they threatened prosecution if the family paid his ransom. [WaPo]
FEARS FOR LIBERIA AS EBOLA RAGES Various heads of state in Liberia are calling the outbreak the greatest threat to the country since the civil wars that consumed it from 1989 to 2003. A football stadium in the nation's capital, Monrovia, is being converted into an emergency treatment center to help treat the onslaught of patients. In Nebraska, Rick Sacra, the third American doctor to be treated, is expected to recover. And could the evolving virus mutate so that it's transmissible via air? [Story, Image via WaPo]
BIG BROTHER'S WATCHING "The federal government was so determined to collect the Internet communications of foreign Yahoo customers in 2008 that it threatened the company with fines of $250,000 a day if it did not immediately comply with a secret court order to turn over the data. The threat — which was made public Thursday as part of about 1,500 pages of previously classified documents that were unsealed by a federal court — adds new details to the public history of a fight that unfolded in secret at the time, as Yahoo challenged the constitutionality of a statute that legalized a form of the Bush administration's program of warrantless surveillance of foreigners — and lost." [NYT]
100% VOTER TURNOUT POSSIBLE FOR SCOTLAND REFERENDUM "Some 4,285,323 people have now registered to vote in Scotland's independence referendum on Sept. 18, making it the largest ever vote in Scotland, according to Scotland's electoral board. Scotland has a population of around 5.3 million, with approximately 4.4 million people aged over 16, and so able to vote in the referendum. That's not far off a 100% turnout for eligible voters." Bankers have begun to worry that the potential exit of Scotland could trigger Britain's departure from the EU. [USA Today]
THE EDUCATION DEPARTMENT WANTS YOUR MONEY No matter how old you are. "The Education Department is demanding so much money from seniors with defaulted student loans that it's forcing tens of thousands of them into poverty, according to a government audit. At least 22,000 Americans aged 65 and older had a part of their Social Security benefits garnished last year to the point that their monthly benefits were below federal poverty thresholds, according to the Government Accountability Office." [HuffPost]
ESPN: RICE TOLD GOODELL HE PUNCHED THEN-FIANCE Contradicting NFL Commissioner Roger Goodell's previous statement that Ray Rice had been "ambiguous" over what had happened, sources are telling ESPN that Rice had detailed the encounter to Goodell in June. Football players past and present are weighing in on whether Goodell should stay or go. The NFL changed up the Thursday Night Football was given a more "subdued" tone in light of the ongoing scandal. And Diana Moskovitz argues "the only thing unusual about Ray and Janay Rice is that anyone noticed." [ESPN]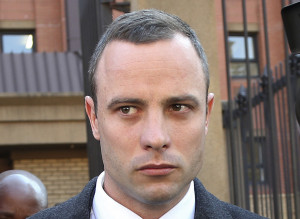 PISTORIUS GUILTY OF CULPABLE HOMICIDE "A South African judge on Friday found Oscar Pistorius guilty of culpable homicide, or negligent killing, in the shooting death of girlfriend Reeva Steenkamp and declared him not guilty of murder and premeditated murder. Judge Thokozile Masipa said Friday that the double-amputee athlete was not guilty of murder, as prosecutors had alleged." Here's a refresher regarding the charges the former Olympian faced. Legal analysts estimate he could be sentenced to five to fifteen years in prison. [AP]
OHIO SCHOOL SHOOTER CAUGHT AFTER PRISON ESCAPE T.J. Lane, the school shooter who killed three Ohio students in 2012, was apprehended after escaping from a prison in Lima, Ohio. During his escape, families of the students he killed were given police protection. [AP]
WHAT'S BREWING
TIM TEBOW'S HEADED TO GMA We knew that million watt smile wouldn't sit on the sidelines for too long. [Entertainment Weekly]
GEORGE CLOONEY TO GUEST STAR ON DOWNTON The Hollywood silver fox is headed to the soapy British period show for a Christmas charity film. [HuffPost]
MEET THE GUY WHO RUNS OVER 20% OF THE INTERNET "Every second, somewhere in the world four babies and two WordPress blogs are born." Here's how Matthew Mullenweg, the creator of WordPress, spends his day running the internet. [Story, Image via Fast Company]
YOU'RE SPREADING YOUR VERBAL TICS It's fine. [Slate]
DON'T REFRIGERATE EGGS IN EUROPE "We Americans, along with the Japanese, Australians and Scandinavians, tend to be squeamish about our chicken eggs, so we bathe them and then have to refrigerate them. But we're oddballs. Most other countries don't mind letting unwashed eggs sit next to bread or onions. The difference boils down to two key things: how to go after bacteria that could contaminate them, and how much energy we're willing to use in the name of safe eggs." [NPR]
TINDER: REVEALING OUR CLASSIST DISCRIMINATIONS "Essentially, we're constantly inventing narratives about the people who surround us — where he works, what he loves, whether our family would like him. And more than other dating services, which offer up comprehensive match dossiers, Tinder appears to encourage these narratives and crystallize the extrapolation process and package it into a five-second, low-stakes decision. We swipe, in other words, because of semiotics." [Story, Image via Buzzfeed]
TINDER FOR AD AGENCIES? Forget finding true love or your latest booty call, and welcome to Pitcher, a Tinder-esque app that allows companies to find ad agencies that meet their creative needs. [Ad Week]
ON THE BLOG
RYAN GRIM: THANK YOU, HUFFINGTON POST READERS "We suspected our audience would see the value in having a reporter on the ground in Ferguson. But were blown away by the response … When the fundraising effort expired, our readers had chipped in $40,969, enough to cover our reporter's salary for a year, with HuffPost picking up the costs of equipment and health benefits … By funding this project, HuffPost readers have placed their faith in us to deliver the kind of compelling coverage from Ferguson they demand. It wouldn't have been possible without the generous and enthusiastic support of our readers, and for that we offer our heartfelt gratitude." [HuffPost]
WE THOUGHT YOU SHOULD KNOW
~ Upgrade your selfies.
~ Is the new Batman being "downgraded from a genius detective to a rich bro with a tank?"
~ This app will tell you what's draining your iPhone battery so you don't have to ask to charge your phone for the zillionth time at your friends' houses.
~ Welcome to a new kind of NBA camp, the Rookie Transition Program, where you learn "business savvy, fashion know-how and good table manners."
~ You can buy a Harvard email address.
~ Have AB blood type? You're up to 82% more likely to develop memory problems later in life.
~ The Palins got into a family brawl.
~ You can order an iPhone 6 if these sites stop crashing.
~ This violinist played Mozart throughout her brain surgery.
~ If you download hipster emojis, does it make you less hipster?
Got something to add? Send tips/quips/quotes/stories/photos/events/scoops to Lauren Weber (lauren.weber@huffingtonpost.com). Follow us on Twitter (@LaurenWeberHP). Does somebody keep forwarding you this newsletter? Get your own copy. It's free! Sign up here.