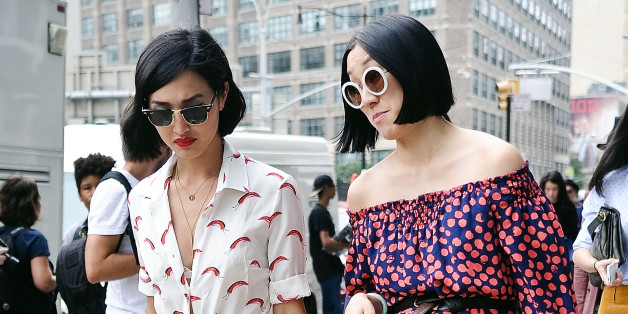 Hey guys, people in the fashion industry can be funny too.
New York Fashion Week has finally come to an end and after eight long days, we're moving on. First to London, then Paris and finally Milan. Yes, we enjoy NYFW for the street style, the new spring collections and the frequent Rihanna sightings, but the going gets tough when it's noon and you're already sipping your third iced coffee. Afternoon shows commence and editors become delirious -- sassy tweets ensue.
Scroll down to read the snarky commentary we enjoyed this week on Twitter.
The cushions @ralphlauren are like custom butt clouds this man is a genius.

— John Jannuzzi (@johnjannuzzi) September 11, 2014
Can you spot the difference? #MBFW #NYFW pic.twitter.com/TIRmimUG04

— #MBFW (@MBfashionweek) September 9, 2014
Let's just hang out, take some pictures, and hashtag the shit out of them.

— Laurel Pantin (@LaPantin) September 5, 2014
At this point of #NYFW, I've basically completely lost track of what day it is

— Eva Chen (@evachen212) September 9, 2014
So many people in fur and wool at Rag & Bone -- guys, it's not that cold out #NYFW

— Michelle Persad (@michelleapersad) September 9, 2014
Someone send this hat at #DonnaKaran to Pharrell. (I do love a crazy hat situation, I must say) #NYFW pic.twitter.com/EPuZGqXFYT

— Eva Chen (@evachen212) September 8, 2014
When you go to a #NYFW party where the food is teeny, you go straight to the nearest place w/ burgers. @KimBhasin @chanelinezp @Megan_Mayer

— Real Girl Project (@RealGirlProject) September 10, 2014
@laurabrown99 in this weeks Thursday Styles #NYFW #HashtagNation love it pic.twitter.com/7jdasXzVdj

— Liz Kim (@ElleKay31) September 11, 2014
Just saw another girl with a cold sore at #nyfw... GIRL I FEEL THE STRUGGLE TOO

— Chanel (@chanelinezp) September 7, 2014
Do these crazy eyebrow rings from @OfficialRodarte hurt? http://t.co/2M9uBHceTs pic.twitter.com/XPl3vbJ8eG

— The Cut (@TheCut) September 11, 2014
BEFORE YOU GO
PHOTO GALLERY
Fashion Week Street Style