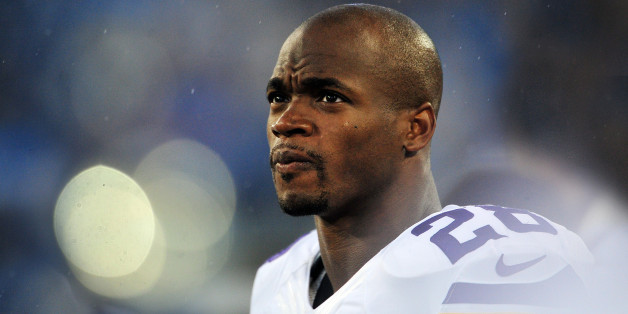 While the Minnesota Vikings were on the field without him, Adrian Peterson was on Twitter. The running back, deactivated by the team after being indicted in a child injury case in Texas on Friday, shared a message about judging others with his followers on Sunday.
— Adrian Peterson (@AdrianPeterson) September 14, 2014
With Peterson's future status with the team unclear, Vikings executive vice president and general manager Rick Spielman told ESPN that "all options are on the table." Peterson, the 2012 NFL MVP, turned himself into police on Saturday and was quickly released on $15,000 bond.
"Friday night was the first we heard of the formal allegations against Adrian Peterson, and we decided, as an organization, that to deactivate him this weekend was in the best interest of everybody concerned," Spielman told ESPN's Sal Paolantonio. "We are, as an organization, still in the process of gathering information, and at the end of the weekend we will discuss what we will do going forward."
In a statement released to the media on Friday, Peterson's attorney claimed the alleged abuse involved disciplining a son with a switch. Citing police reports, Nick Wright of CBS Houston reported that the alleged abuse resulted in cuts and bruises to the child's back, buttocks, ankles, legs and groin.