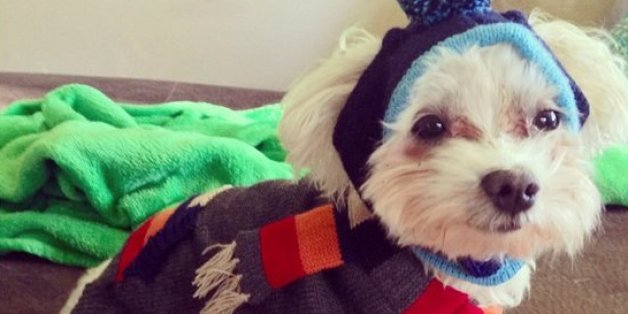 Summer is officially over.
How are we so sure? There's a certain thing you start to notice on Instagram, Facebook and Twitter once the crisper air starts to roll in. People seem to want to document this seasonal change.
... And by document, we mean take pictures of their pets wearing sweaters.
Forget fall foliage, the official sign of colder temperatures approaching is this:
That's right. A dog in a sweater.
Owners have sensed that the dogs are cold.
Especially their heads.
Some need both headwear and bodywear.
After all, dogs love how comfortable sweaters are.
So comfortable.
Dogs love to show off their fashionable ensembles on the street.
They absolutely never get tired of it.
They adore posing in their owner's beautiful photo collages, in which their dog wears their hand-made knitted sweaters.
After all, they know how hard they worked on making that sweater.
Especially all the different colors they made.
They even made one with stripes!
And you can see in the dog's eyes just how grateful they are for this warmth.
Even if Halloween is almost two months away ...
It's so great that some cats are jumping on the trend.
But, sadly, one couldn't quite fit into her winter sweater.
BEFORE YOU GO
PHOTO GALLERY
Pet Halloween Costumes