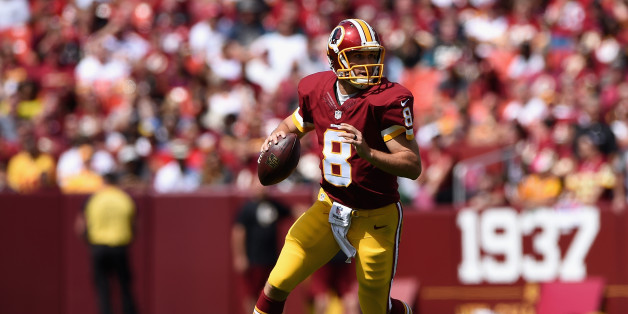 Attention Joe Theismann: It might finally be happening. The Kirk Cousins Era may be beginning.
Washington quarterback Robert Griffin III suffered a dislocated left ankle in the first quarter of the team's second game of the 2014 season. The injury could sideline RG3 for the remainder of the season and clear the way for Cousins to cement himself as the starting quarterback. Coming on in relief after Griffin was carted off the field, Cousins piloted the team to a 41-10 win over the Jacksonville Jaguars. On his very first pass attempt of the game, Cousins connected with Darrel Young on a 20-yard touchdown pass. He would finish with 250 passing yards a pair of touchdowns.
"I feel like we can win any game with Kirk Cousins," Washington coach Jay Gruden said after the win, via the team's website. "Kirk is a special guy. … He can handle it mentally, and obviously, physically. I feel like he can make every throw in the book, and we are going to move forward with Kirk."
With Griffin, who underwent reconstructive knee surgery after stellar rookie campaign in 2012 and struggled during the 2013 campaign, failing to move the offense during the preseason, Theismann proclaimed Cousins was the team's best option at quarterback.
"Let's stop beating around the bush," Theismann, a former Washington quarterback and commentator for the team's broadcast network, said during the fourth quarter of an August preseason game, via The Wasington Post. "Kirk Cousins has played much better at the quarterback position than Robert Griffin III has."
"It's going to be a decision that Jay Gruden is going to have to make," Theismann added. "Right now, Robert Griffin III is his quarterback. Now, if there was a quarterback competition, it wouldn't be a competition. Kirk Cousins would be the man I believe he would have to go to, because of the efficiency with which he has run [the offense]."
Both quarterbacks were drafted by Washington in the 2012 NFL Draft. After a blockbuster trade with the St. Louis Rams, Washington selected Griffin with the second overall pick. The team then drafted Cousins out of Michigan State early in the fourth round.
The reactions to Cousins' performance against the Jaguars on Twitter suggested that many believe he may not surrender the starting role now that he seems to have it.
Kirk Cousins. If this isn't a QB controversy, I don't know what is.

— Mike Greenberg (@Espngreeny) September 14, 2014
So, when do the RGIII trade rumors start? Helluva rise & fall for RG3 in DC.

Kirk Cousins era underway in Washington.

— Jason McIntyre (@jasonrmcintyre) September 14, 2014
Would the Colts look better if Andrew Luck went down? Think not.

— Colin Cowherd (@ESPN_Colin) September 14, 2014
BEFORE YOU GO
PHOTO GALLERY
PHOTOS: NFL Week 2