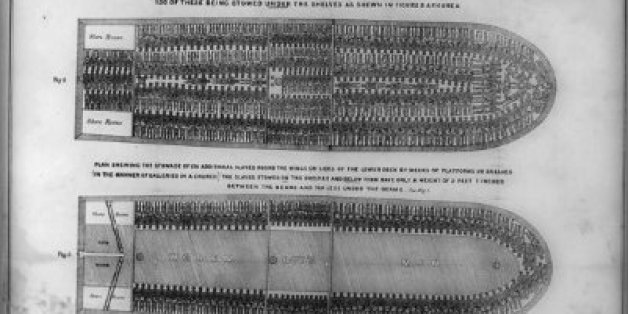 A Pennsylvania newspaper has apologized for an editorial cartoon that compared modern-day air travel to the so-called "Middle Passage" -- the trans-Atlantic leg of the slave trade that involved transporting captive Africans to the Americas to be sold into bondage.
The now-deleted cartoon, which ran in the Lancaster New Era last Saturday, drew a parallel between the hellish conditions under which African men, women and children were forcibly transported to the Americas and the present-day problem of uncomfortable seating on airplanes.
John A. Kirkpatrick, the president of Lancaster Newspapers, and Barb Roda, the company's executive editor, issued a statement Thursday, writing that they were "deeply sorry" for publishing the cartoon and ensuring readers that they would "promise to do better."
"To somehow link the inconveniences of air travel with slavery in general and the slave ships in particular was not only just plain wrong[,] it was deeply hurtful to our African American community and all those who understand the horrors inflicted on the men and women forced into the slave trade," Kirkpatrick and Roda wrote.
The paper also apologized on Twitter:
...While the editorial cartoon was not drawn by someone on our staff, the decision to run it on our pages was made here.

— LancasterOnline.com (@LancasterOnline) September 11, 2014
... We are deeply sorry about printing this offensive cartoon. We cannot erase the error we made last week.

— LancasterOnline.com (@LancasterOnline) September 11, 2014
"The African Slave trade was our holocaust and to a majority of sane African Americans it is painful for us to even entertain," said an unnamed Lancaster County pastor quoted in the paper's apology.
It's not clear who drew the retracted cartoon. A post on the newspaper's Twitter account on Thursday said that the cartoon "was not drawn by someone on our staff, [but] the decision to run it on our pages was made here." [Update, Sept. 15: Astute HuffPost reader Chet Williamson has informed us that the cartoonist's name is Robert Ariail. The original cartoon can be seen here at Ariail's website.]
(h/t The Guardian)