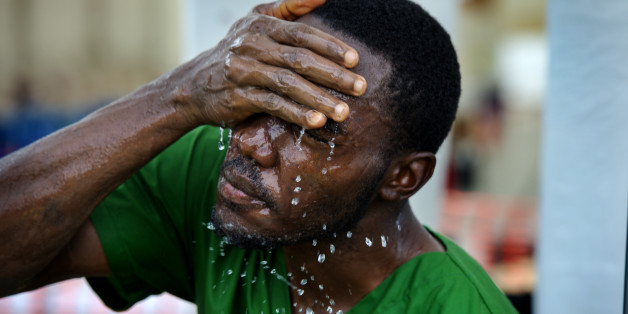 National governments and health organizations around the world are scrambling to overcome lapses in leadership and logistical issues to turn around a worsening Ebola crisis in West Africa. According to one aid expert, relief efforts are roughly four months behind schedule.
"Where we are today is probably where we should have been in May," Ken Isaacs, a vice president at aid organization Samaritan's Purse and former director of foreign disaster assistance at the U.S. Agency for International Development, told The Washington Post.
The World Health Organization said last month that a dramatically increasing infection rate may hit 20,000 people in the hardest-hit nations of Guinea, Liberia, Sierra Leone and Nigeria before the outbreak gets under control, The New York Times reported. The total number of cases -- which recently surpassed 4,000 -- has more than doubled since early August, as reflected in the data below:
Isaacs said the United Nations' approach to combating the disease -- its officials are assisting national governments of devastated regions to manage the outbreak -- is a flawed strategy: "Why would the world allow what is potentially a global epidemic to be managed by three of the poorest countries in the world?"
But what Isaacs may consider weak strategy is just one factor adding to the slow pace of relief. Poor planning has delayed American and British humanitarian operations, the outbreak hasn't garnered global empathy similarly to that of the 2004 tsunami in Indonesia or the 2010 earthquake in Haiti, and some believe the failures of western media to accurately portray the situation is affecting how those in developed nations are viewing the crisis.
In a New York Times opinion column, Silas Kpanan'Ayoung Siakor and Nora Bowier of the Sustainable Development Institute wrote that reports about the outbreak are fueling misperceptions:
Though the risks to the West posed by Ebola are minimal, Western media have fanned irrational fears, fueling panic about the spread of the virus to Europe and North America rather than calling for international assistance to combat the crisis in West Africa. The Western press blames superstition, myths and ignorance for the virus' spread through the region -- not the fact that West African facilities are inadequate and overwhelmed; government finances are already stretched to capacity; there is widespread corruption and poor coordination among government agencies; and the international response has been pitiful.
While media influence, strategy failures and poor planning may be playing roles in aid shortcomings, Dr. Steve Monroe of the Centers for Disease Control and Prevention (CDC) told the Associated Press that the biggest barrier in containing the virus in infected areas is a "critical shortage" of trained health professionals. President Obama is traveling to Atlanta on Tuesday to discuss the outbreak with CDC officials and deliberate further action from the federal government -- including the possibility of military involvement -- on top of the $100 million already allocated toward fighting the virus.
Support UNICEF's efforts to combat Ebola through the fundraising widget below.
BEFORE YOU GO
PHOTO GALLERY
Liberia Battles Spreading Ebola Epidemic