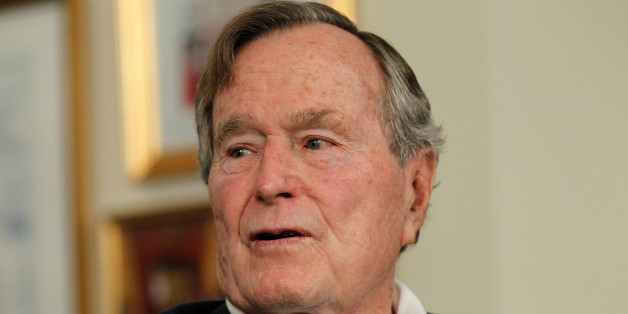 Former President George H.W. Bush endorsed Republican David Perdue in Georgia's U.S. Senate race Monday, despite his long-standing ties to Perdue's Democratic opponent, Michelle Nunn.
Bush said in a statement that he is endorsing the businessman because he is "genuinely worried about the direction in which our beloved country is heading."
"David Perdue's success in the private sector -- meeting a payroll and dealing with regulations -- gives him the kind of real-world experience that Washington, DC is sorely lacking today," he said.
Bush spokesman and speechwriter Jim McGrath tweeted a picture of Bush with Perdue and former First Lady Barbara Bush:
Fantastic visit at Bush's Maine home yesterday with David @Perduesenate, who 41 endorsed today. #GASen #gapol #gagop pic.twitter.com/mDfIAFQnLd

— Jim McGrath (@jgm41) September 15, 2014
On one hand, Bush's endorsement of Perdue isn't much of a surprise since they're both members of the Republican Party. In June, he also sent out a fundraising letter on behalf of national Republicans in support of Perdue.
But Nunn was previously the president and CEO of Points of Light, a service organization founded by Bush. He is now honorary chairman, and his son Neil Bush is chairman of the board of directors.
Nunn touted her relationship with Bush in her first TV ad, and Bush himself has praised her, as he did in this clip from 2009:
In a statement, Nunn said she still has "enormous respect" for the former president:
I have enormous respect for President Bush and am honored to have led his Points of Light Foundation for seven years. Our work together is a model Washington can learn from -- showing what happens when leaders put partisan differences aside to focus on common ground and helping people. I am proud that I worked with Neil Bush and President Bush to get important work done, even though we are clearly from different parties. That is what we need more of in Washington- not people who work together when they share the same party, but people who work together despite party differences. That experience -- running President Bush's organization that helps millions of people improve their lives and their communities -- is a central part of who I am and the kind of Senator I will be.
Perdue's campaign released an ad in September claiming that Points of Light had indirect ties to a terrorist organization based off a memo included in a prior campaign plan, though FactCheck.org took issue with that assertion.
HuffPost Pollster, which combines publicly available polling data, has Perdue leading Nunn in the November general election:
BEFORE YOU GO
PHOTO GALLERY
2014 Election: $500,000-Plus Super PAC Donors