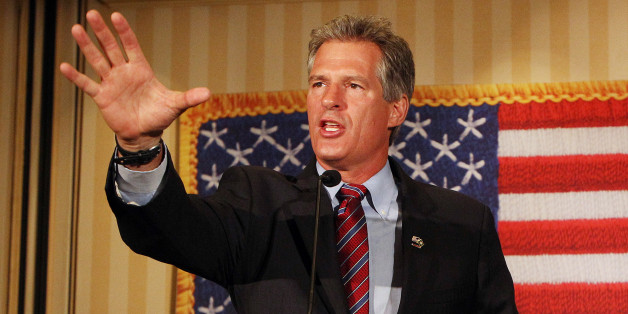 A flurry of new Senate polls released over the weekend suggest a closer race in New Hampshire, an emerging consensus that Hagan is leading in North Carolina, and internal polling continues to favor the people releasing it. This is HuffPollster for Monday, September 15, 2014.
CNN POLL SHOWS TIED RACE IN NEW HAMPSHIRE - A new CNN/ORC poll released on Monday morning finds Sen. Jeanne Shaheen (D) and Republican Scott Brown tied at 48 percent -- the best margin for Brown since January, when a Purple Strategies poll also found the race tied. A string of polling conducted since August has found Shaheen's significant lead over Brown narrowing, with two other non-partisan surveys giving her leads of 2 and 6 points. Non-partisan polls in June and July had her ahead 8 to 12 points. The most recent HuffPost Pollster estimate of the race, which as of this writing does not yet include the new CNN survey, gives Shaheen a slightly better than 6-point advantage. [Pollster chart]
Democratic polling (unsurprisingly) shows much better numbers for Shaheen - Reid Wilson: "The DSCC will release a poll today showing Sen. Jeanne Shaheen (D) leading former Sen. Scott Brown (R) 51 percent to 43 percent. Shaheen has a whopping 24-point edge among women; Brown leads among men by 10. And Shaheen's fav/unfav ratings are a positive 50 percent to 45 percent, while Brown's are underwater by 13 points. The DSCC loves hiring Boston-based pollster Tom Kiley for New England races; he doesn't get them wrong very often." [WashPost]
OTHER SENATE RACES
North Carolina - An Elon University poll released Monday gives incumbent Kay Hagan (D) a 4-point edge over Thom Tillis (R), 45 to 41. The Republican pollster American Insights found Hagan leading by 10 points. Five of the six publicly released surveys conducted so far in September in North Carolina have given Hagan at least a nominal advantage over Tillis. The most recent update of the Pollster poll tracking model, as of this writing, gives Hagan a slightly better than three percentage point advantage, although the margin remains close enough to hold her probability of winning in November under 60 percent. [Elon, American Insights, Pollster North Carolina chart]
Georgia - HuffPollster: "Two new polls in Georgia find Republican David Perdue running narrowly ahead of Democrat Michelle Nunn in one of the year's most competitive Senate races. An Atlanta Journal-Constitution poll conducted by Abt SRBI and released Friday gave Perdue a 4-point edge, with his 45 percent to Nunn's 41 percent, while a SurveyUSA poll for WXIA had Perdue up 3 points, 47 percent to 44 percent. Libertarian Amanda Swafford took 6 percent in the AJC poll and 5 percent in SurveyUSA's….HuffPost Pollster's Senate model currently has Perdue up about 5 points, 49 percent to 44 percent, with a 67.5 percent chance of winning over Nunn in November." A third poll, conducted by Landmark for WSBTV, gave Nunn a 3-point edge. [HuffPost, Pollster Georgia chart]
Alaska - Senate Majority PAC, a Democratic party Super PAC, released a new survey in Alaska showing Democrat Sen. Mark Begich with a 5 percentage point lead over Republican Dan Sullivan (45 to 40 percent). Previous surveys commissioned by the Democrats had shown Begich leading by a similar margin at the end of July, but nearly tied just after the Republican primary in late August. A CBS/New York Times/YouGov online poll conducted during the last two weeks of August has also had given Sullivan a 6 percentage point advantage. The most recent Pollster tracking model estimate, computed before release of the Democrats new survey, found a near tie in the race. [Harstad Research, Pollster Alaska chart]
Louisiana - Another Senate Majority PAC poll, conducted by Dem pollsters GQR, finds a relatively stable race, with Sen. Mary Landrieu (D) leading Republican Bill Cassidy, but not by enough to avoid a runoff. Pollster's estimate gives Cassidy a 1-point edge in a head-to-head against Landrieu. [GQR, Pollster Louisiana chart]
Colorado - A SurveyUSA poll for the Denver Post gives Democratic Sen. Mark Udall a 4-point edge over Republican Cory Gardner, but cautions the election "could go either way." The last six polls conducted of the race all show Udall narrowly ahead, by 1 to 6 points. The Pollster model gives Udall a 3-point advantage. [Denver Post, Pollster Colorado chart]
Iowa - A CNN/ORC poll has Bruce Braley (D) and Joni Ernst (R) virtually tied, 49 percent to 48 percent. Two other September polls, from Loras College and CBS/NYT/YouGov, put Braley up 4 and 2 points, respectively; the Pollster estimate gives him an edge of less than 2 points. [CNN, Pollster Iowa chart]
Overall Senate forecast - As of this writing on Monday morning, the overall HuffPost Pollster Senate forecast does not yet reflect the newly released polls in New Hampshire, Georgia, Alaska and North Carolina. Updates will appear later on Monday.
New Senate 'house effects' graphic - As of Friday afternoon, the HuffPost Pollster Senate Forecast page includes a new feature: A graphic featuring our current "house effects" estimates for every pollster in every state where the firm has conducted two or more polls (scroll down to find it). The tool also features a pull-down menu that allows users to filter the chart for any individual state. An automatically updating "CSV" data file is also available for download. [HuffPost Senate Forecast]
Our poll tracking model adjusts results in each state based on all surveys, adjusting for sample size and pollsters' "house effects," although we do not treat all polls equally. Our model considers the true poll average to be that of nonpartisan polls with a record of performing well. [see HuffPost for more details]
HUFFPOLLSTER VIA EMAIL! - You can receive this daily update every weekday morning via email! Just click here, enter your email address, and and click "sign up." That's all there is to it (and you can unsubscribe anytime).
PARTIES SPLIT ON ISSUES, ENTHUSIASM - Pew Research: "Heading into the final weeks before the midterm elections, Republican and Democratic voters are split not only over their candidate preferences, but also about the importance of key issues in the election. Foreign policy, the budget deficit and immigration are among the most dominant issues for Republican voters; each is named by 70% or more as "very important" to their vote in the fall. But only about half of Democratic voters say each of these issues are very important to their vote decisions….The survey also finds that GOP voters continue to be more engaged with the midterm election than Democrats. Republican voters are 15 points more likely than Democrats to say they've given a lot of thought to the election, and 12 points more likely to say they definitely will vote. GOP voters also express more enthusiasm for voting in the upcoming midterm than their Democratic counterparts. As a result, while the so-called 'generic ballot' slightly favors the Democrats (47% of voters say they plan to vote for the Democratic candidate or lean toward the Democrat, while 42% say they plan to vote for the Republican or lean Republican), the likely electorate is more favorable to Republican candidates than the overall electorate. When the generic ballot is narrowed to a subset of voters most likely to cast votes in November (1,150 likely voters), the result is more divided: 44% support the Democratic candidate, 47% support the Republican candidate." [Pew Research]
DEMOCRATIC PATH TO 50 SEATS IS GETTING CLEARER - Nate Cohn: "A few months ago, the Democratic path to a Senate majority looked long and arduous. It has started to look easier...The Democrats now appear to have a modest but clear lead in Colorado and Michigan, two states where Republicans entered the summer with high hopes. Over the last month, a diverse set of pollsters has given Senator Mark Udall, the Democratic incumbent, a lead of an average of 3.7 points. In Michigan, the Democrat, Gary Peters, leads by an even larger 5.5-point margin...If Colorado and Michigan are penciled into the Democratic column, the Democrats will then need three more states to get to a majority. The Democrats have a fairly broad set of options for those states, but the likeliest possibility is that the election comes down to three: Alaska, Iowa and North Carolina. All three pose big challenges to Democrats….Nonetheless, it is not clear that the Republicans are favored in any of these states. In North Carolina and Iowa, the Democrats maintain a fairly clear, if small, lead in the polls, and Alaska is notoriously difficult to poll." [NYT]
EUROPEANS WANT THE U.S. TO DO DIRTY WORK AGAINST ISIS - HuffPollster: "Residents in a number of European countries strongly support the American air strikes that have been launched in Iraq, but are much less supportive of their own nations taking the same action, a new YouGov poll finds. Seventy-one percent of respondents from Denmark, 65 percent of respondents from Sweden and France, 61 percent of respondents from Norway, 59 percent of respondents from Britain, and 55 percent of respondents from Finland expressed support for President Obama's decision to launch air strikes against ISIS targets in Iraq. Opposition to the air strikes did not rise above 18 percent in any of the six countries...When asked about the possibility of their own nation launching air strikes against ISIS targets in Iraq, however, Europeans were much less supportive...German and Finnish respondents expressed the weakest support for their country's military hypothetically commencing air strikes in Iraq. Only 26 percent of respondents in both nations said they would support the move. In contrast, 63 percent of German respondents and 50 percent of Finnish respondents expressed opposition to the hypothetical air strikes." [HuffPost]
POLL FINDS LITTLE CONFIDENCE IN OBAMA TO TACKLE ISIS - Mark Murray: "Nearly 70 percent of Americans say they lack confidence that the U.S. will achieve its goals in fighting the terrorist group ISIS, according to a new NBC News/Wall Street Journal/Annenberg poll. The findings come in the wake of President Barack Obama's national address announcing new measures to combat the Sunni militants….The poll – conducted before the latest execution emerged – showed that a combined 68 percent of Americans say they have "very little" or "just some" confidence that Obama's goals of degrading and eliminating the threat posed by ISIS will be achieved. Just 28 percent said they had "a great deal" or "quite a bit" of confidence. Still, 62 percent of voters say they support Obama's decision to take action against ISIS in Iraq and Syria, while 22 percent oppose it….A separate survey that re-contacted respondents from last week's national NBC/WSJ poll after the president's speech found a slight increase in the percentage of Americans who believe that military action against ISIS is in the nation's interest, with a rise to 68 percent from 65 percent." [NBC]
MONDAY'S 'OUTLIERS' - Links to the best of news at the intersection of polling, politics and political data:
-A poll of battleground states finds continuing economic pessimism. [Politico]
-Support for the death penalty has fallen to 56 percent in California. [Field Poll]
-A new poll finds only one in four California voters can even identify Gov. Jerry Brown's opponent. LA Times]
-Rasmussen finds the Hawaii gubernatorial race nearly tied. [Rasmussen]
-Rasmussen also finds Charlie Crist (D) leading Florida Gov. Rick Scott (R) by just 2 points. [Rasmussen]
-Americans are still dissatisfied with the way things are going in the U.S. [Gallup]
-Nate Silver reviews the historical tendency of Alaska polls to favor Democrats. [538]
-Harry Enten comments on Democrats running ahead of the national mood in purple states. [538]
-L.J. Zigerell looks into the different ways to measure which party is more responsible for polarization in Congress. [WashPost]
-David Wasserman says the 2014 midterms will leave the race and gender diversity gap in the U.S. House wider than ever. [538]
-Celinda Lake (D) argues the Democrats' 'midterm drop-off problem' may be the result of Democratic voters not knowing the consequences of the GOP gaining control of the Senate. [WashPost]
-Frank Newport finds President Obama's approval rating edge among women has held constant. [Gallup]
-Ethan Roeder (D) and Brent McGoldrick (R) explain how to run a data-driven political campaign. [Cook Political]
-Tom O'Grady discusses the recent increase in support for the referendum that would make Scotland independent. [WashPost]
-Michael McDonald launches his 2014 early voting tracking with some very early numbers from North Carolina. [Elections Project]
-The Brian Lehrer show hosts Nate Silver and Sam Wang. [WYNC here and here]
BEFORE YOU GO
PHOTO GALLERY
Waves Of Michele Bachmann