UPDATE: 12:00-- That was a terrifying few minutes there, but everyone can breathe again. Surge was briefly sold out, but it's back in stock. Since this could go on all day, we advise checking the Amazon.com site to see if the soda is still in stock.
Previously:
Everyone's favorite '90s soda is back and super fans are freaking out.
Surge, a popular '90s soda that was essentially Coca-Cola's take on Mountain Dew, is for sale on Amazon.com, and is Coca-Cola's first foray into "distributing a product solely through e-commerce." In an astounding display of the soda's popularity, Surge has already sold out once, and we're sure will do so again.
Known as the "fully loaded citrus soda," the fizzy drink was taken off the market in 2003 after making its debut in 1996. Now, thanks to the official SURGE Movement Facebook page -- the soda briefly made its return and might be here to stay for good.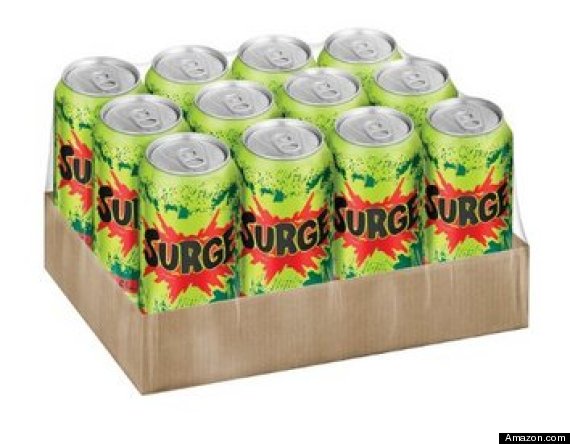 The SURGE Movement is a Coca-Cola fan group spearheaded by Evan Carr, Sean Sheridan and Matt Winans that has worked tirelessly for the past few years trying to get the famous soda back on shelves.
According to a Coca-Cola spokesperson, the soda could be back for good, but it all depends on the popularity of the comeback. "This is the ultimate test… we're leaving it in the hands of SURGE fans," said Racquel Mason, associate vice president of sparkling flavors, Coca-Cola North America. "Can 128,000 fans build and sustain a brand? We'll see."
Want to read more from HuffPost Taste? Follow us on Twitter, Facebook, Pinterest and Tumblr.
BEFORE YOU GO
PHOTO GALLERY
Famous Coca-Cola Myths