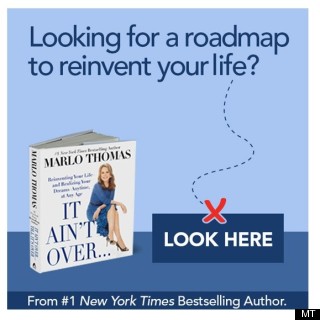 "One of the reasons I started my website is that I wanted a place for women to come together and dream. We women need to know that we don't have to hang on to an old dream that has stopped nurturing us—that there is always time to start a new dream. This week's story is about a former ballerina who decided to trade in her ballet slippers for boxing gloves -- at 40!" —Marlo, MarloThomas.com

By Lori Weiss
From the age of 7, all eyes were on the little ballerina with big potential. But with her purple turtleneck body suit, that doubled as a leotard, and bangle bracelets she wore for good luck -- Leslie Short wasn't exactly the stereotypical prima ballerina. Yet there was something about her that caught the eye of just about anyone who saw her twirl.
"We had a neighbor who used to dance with the Philadelphia Modern Dance Company," Leslie explained, "and she'd watch me playing outside, twisting and turning and doing cartwheels, and she saw something in me. So when she heard the Pennsylvania Ballet Company was looking for little girls, she asked my parents if they thought I might want to try out."
The moment the judges saw the 7-year-old spitfire teaching all the other little girls how to spin in the air, they knew she was a star in the making. The only challenge: convincing her to do things in a more conventional style.
"I remember the instructor telling me that I had to take off my bracelets," Leslie laughed. "I almost walked right out that door! Things really haven't changed much."
Little did they know, that one day, the little girl who clearly had her own way of doing things -- would take the delicate moves they were teaching her, and use them in an arena most ballerinas wouldn't even think of walking into.
But first, the budding ballerina had to be convinced to trade in her beloved bangles for pink ballet slippers. Once she slipped them on, it wasn't long before the magic began to happen. By the age of twelve, Leslie was touring the country as a professional dancer. At fifteen, she was training with the Joffrey Ballet -- with her sights set on a long career as a classical ballerina.
But as the story goes, with so many dancers, injuries began to take their toll. "At seventeen, I broke my foot during rehearsal," Leslie sighed. "I had a hairline fracture that I continued to dance on and finally it just gave out. I was devastated, because I thought I was going to lose my chance to become part of a big dance company."
A year later, the news would be even worse. Leslie needed to have an operation on both of her knees. The doctors told her that she should be happy to simply walk again. Dancing wasn't even a possibility.
Article Continues Below Slideshow
PHOTO GALLERY
Leslie Short
It was a one-two punch that might have taken other people down. But Leslie always seemed to fight her way back. While she knew she couldn't continue dancing as a classical ballerina, after a short stint in rehab, she took her moves to the theatre -- first performing in Atlantic City, then moving on to shows in Las Vegas and touring the world on cruise ships. Eventually she settled in Japan, where she choreographed shows and ran her own theatre.
By the age of 29, she'd reinvented herself more times than most people do in a lifetime. But after 22 years of being center stage, Leslie decided to come back to the United States and take a job that put others in the spotlight. She took a position at Macy's corporate office -- planning special events.
What no one could have seen coming, was that it would lead the former ballerina right back to where she began -- at the center of attention -- only this time it would be in a boxing ring.
"Daymond John was starting a young men's sportswear company, called FUBU, and my boss came to me and said, 'I want you to do a show with them and LL Cool J is going to perform.' I had been living out of the country and I didn't even know who LL Cool J was. I remember the night of the event, I was ordering everyone around -- telling this one to go here and that one to go there. LL's security team was saying, 'Who does this chick think she is?' But Daymond turned to me and said, 'You remind me of my mother. But I can't tell my mother to "F" off. Want to come work for me?'"
Leslie left Macy's and became the President of Marketing, Advertising and Public Relations for the hot new brand and found herself spending her days outfitting athletes and celebrities, and her evenings at sporting events that the company sponsored.

"We dressed NBA and NFL players and a lot of boxers," Leslie said. "Lennox Lewis wore FUBU, so we always went to his fights. I'd be there, in my short skirt and heels, sitting ringside -- screaming, 'Upper cut, step back, jab it!' People would look at me, like really? But I loved it. I grew up loving boxing. I always said that if I were a man, I'd be in that ring."
And then one day, it hit her. She'd never let anything stand in the way of what she wanted before. So why should boxing be any different?
"I remembered passing a place called Mendez Boxing on the way to work, so I went there the next day with my high heels on and gave them my credit card. I paid for a month and I'm sure they thought they'd never see me again. They trained Golden Gloves boxers! But I showed up at six the next morning. They showed me the basics and I thought, I'm in shape, I've been weight training and doing Pilates, how hard could this be? After jumping rope for three minutes, I realized I wasn't in the shape I thought I was."
"But I went from training three times a week to six times a week," Leslie recalled. "There were no women in the gym for me to fight with, so I was fighting these Mexican guys who were paid to hit me. The day Mendez handed me my own pair of boxing gloves, you would have thought someone had given me a yacht."
"And then one day he said, 'I really wish I had you when you were younger. You have a natural talent. With your mouth and your attitude, you could have been a pro fighter.'"
Leslie wasn't concerned about a title. She didn't need to win a competition. Just like in ballet, the only person she was competing with was herself. But she did want to know what it felt like to be in the ring -- in a real fight. So with the help of her coach, the ballerina turned boxer, coordinated an exhibition fight -- right there at the Mendez gym.
"I invited all my friends, just in case it was the only one I did," she said with a smile. "The gym was packed. FUBU made me t-shirts that said Team Balls. That's what everyone called me -- 'Balls'. I figured at my age I must have some balls to get in that ring and fight someone!"
"My coach was in the corner, just like in the movies. And we did three two minute rounds. In an exhibition fight, technically there are no winners or losers, but the audience knows who won. By the end of that fight, I had a trophy and a whole new respect in the gym. When I came into the office on Monday, Daymond said he wanted to take out an ad saying my PR girl can beat up your PR girl!"
And as if that wasn't enough, Leslie decided that she wanted to box in an even bigger arena. So at the age of 41, at 5'6" inches and 104 pounds, she got on a plane to Kansas City, Missouri, hoping to compete in an amateur boxing tournament.
"I remember Daymond saying, 'Let me get this straight. You're going to take vacation, which you never take, so that you can pay to get your head knocked off?' But it was important for me to go there and come back with a belt. So many people had invested in me. I wanted to bring a belt back to the gym."
So in a match to remember, in a Ringside Masters tournament, Leslie "Balls" took her opponent to the mat and walked back into the Mendez gym a champ.
"From that point on, that's what they had to call me," Leslie chuckled. "'Champ'. And I wasn't going to let them forget it!"
"You only get one shot at life. So you just have to live. Too often, we think that when we reach a certain age, we have to shut down -- that there are proper things that a lady should do. There's nothing in any book that says at the age of 40, you shouldn't start a new career or take up a new hobby or begin a new romance. It's up to you to decide how you want to live your life. It's about capturing your moment."
* * *
To read 60 other inspiring stories -- buy your copy of "It Ain't Over Till It's Over." Click here.
Add Marlo On Facebook:
Follow Marlo on Twitter:
Sign up to receive my email newsletter each week - It will keep you up-to-date on upcoming articles, Mondays with Marlo guests, videos, and more!