Investigators released new surveillance photos that show University of Virginia student Hannah Graham in her apartment building on Saturday, hours before she went missing.
Sophomore Hannah Elizabeth Graham, 18, disappeared in the early hours of Sept. 13th, according to WTKR.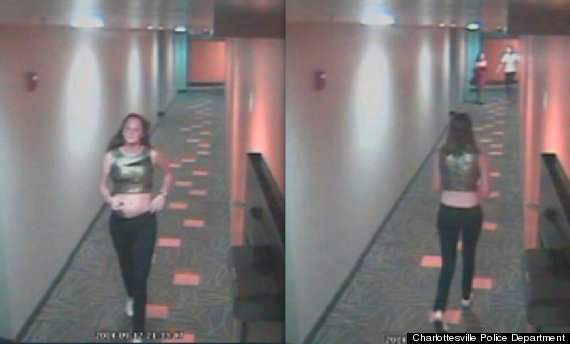 The surveillance photos were taken at 9:30 p.m. on Friday, Charlottesville police say. Graham reportedly texted a friend at 1:20 a.m. saying she was lost after leaving a party. It was the last contact anyone had with the teen prior to her disappearance.
Police said the student was "fairly well intoxicated" the night she went missing, according to WTVR. She was reported missing on Sunday.
More from WTVR:
The Charlottesville Police department, Albemarle County Police department and Virginia State Police are all searching for Graham.

Police described the 18-year-old Northern Virginia native as a 5'11" white female with a skinny build. She has blue eyes, light brown hair and freckles. Graham was last seen wearing a black crop top with mesh cut outs.
Anyone with information about Graham is urged to call the Charlottesville Police Department at 434-970-3280 or CrimeStoppers at 434-977-4000.
A previous version of this story named Graham as a freshman at the University of Virginia. The university clarified with the Huffington Post that Graham is in fact a sophomore.
PHOTO GALLERY
Hannah Elizabeth Graham
Like Us On Facebook |

Follow Us On Twitter |

Contact The Author