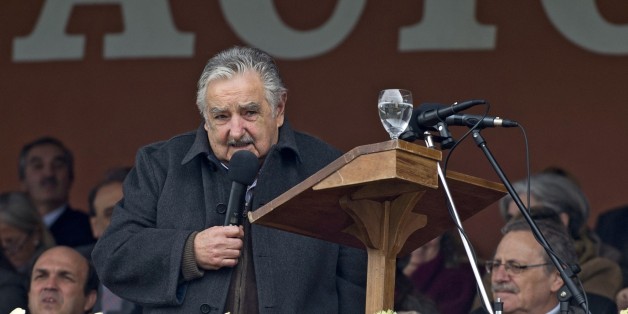 Uruguayan President José Mujica said last week his government is continuing to work with the Obama administration to accept prisoners from the U.S. military prison at Guantánamo, which Mujica referred to as a "disgrace."
Speaking at a joint press conference in Montevideo with Chilean President Michelle Bachelet, Mujica said he would "take responsibility" for "dismantling a human disgrace," according to a statement posted to the Uruguayan presidency's website. The comments were reported Friday by Latin American media, but not widely circulated in the English-language press.
"A lot of people shouldn't be locked up there," Mujica said. "They made a business out of that prison."
Mujica's words came after a moment of discord earlier this month between his government and the Obama administration over a New York Times article reporting Uruguay had refused to accept a transfer of six detainees from the U.S. military prison at Guantánamo over concerns that accepting them would undermine the leftwing Frente Amplio ahead of elections scheduled for October. The Times report was based on anonymous sources in the Obama administration and did not quote any Uruguayan government sources to address the claim.
The Uruguayan press then pounced on Mujica, looking for a comment.
Uruguay's Assistant Secretary for the Presidency Diego Canepa told the local press that "at no time have we discussed any date." He referred to the Times' reporting that Muijca had delayed the transfer of the detainees as "journalistic elaborations" that "don't correspond with reality," according to local press reports. Mujica himself later denied the report.
In his comments on Friday, Mujica argued that accepting the prisoners wouldn't undermine Uruguayan security -- a concern for some in a country where polls indicate that a majority of people do not support the transfer, according to the Associated Press.
"We have to have total confidence that we're not bringing ourselves a security problem, but rather refugees from the brutalities committed in war," Mujica said.
The First Lady of Uruguay, Sen. Lucia Topolansky, offered even stronger words about the controversial military prison in an interview with Uruguayan daily La República on Sunday.
"I don't call them prisoners," Topolansky said of the Guantánamo detainees. "Because they've been kidnapped. They don't have trials. They don't have lawsuits. They don't have charges."
Topolansky added that when the jail is empty, she hoped the United States would "return the territory to Cuba, which is who it should belong to."
Only eight of the nearly 800 people imprisoned at Guantánamo since 2002 have been convicted by U.S. military commissions as of last year, according to the Center for Constitutional rights. More than half of the 149 prisoners who remain have been cleared for release.

BEFORE YOU GO
PHOTO GALLERY
27 Reasons Why U.S. Shouldn't Lead War On Drugs