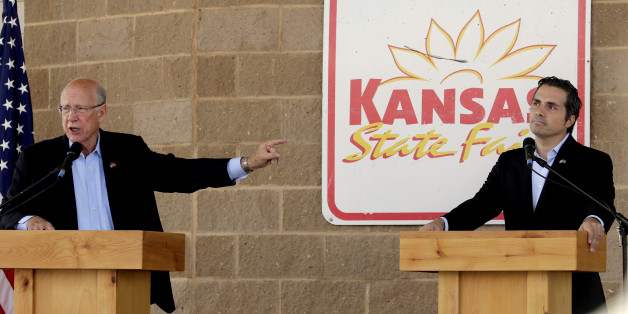 Polling shows the potential for a major upset in Kansas. Both parties back action against ISIS -- but that's where the consensus ends. And decades of survey data demonstrates Americans' reluctance toward making major constitutional changes. This is HuffPollster for Tuesday, September 16, 2014.
NEW POLL GIVES KANSAS INDEPENDENT 7 POINT LEAD OVER PAT ROBERTS - Independent Greg Orman leads Sen. Pat Roberts (R-Ks.), 41 percent to 34 percent, according to a poll released to HuffPost by the Democratic firm Public Policy Polling. Six percent said they'd still vote for Democrat Chad Taylor, who has announced he's leaving the race, but whose name may remain on the ballot pending a lawsuit being heard Tuesday. Another 4 percent opted for libertarian Randall Batson, with the remaining 15 percent undecided.
The PPP results find Roberts deeply unpopular, with a -17 net job approval rating among all voters, and only modestly positive numbers even among his Republican base. Orman, in contrast, has a +18 net favorable rating, with Democrats and independents giving him even stronger ratings, and Republicans about evenly split.
A 58 percent majority of Democrats say they intend to vote for Orman, who says he'll caucus with the majority party, but hasn't made clear what he'll do if the outcome of the Senate hinges on his choice. Sixteen percent still say they'd pick Taylor, while 9 percent opt for Roberts.
Independents also lean heavily toward Orman, with 45 percent choosing him, compared with 16 percent who prefer Roberts and 2 who choose Taylor.
Fifty-five percent of Republicans support Roberts, although nearly a third say they'd prefer the independent.
PPP didn't tell voters that Taylor had dropped out before asking the question. In follow-up questions, the poll finds that 63 percent of voters think Taylor's name should be removed from the ballot. Fifty-nine percent of Taylor's remaining supporters were aware that he had dropped out of the race but backed him anyway; another 36 percent were unaware.
While there's little other Senate polling to act as a comparison, PPP's numbers on the Kansas gubernatorial race -- 38 percent for Gov. Sam Brownback (R) and 42 percent for Democrat Paul Davis -- line up with other polling on the race.
The only other recent poll of the Senate race, released Sept. 8 by SurveyUSA, did inform voters that Taylor didn't wish to run, but that his name might still appear on that ballot. That poll found Orman and Roberts tied, at 37 and 36 percent respectively.
The partisan composition of the PPP and SurveyUSA polls were similar: self-identified Republicans make up just over half (51 percent) of PPP's sample of likely voters, Democrats are 26 percent and independents and those who say they identify with another party are 22 percent. That composition is very close to what the most recent SurveyUSA poll found a week earlier (50 percent Republican, 30 percent Democrat, 18 percent independent/other), and very similar to the average of SurveyUSA's four polls this year that included Orman in the Senate vote (52 percent Republican, 29 percent Democrat 29 percent Republican, 18 percent independent/other).
UPDATE: The new PPP poll doesn't significantly alter the HuffPost Pollster poll tracking model's assessment of the Kansas race. Since the model considers the two new polls along with four prior surveys that measured a three-way contest between between Roberts, it still estimates a close race, with Orman running less than two percentage points ahead of Roberts (40.7 to 38.8 as of this writing). Given the relatively small number of polls on the race and the large number that remain undecided, the level of uncertainty remains high. The model puts the probability of an Orman victory at exactly 50 percent.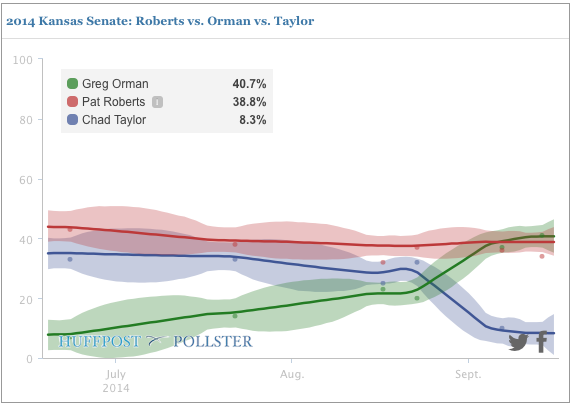 PPP used automated phone calls and an online questionnaire to survey 1,328 likely Kansas voters between Sept. 11 and Sept. 14.
HUFFPOLLSTER VIA EMAIL! - You can receive this daily update every weekday morning via email! Just click here, enter your email address, and and click "sign up." That's all there is to it (and you can unsubscribe anytime).
DUELING POLLS IN NEW HAMPSHIRE - Monday saw the release of four different polls of the New Hampshire Senate race presenting vastly different outlooks. A CNN/ORC poll put Sen. Jeanne Shaheen (D-N.H.) tied with Republican challenger Scott Brown, while a GOP poll sponsored by Citizens for a Strong New Hampshire found Brown up two points. A Rasmussen survey gave Shaheen a 6-point lead, while a poll for the DSCC found her up 8 points. The results, which follow a summer during which Shaheen's margin gradually narrowed, add up to her worst day yet in polling. Previously, Shaheen had led Brown in all but one January survey. HuffPost Pollster currently gives Shaheen a lead of about 4 percentage points and a 65.5 percent chance of winning, down significantly since we first launched our tracking model. [Pollster chart for NH]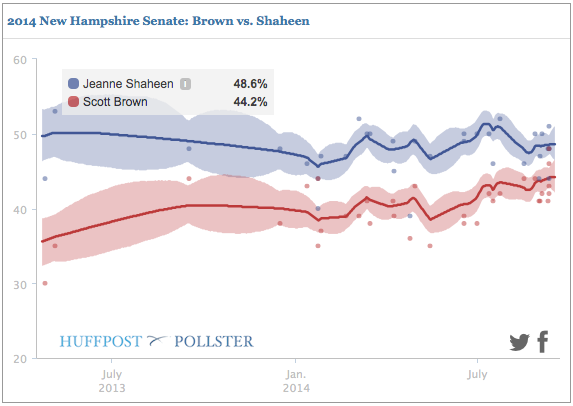 BOTH PARTIES BACK ACTION AGAINST ISIS, BUT WITH DIFFERING CONCERNS - Pew Research: "President Obama's plan for a military campaign against Islamic militants in Iraq and Syria is drawing public support. And, in a rare display of bipartisanship, majorities of both Republicans (64%) and Democrats (60%) approve of the president's plan….However, as many say their greater concern is that the U.S. will go too far in getting involved in the situation in Iraq and Syria as that it will not go far enough in stopping Islamic militants (41% each). That represents a shift in opinion since mid-August, when by 51% to 32%, more said their bigger concern was that the U.S. would get too involved in the situation in Iraq. Despite bipartisan support for Obama's military campaign against ISIS, Republicans and Democrats differ in their concerns for U.S. military action: Most Republicans worry it will not go far enough (66%); by contrast, 54% of Democrats say their bigger concern is that it will go too far." [Pew Research]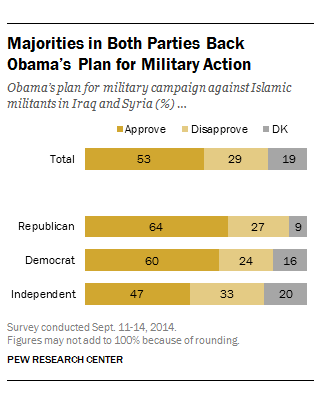 HOW WILLING ARE AMERICANS TO CHANGE THE CONSTITUTION? - Paul Herrnson and Kathleen Weldon, reviewing data Roper Center for Public Opinion Research archives: "In general, the public reject the idea that the Constitution requires significant updating. In a 2011 AP/National Constitution Center/GfK poll, three-quarters of Americans said the Constitution was 'an enduring document that remains relevant today,' while only one-quarter said it needed modernization. Similarly, a 2011 Time/ABT/SRBI poll found 64% agreed that the Constitution has 'held up well and is in little need of change.'…Despite public aversion to major Constitutional revision, from the earliest polling the public has been willing to see modifications made through the amendment process. In the 1930s, the public was asked to give their opinion of an amendment preventing a president from serving more than two terms. Such a measure was supported by less than half of the public until 1944, when Franklin D. Roosevelt won his fourth term….other proposed amendments have enjoyed robust, long-lasting support without achieving ratification, a testament to the political and structural complexities of the amendment process." [HuffPost]
TUESDAY'S 'OUTLIERS' - Links to the best of news at the intersection of polling, politics and political data:
-American trust in each branch of government is at a historic or near-historic low. [Gallup]
-Nate Silver attributes Democrats' improving numbers partially to a spending advantage. [538]
-Glen Bolger (R) explains why voters don't want any of the three potential election outcomes in November. [WSJ]
-Eric Ostermeier uses Senate models to predict Iowa will be the fall's closest race. [Smart Politics]
-Ezra Klein reviews evidence amassed by political scientists Matthew Grossmann and David Hopkins showing that Democratic and Republican policymakers govern differently. [Vox]
-Kathy Frankovic explains how President Obama's speech on the situation in Iraq and Syria bolstered for executive action. [YouGov]
-About half of Americans say there is too much government regulation of business and industry. [Gallup]
-Michelle Schwarze asks what famed philosopher Adam Smith would have to say about the referendum on Scottish independence. [WashPost]
-St. Louis residents' opinions of the police shooting of Michael Brown remain deeply divided along racial lines. [Post-Dispatch]
-Jonathan Chait defends political science against Thomas Frank. [NYMag]
-Harry Enten examines American's attitudes on spanking as measured by the General Social Survey. [538]