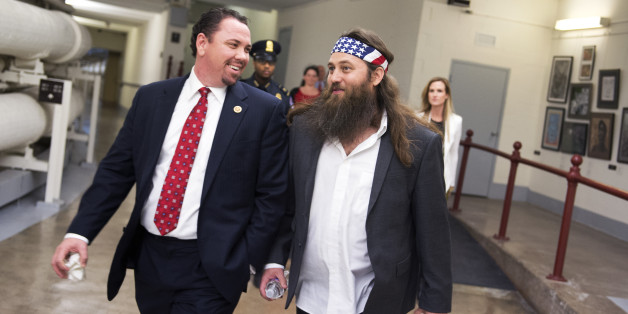 The conservative Club for Growth said Tuesday that it would support Zach Dasher, a businessman with ties to the infamous "Duck Dynasty" family and one of Rep. Vance McAllister's (R-La.) Republican challengers.
The group announced its endorsement of Dasher while referencing the scandal over video of a kiss between McAllister, who is married, and a member of his staff.
"Everyone in Louisiana knows about Vance McAllister's personal problems, but far less is known about his extremely liberal record," Club for Growth President Chris Chocola said in a statement. "When he ran for Congress last year, Vance McAllister pushed for expanding Obamacare in Louisiana and told voters 'we're past the point of repealing' it. In Congress, Vance McAllister has voted against numerous efforts to cut federal spending and he voted for a budget that contained billions in taxes. Vance McAllister's love of big-government policies is yet another reason to replace him with fiscal conservative Zach Dasher this November."
Dasher is the nephew of "Duck Dynasty" star Phil Robertson. McAllister has his own ties to the family: Robertson's son Willie starred in an ad for McAllister last year, and was the representative's guest at President Barack Obama's State of the Union address.
Though McAllister initially said he would not run for re-election after video of him kissing the staffer emerged in April, he changed his mind in June and announced that he would seek to defend his seat.
Louisiana Gov. Bobby Jindal (R) has called McAllister an "embarrassment." The Club for Growth's decision to back his challenger only furthers his alienation within the Republican Party.
Dasher and McAllister will face off in Louisiana's nonpartisan primary Nov. 4. If no candidate receives at least 50 percent of the vote, the race to represent the district will proceed to a December runoff.
The McAllister campaign did not immediately respond to a request for comment.
BEFORE YOU GO
PHOTO GALLERY
New House Members Of The 113th Congress