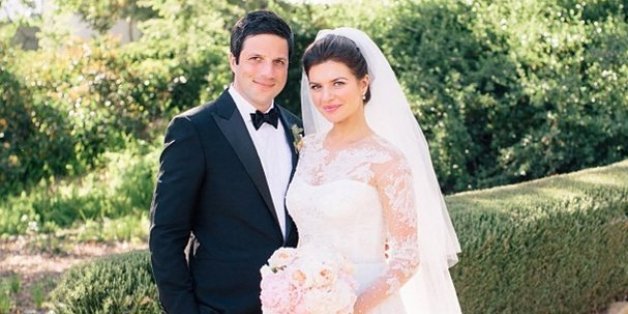 Actress Casey Wilson and her writer-producer husband David Caspe don't adhere to any kind of "no romance in the workplace" policy. The pair first met in 2010 when Wilson auditioned for (and landed) a role on Caspe's sitcom "Happy Endings."
The lovebirds tied the knot in Ojai, California in May 2014. Now they're working together once again on the new comedy "Marry Me" -- created and produced by Caspe and starring Wilson -- which is loosely based on their relationship.
In an interview with Glamour, the couple shared some of their best marriage advice so far (like avoid hanger at all costs).
"My dad always said that 90 percent of marital problems could be solved by getting your blood sugar up, and he's right!" Wilson told Glamour. "So I would say pick a partner who's forgiving when you have low blood sugar and threaten to drive your car through your shared home."
Even though they've been together for years, it's clear that Wilson and Caspe are still figuring each other out.
"David's a doer—he wants to give advice or fix things," she said. "My girlfriends [let me] turn over every emotional detail for hours. I see them at least twice a week."
"I've had to realize that if she shares a problem, I'm not supposed to fix it," Caspe added.
And the cutest takeaway from Caspe? If you pick the right person, you can have a BFF and a romantic partner in one super awesome package.
"As a kid, you weirdly picture a girlfriend as separate than a friend," he said. "But being with Casey, I realized a wife is the ultimate friend, and you also get to make sweet, sweet love together."
Head over to Glamour to read the rest of the adorable interview.
Keep in touch! Check out HuffPost Weddings on Facebook, Twitter and Pinterest. Sign up for our newsletter here.

BEFORE YOU GO
PHOTO GALLERY
15 Longest Celebrity Marriages