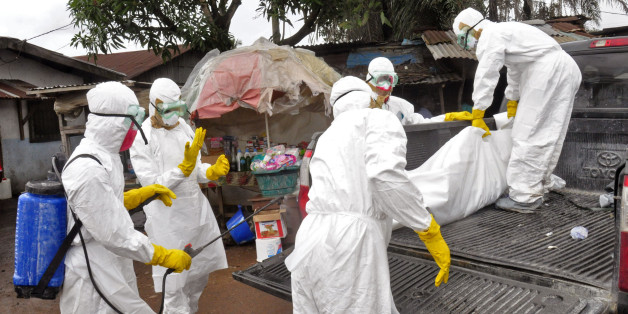 President Barack Obama on Tuesday announced that the U.S. would be sending 3,000 American military personnel to West Africa to help fight the Ebola outbreak there. At the same time, senators at a joint hearing of a health committee and an appropriations subcommittee on Capitol Hill were discussing what the U.S. could do to help control the epidemic.
A new HuffPost/YouGov poll finds that Americans, too, think the U.S. should act to stop the spread of Ebola in West Africa, though their level of support for different types of aid varies greatly.
A majority of Americans -- 53 percent -- said the U.S. has a moral obligation to help fight the Ebola outbreak in West Africa, while 23 percent said it does not. Near equal percentages of Democrats, Republicans, and independents said the U.S. has a moral responsibility to act.
When presented with specific types of aid the U.S. could provide, Americans showed much stronger support for medical aid than any other type of assistance. Eighty-two percent of respondents said the U.S. should send medical supplies to West Africa, while 8 percent disagreed.
Sending American medical personnel to train and assist doctors received the next highest level of support, with 62 percent of respondents supporting the idea and 18 percent opposing it. Sixty percent of respondents said the U.S. should invest more money in Ebola research, compared with 17 percent who said the U.S. should not.
Americans were more divided about whether the U.S. should send financial aid to West Africa. Forty-two percent expressed support for the idea, compared with 31 percent who said they opposed it.
Only 17 percent of Americans support sending American troops to help enforce quarantines of Ebola patients, while 58 percent said they opposed doing that. Quarantines have been used in both Liberia and Sierra Leone to try to contain the spread of the outbreak, but both countries have struggled to enforce them.
Obama said during his speech on Tuesday that U.S. military personnel would be sent to Africa to help train health care workers, erect new health care facilities, and provide logistical support -- a form of assistance not asked about in the HuffPost/YouGov poll.
The HuffPost/YouGov poll was conducted Sept. 13 to Sept. 15 among 1,000 U.S. adults using a sample selected from YouGov's opt-in online panel to match the demographics and other characteristics of the adult U.S. population. Factors considered include age, race, gender, education, employment, income, marital status, number of children, voter registration, time and location of Internet access, interest in politics, religion and church attendance.
The Huffington Post has teamed up with YouGov to conduct daily opinion polls. You can learn more about this project and take part in YouGov's nationally representative opinion polling. Data from all HuffPost/YouGov polls can be found here.
BEFORE YOU GO
PHOTO GALLERY
Liberia Battles Spreading Ebola Epidemic