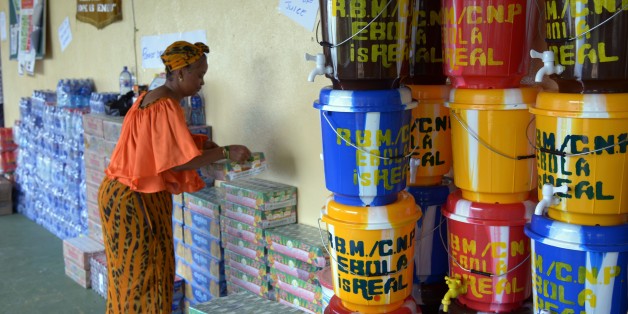 In as early as March, the Ebola crisis was deemed an "unprecedented epidemic." But major donors didn't get the memo until the disease had already spun out of control.
Despite early warnings from such reputable organizations as Doctors Without Borders, government groups and major donors didn't really start emptying their wallets to help stop the worst Ebola outbreak in history until months later. As of Monday, documented pledges or donations totaled $326.7 million, according to data from the Financial Tracking Service, which is managed by the United Nations Office for the Coordination of Humanitarian Affairs.
More than 60 percent of those funds had been donated or pledged since the beginning of September, The Wall Street Journal reported.
The estimates don't include some recent aid pledged by large donors, including the U.S. government and the World Bank.
Some of those significant donations include the Bill & Melinda Gates Foundation's pledge of $50 million, its largest single contribution to a humanitarian cause. The World Bank Group pledged $200 million in emergency funding to help Guinea, Liberia, and Sierra Leone contain the spread of Ebola and the U.S. announced on Tuesday that it will dispense 3,000 military officials to help the stretched-thin health care systems.
Still, even accounting for some of these new funds, donations don't begin to scratch the surface of the $1 billion the World Health Organization estimates is needed to keep its spread in the tens of thousands.
Though at least 2,400 people have died from the disease, according to the Associated Press, and people in Liberia have been ordered to stay at home because of the overwhelming risks, there has been a lack of global support, as compared to such past devastating crises as the 2010 Haiti earthquake and the 2004 Indian Ocean tsunami.
"[The epidemic has not been] a big, acute event that everyone can rally around," Josh Michaud, associate director of U.S. global health policy at the Kaiser Family Foundation, told The Washington Post. "This has been on a slow burn for a while."
Part of the reason why this historic epidemic hasn't galvanized supporters is because it has been gradually unraveling and the images of the devastation haven't been moving enough to inspire donors to take action.
"You see a lot of donor interest when you see something that is very visual," Jana Sweeney, a spokesperson for the American Red Cross, told ABC News.
Sweeney also noted that people may not even be able to grasp just how abysmal the medical infrastructure in West Africa is.
Not only is the area in desperate need of more experienced health care workers, but even the ones who are in place, often don't have the trust of locals.
For centuries, people in West Africa have taken care of their sick at home and feel that aid workers don't respect their familial traditions. Many are also reluctant to seek out help from clinics because of the militant way health workers approach people who are suspected of having been infected, Raphael Frankfurter, executive director of Wellbody Alliance, a health group in Sierra Leone, told The Huffington Post last month.
Even those who have dealt with such outbreaks before, say that this situation is too much to handle.
Doctors Without Borders, the only workforce with experience treating Ebola, has been leading the charge and says it cannot bear the brunt of the responsibility.
"We are overwhelmed," Dr. Joanne Liu, international president, said in a statement. "We are honestly at a loss as to how a single, private NGO is providing the bulk of isolation units and beds."
But now that donation numbers have picked up, West African officials are hopeful it will inspire other world leaders to contribute in more of a meaningful way.
"Our American partners realize Liberia cannot defeat Ebola alone. This disease is not simply a Liberian or West African problem. The entire community of nations has a stake in ending this crisis," Liberian President Johnson Sirleaf said in a written statement in response to the U.S.' ramped up efforts. "We hope this decision by the United States will spur the rest of the international community into action."
Support UNICEF's efforts to combat Ebola through the fundraising widget below.
BEFORE YOU GO
PHOTO GALLERY
Liberia Battles Spreading Ebola Epidemic