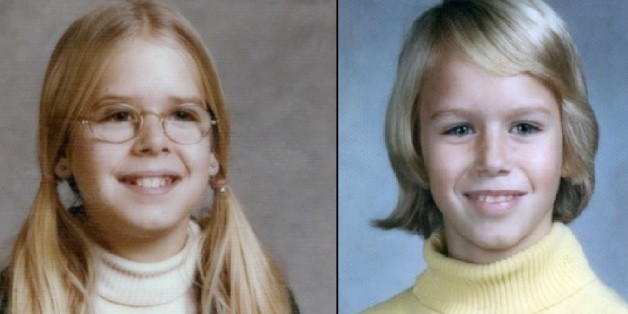 Authorities in Maryland are searching a rural Virginia area for clues in the disappearance of Sheila and Katherine Lyon, two young sisters who vanished from a suburban Washington, D.C., shopping mall almost 40 years ago.
"We're searching in Bedford County, Virginia," Lt. Sonia Pruitt, of Maryland's Montgomery County Police Department, told The Huffington Post on Wednesday.
"We're looking for evidence and gathering information that may indicate a connection [between this area] and the girls' disappearance," Pruitt said.
According to WTTG-TV, the property that authorities are searching once belonged to a relative of Lloyd Lee Welch. In February, police named Welch, a convicted sex offender, as a "person of interest" in the girls' 1975 disappearance. Authorities said Welch was identified as a suspect during a recent re-examination of the cold case file.
Welch is the second convicted sex offender to emerge over the decades as a target of investigators on the case.
The disappearance of 12-year-old Sheila Lyon and her 10-year-old sister, Katherine, has sparked widespread media coverage over the years. Both are presumed dead, though extensive searches thus far have failed to lead to their bodies.
The Lyon girls' disappearance is rooted in the events of March 25, 1975.
Around 11 a.m. that day, the girls left their Kensington, Maryland, home and walked to nearby Wheaton Plaza, a popular suburban shopping center. Wheaton Plaza is now the Westfield Wheaton mall.
The Lyon sisters were off school for spring break at the time and wanted to look at Easter exhibits in the mall. They had about $4 between them.
According to a March 25, 1980, article in The Washington Post, the girls were told by their parents, prominent radio disc jockey John Lyon and his wife Mary, to return home by 4 p.m.
Around 2 p.m., the girls were spotted by witnesses at the Orange Bowl, a pizza shop that was part of a popular chain. What happened after that remains a mystery.
Montgomery County Police Chief J. Thomas Manger said authorities have placed Welch at the shopping center on the day the girls disappeared.
"Investigators have established the fact that Welch was at Wheaton Plaza on March 25, 1975," the chief said at a February press conference. "They've also established that Welch was observed paying attention to the Lyon sisters while at Wheaton Plaza."
CASE PHOTOS: (Story Continues Below)
PHOTO GALLERY
The Lyon Sisters
Manger said Welch, now 57, is a convicted sex offender who has "multiple convictions for sexual offenses against young girls" in Virginia, South Carolina and Delaware. He has been incarcerated in Delaware since 1997 for one of those offenses.
According to the Delaware Department of Corrections website, Welch is locked up at the James T. Vaughn Correctional Center in Smyrna, Delaware. He is scheduled for release in June 2026.
Welch was previously employed by a traveling carnival that often set up at shopping malls, police said Tuesday. That job, police said, took Welch all over the country during the 1970s, '80s and early '90s.
Authorities said Welch traveled with his girlfriend, a co-worker at the carnival identified by police as Helen Craver. Craver is now deceased, police said.
Welch is not the first sex offender to be named in the case. In March 1987, Montgomery County Police Detective Bill Campbell told reporters that police were following their "most promising lead" in the investigation. Campbell said investigators believed the girls' disappearance was linked to convicted sex offender Fred Howard Coffey Jr.
Coffey, the detective said, had been near Wheaton Plaza when the girls vanished.
"His activities and whereabouts ... are not at all clear," Campbell said of Coffey, according to a March 1987 report by The Washington Post.
Detectives were ultimately unable to link Coffey to the Lyon girls. The 68-year-old convict is currently serving a life term in North Carolina for the 1979 murder of a 10-year-old girl.
Pruitt had no specific details to share with HuffPost on Wednesday about the area currently being searched and no timeline to share in regard to the length of the search.
Anyone with information in the sisters' case is asked to call investigators at 1-800-CALL-FBI. Tips may also be submitted online at Tips.fbi.gov.
Like Us On Facebook |

Follow Us On Twitter |

Contact The Author
BEFORE YOU GO