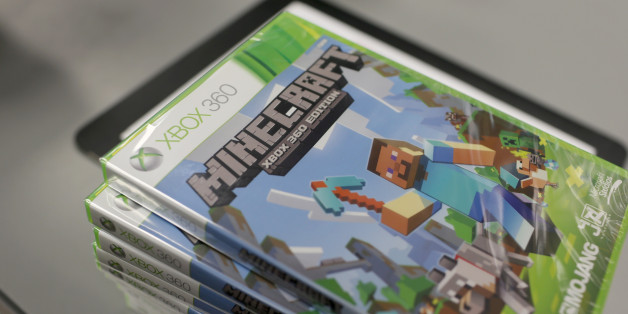 By the time Microsoft bought Rare in 2002, the game developer had already created numerous popular video game franchises like Donkey Kong Country, Banjo-Kazooie and GoldenEye 007.
Twelve years later, Rare looks nothing like it did during its heyday. It's making sports games that bear little resemblance to any of the titles Rare fans know and love.
Now some are worried that Mojang, the maker of brick-building game Minecraft, will one day suffer the same fate after Microsoft buys it for $2.5 billion. Mojang fans expressed their despair on Microsoft's Facebook page: "This once great company will go the way of Rare, failing and going out with a whimper," wrote one commenter. "It's going to be Rare all over again," another lamented. "Y'all better take care of it, unlike what's been happening with Rare," a third warned.
Indeed, fans of Mojang's work may have good reason to be concerned. Microsoft shelled out $375 million for Rare a year after the 2001 release of its Xbox console, and initially everything was great. The Rare team released more hits like life-simulation game Viva Pinata in 2006 and continued to produce sequels of its most famous games. But in 2009, Rare faced restructuring after poor sales of a Banjo-Kazooie sequel. Several key employees quit or were fired, and Rare strayed away from its marquee titles to focus on Kinect Sports, a game that uses motion-sensing technology.
Though the first two versions of Kinect Sports succeeded, Rare's third effort, Kinect Sports Rivals, failed to meet goals and prompted layoffs of around 20 of the developer's 150-person team last May. Now Microsoft is reducing its emphasis on Kinect, though one Microsoft executive said that Rare has "ambitious" plans and has its parent company's full support.
Microsoft declined to comment to The Huffington Post about its plans for Mojang or Rare.
From the beginning, Rare's assimilation into Microsoft proved difficult. In a 2012 profile of Rare by Eurogamer's Simon Parkin, employees detailed how the developer morphed under Microsoft's reign.
Phil Tossell, a Rare employee who oversaw the development of Kinect Sports, told Eurogamer that Microsoft didn't change much initially at Rare, but over time, its parent began to "erode the traditional Rare culture." Things became "more stifling and a lot more stressful," he said. Microsoft reported difficulty in running the transition, unclear how much resources and oversight to devote to Rare.
"There was an overall feeling that you weren't really in control of what you were doing and that you weren't really trusted either," Tossell, who chose to leave Rare in 2010 to start his own game studio, told Eurogamer.
Unlike Rare founders Chris and Tim Stamper, who remained at the studio until 2007, Mojang's founders, including the outspoken Markus "Notch" Persson, have chosen to leave the company after their deal with Microsoft closes. However, others behind Mojang's original creative team are expected to stay. That includes Minecraft's lead developer Jens "Jeb" Bergensten.
Microsoft is planning to keep Mojang's Stockholm offices operational and the "vast majority (if not all)" of Mojang's employees are expected to work under the new leadership, according to the company's blog. Mojang said it's too early to confirm who will be working on Minecraft or other projects.
Though most of Mojang success comes from a single product, it's working on other things like Scrolls, a collective card game that's still in the beta testing stage. Mojang's team said it doesn't know what's going to happen to that project.
Still, the employees at Mojang seem hopeful about the transition. They wrote in the blog post: "Change is scary, and this is a big change for all of us. It's going to be good though. Everything is going to be OK."