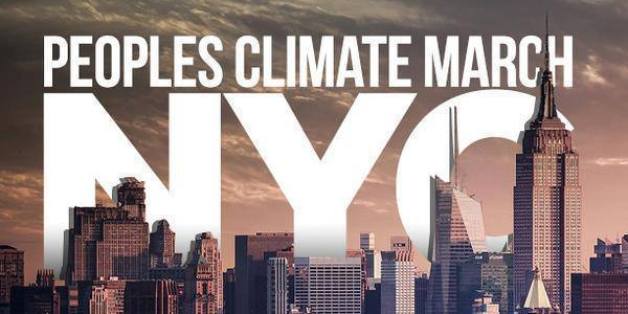 Thousands will gather in New York City on Sunday September 21 to participate in the historic People's Climate March -- and many religious and interfaith groups will be among their ranks.
In addition to the march, which kicks off at 11:30 AM on Sunday, many events will be taking place over the weekend to cater to faith communities. Here is a sampling -- if you would like to add your faith group's events to the list email us at religion@huffingtonpost.com!
Wednesday September 17
Our Voices - Faiths for Climate Action
Wednesday marks the global kick-off of Our Voices, an international, multi-faith campaign to work for a strong climate treaty. Events are taking place throughout the day at the United Nations Church Center.
Climate Conversations: Why the UN's Climate Summit Is Important To All Of Us
The Church of the Holy Trinity is hosting a free panel discussion with religious, political and climate representatives to discuss the relevance of climate change to all communities. The event takes place from 7:00 pm – 8:30 pm and refreshments will be served.
Friday September 19
A Queer Response To Climate Change
NYC Metropolitan Community Church is hosting a free panel discussion on the ways in which climate change affects the LGBTQ community at 7 pm. Artists Joe Stevens and J Mase iii will also offer special performances.
Pagan Mixer
The Pagan Environmental Coalition of NYC is hosting a mixer 7 pm at Lovekraft Bar for pagans coming from far and wide to participate in Sunday's march.
Saturday September 20
Preparing the Heart for Practice in Action: Buddhists in Support of the People's Climate March
The New York Insight Meditation Center will host a gathering for Buddhist practitioners and others interested in expressing care for the earth through faith. The event takes place from 10 am to 1 pm and will include Dharma reflections, meditations, chanting, ritual and more.
Ritual, Fellowship and Teach In
The Pagan Environmental Coalition of NYC will host a public ritual to celebrate eco-justice and Autumn Equinox with special guest Rev. Patrick McCollum. The ritual takes place 1 - 4 pm at The Pools at Central Park.
Climate Crisis: Which Way Out?
The Unitarian Church of All Souls is hosting a panel discussion on climate justice strategy with Bill McKibben, Naomi Klein, Chris Hedges, and Kshama Sawant, moderated by WNYC's Brian Lehrer. The event is free and will take place from 8 - 10 pm.
Interfaith Selichot Service
The Jewish Theological Seminary will host an interfaith service for Selichot at 8:30 pm in collaboration with Union Theological Seminary. The event is free and will include music and multi-faith discussions about climate change.
Young Adult Interfaith Worship Blowout
The Unitarian Universalist Young Adults for Climate Justice will host an interfaith worship for young adults at 10 pm at the Fourth Universalist Society. Climate activist Tim DeChristopher will lead the event, which will include music and dancing and encourages young adults ages 18-35 to participate.
Sunday September 21
Mass for the People's Climate March
St. Columba Church Chelsea invites march attendees to join the priests and parishioners of their congregation to celebrate Mass at 9 am before the People's Climate March.
Quaker Meeting for Worship
Quaker Earthcare Witness invites march attendees to gather at 15th Street Meetinghouse for a worship meeting at 9:30 am before heading to the People's Climate March.
Pre-March Multi-Faith Prayer
Dozens of clergy, musicians and marchers will participate in a pre-march prayer with the Interfaith Contingent at 11 am on 58th Street between 8th and 9th Avenue. The event is sponsored by GreenFaith and OurVoices.net.
Environmental Worship - Meeting the Sacred in Nature
Rutgers Presbyterian Church will host a worship inspired by environmental themes at 11 am, led by Earth Bible author and coordinator Norman Habel. The congregation will join the People's Climate March after the service.
Lantern Floating for Peace
The Shinnyo-en, an international Buddhist community, is hosting a lantern floating ceremony from 1 – 8 pm at the Paul Milstein Reflecting Pool at Hearst Plaza, Lincoln Center. The event culminates at 7 pm with a special closing ceremony at dusk led by Her Holiness Shinso Ito.
Religions for the Earth Interfaith Service
The Cathedral of St. John the Divine will host a multi-faith service and celebration that will include world religious leaders, governmental officials, activists, scientists, artists and more. Doors open at 5:30 pm, and the service begins at 6 pm. The event is open to the public, but attendees must RSVP prior.
Are you organizing a religious/spiritual event not included in this list? Contact us at religion@huffingtonpost.com or tweet us at @huffpostRelig
BEFORE YOU GO
PHOTO GALLERY
Faith-Based Environmental Organizations