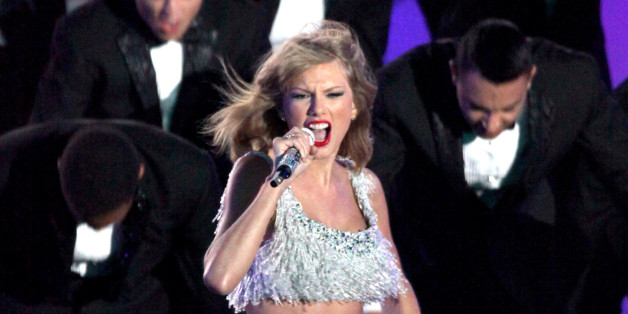 The following article is provided by Rolling Stone.
By JOSH EELLS
Taylor Swift's fifth LP, "1989," was influenced by some of the 24-year-old star's beloved acts from the Eighties, from Phil Collins to Annie Lennox to Madonna. This time, she set out to make "blatant pop music," she tells us in our new cover story. Here's five more things she told us to expect on her studio record, out October 27th:
1. A New York state of mind
The leadoff track on "1989" tries to capture the excitement of someone who just moved to New York, as Swift did earlier this year. "I was so intimidated by this city for so long," she says. "It's so big, with so many people. I thought I would never be able to make it here, because I wasn't something enough — bold enough, brave enough to take on this huge city in all of its blaring honesty. And then at a certain point I just thought, 'I'm ready.'"
The Taylor Swift Guide to 1989: 20 Tracks From Her Key Year
2. Lots of Max Martin
The Swedish pop giant, with help from his protege Shellback, produced almost half the songs on "1989," and is also, along with Swift, the executive producer of the album as a whole. Swift has worked with him before, on 2012's "Red," but he plays a much bigger role this time around. "I used to talk about Max Martin like he was this sorcerer who lived in a castle on a hill," says Swift. "And then one time Scott [Borchetta, the head of her label] said to me, 'You know...you can work with him if you want to.' I was like, What?!"
The Reinvention of Taylor Swift: Rolling Stone's Cover Story
In Pics: The 10 Best Taylor Swift Songs
3. A Fine Young Cannibals vibe
Swift's pal Jack Antonoff, who co-wrote and co-produced two songs on her album, says he and Swift shared a serious bonding moment over the Eighties pop group that had their biggest hit in 1989. "The moment when we shifted from friendship into working together was when we were talking about the snare drum on Fine Young Cannibals' 'She Drives Me Crazy,'" Antonoff says. "Taylor brought it up first, and I was like, 'Holy shit, you're not going to believe this: I just sampled that snare in a track.' I played her one second of it on my iPhone, and she was like, 'Send me that track.' That became a song called 'I Wish You Would.'" "I really think 'She Drives Me Crazy' could be on the radio now," says Swift. "It's that timeless."
Taylor Swift's 10 Countriest Songs
4. Some classic T-Swift journaling
One song was taken straight from the pages of Swift's journal, and another, "Out of the Woods," sounds like it could have been. "The thing I love about that song," says Antonoff, who co-wrote it, "is parts of it reads like a diary, and parts of it read like something 100,000 people should be screaming all together. It's got these very big lines that everybody can relate to, which are given weight by her being really honest about personal things."
Trace Taylor Swift's Country-to-Pop Transformation in 5 Songs
5. A spirit of discovery
Maybe the biggest influence that 1989 had on "1989" was what Swift, who was born that year, describes as a feeling of freedom. "It was a very experimental time in pop music," she says. "People realized songs didn't have to be this standard drums-guitar-bass-whatever. We can make a song with synths and a drum pad. We can do group vocals the entire song. We can do so many different things. And I think what you saw happening with music was also happening in our culture, where people were just wearing whatever crazy colors they wanted to, because why not? There just seemed to be this energy about endless opportunities, endless possibilities, endless ways you could live your life. And so with this record, I thought, 'There are no rules to this. I don't need to use the same musicians I've used, or the same band, or the same producers, or the same formula. I can make whatever record I want.'"
BEFORE YOU GO
PHOTO GALLERY
Taylor Swift