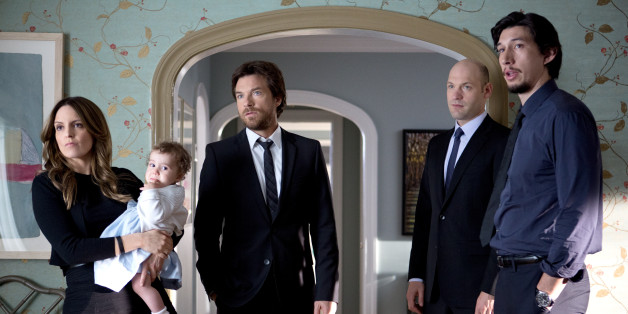 The following post contains spoilers about "This Is Where I Leave You."
In Jonathan Tropper's "This Is Where I Leave You," Judd Foxman finds out his soon-to-be ex-wife is pregnant with his child on page 12. In Shawn Levy's adaptation of Tropper's best-selling novel, Judd (played by Jason Bateman) hears the same news more than halfway into the film's running time.
"The idea of this mid-point twist -- the announcement of the pregnancy -- predated my involvement," Levy told HuffPost Entertainment in a recent interview at the Toronto International Film Festival. "I can't take credit for that. It's a structural decision that amounts to a grenade being thrown into the movie narrative. I think it's good because we, as an audience, always want to be taken aback by things we don't see coming. There are certain tropes we're familiar with in this genre. So that's all the more reason we need narrative surprises."
Starring Bateman, Adam Driver, Tina Fey, Jane Fonda, Corey Stoll, Rose Byrne, Connie Britton, Dax Shepard, Ben Schwartz, Timothy Olyphant and Kathryn Hahn, "This Is Where I Leave" carries on the tradition of dysfunctional family dramedies perhaps best embodied by "Terms of Endearment" and "Little Miss Sunshine," two films Levy cited as favorites. That might surprise some based on Levy's resume: The director's credentials include the "Night at the Museum" franchise and "Real Steel," among other blockbusters, and it was initially suggested by Warner Bros. that the project wasn't right for his sensibilities.
"I was kind of politely told, 'Love that you love it, but you're a big movie guy and this is a small movie. We don't know that we're ever going to make it, and it feels like you're better served doing big movies,'" Levy said. "It was a flattering blowoff."
The 46-year-old director remained vigilant, however, because of his love for Tropper's novel, which combines comedy and drama, often within the same page. But once on board as director, Levy realized the film's script -- which Tropper wrote himself -- had left behind the pathos that helped make the novel such a runaway success.
"Jonathan, whether overtly or presumptively, wrote a script that was more broadly comedic than his book. It was 'This Is Where I Leave You: The Comedy,'" Levy said. "When I finally got my grubby hands on this material, I said, 'Let's take a breath and start again.' Jonathan needed to remember how fucking awesome his novel was."
According to Levy, he showed Tropper a copy of "This Is Where I Leave You" with lines of dialogue underlined. "We went page by page through the book, going 'Why is this not in the movie?'" Levy said. "We literally lifted out a bunch of broad slapstick and put in a lot of nuance and weight from the book."
It's those heavier moments that make "This Is Where I Leave You" stand out as an anomaly in the marketplace. The film, with its ensemble cast and uncomfortable themes of loss, infidelity and suburban ennui, looks and feels like the kind of indie feature that premieres at the Sundance Film Festival. Instead, Warner Bros. will release Levy's film on more than 2,750 screens starting Friday.
"Warner Bros. is ballsy. They have enough big franchise hits that afford them the right to be ballsy," Levy said. "I hope to God that a movie like this and 'The Judge' can find enough of an audience so that we don't continue to see the segregation of 'franchise equals studio, characters equal indies.'" Warner Bros. is also set to release "The Judge," a family drama with Robert Downey Jr. next month.
"I like to believe a movie like 'Terms of Endearment' could still get made today," Levy said. "I believe we as grown ups love movies that are just about people. For me to make a movie that was just about people was fucking gratifying."
BEFORE YOU GO