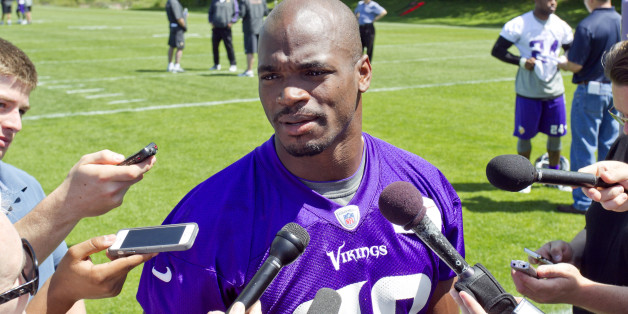 Programs benefiting from Adrian Peterson's charity are suffering because of the recent accusations of child abuse against the NFL star.
The All Day Foundation, the football player's charitable organization that supports various causes, went offline Tuesday citing an influx of "media inquiries." The foundation's Facebook page was also deactivated, ESPN reported.
On Wednesday, the Minnesota Vikings placed Peterson on the Exempt/Commissioner's Permission list -- which bars him from all team activities -- until his legal proceedings have been resolved. The star running back had been indicted by a grand jury on charges of reckless or negligent injury to a child regarding his own son, ESPN reported. On Saturday, Peterson had turned himself in to Texas authorities.
The All Day Foundation's homepage reads:
The Adrian Peterson All Day Foundation website is temporarily offline to allow its charity partners to continue focusing on their outstanding community efforts rather than responding to the numerous media inquiries.

The Foundation will continue to support the various philanthropic causes that Adrian and his family care so deeply about.
The foundation supports various programs that benefit at-risk children, according to promotional material for a summer event supporting the organization. It places particular focus on programs that empower young girls, as well as on the communities and institutions that supported Peterson earlier in his career.
Darren Rovell, ESPN Sports Business reporter, said the charity has done all it can to protect itself and that what happens next is dependent on legal and NFL proceedings.
"When a namesake on a charity doesn't have a positive connection, people simply aren't going to donate," Rovell said. "And then it's up to the athlete himself to pump money into it, and often that doesn't happen."
BEFORE YOU GO
PHOTO GALLERY
Adrian Peterson