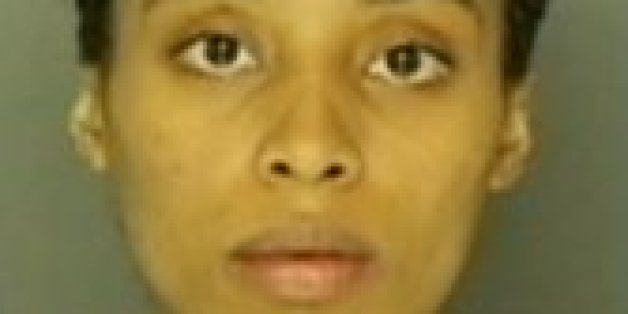 A Pennsylvania man who claims he arrived at his ex-girlfriend's home to find their 11-month-old boy abused, posted a shocking video on Facebook, and now faces criminal charges himself.
David Bryant, 25, of Wilkinsburg, took video on his cell phone of the Sept. 13 incident, showing a badly bruised young boy crying outside the home of 23-year-old Dalishia Salter.
Bryant later posted the video to his Facebook page, which has since gone viral, according to Trib Live.
WARNING: This video may be disturbing to some. The Huffington Post has blurred out the face of the child to protect his identity.
"What the fuck, yo?" Bryant can be heard yelling, his voice cracking with emotion. "Open the door," he demands.
As his son cries, Bryant can be heard weeping as well, suspecting that his ex-girlfriend has been abusing their baby boy.
"You hurt my son, open the door, yo," Bryant says.
When Salter finally opens the door to the residence, an altercation ensues.
"You beat my son? You hit my son like that?" he shouts.
Salter tells Bryant to leave the home. As he continues to ask why Salter hit his son, she can be heard saying "Oh well" and "I don't care."
"You see my fucking son?"
"I told you to get him," Salter replies.
Wilkinsburg police came to the scene at 1 a.m. on a domestic disturbance call. According to a criminal complaint obtained by the Pittsburgh Post-Gazette, Officer Michael Bender found "a small child lying on the bed with large bruising and bleeding wounds to his head and face."
Salter told the officer that the child had fallen and bumped into things, but later said that Bryant pushed a flat screen TV off the dresser which then landed on the child, according to the complaint.
The child was taken to the hospital, where doctors said he had suffered multiple injuries over an extended period of time.
According to the complaint, hospital staff also found "a tear inside [the child's] mouth from an object being shoved with great force into his mouth."
Police arrested and charged Salter with endangering the welfare of a child. On Sunday, Salter was released after posting a $25,000 bond.
Despite the video evidence taken by Bryant, the father was also charged with endangering the welfare of a child. There is currently a warrant out for his arrest.
On a GoFund account, a man claiming to be Bryant asked for help paying legal fees.
Hello My Name Is David Bryant And I Truly Need All The Support I Can Get For Attorney Fees And Also To Help Get My Son Back & To Clear My Name. HIS MOTHER Dalishia Salter Abused Him And Blames Me Which I Have VERY GOOD Evidence That Proves My Innocence.

IM CALLING OUT TO EVERYONE PLEASE HELP. I JUST WANT TO GET MY SON BACK TO ME & MY FAMILY AND GUARANTEE HIS SAFETY !!!!
A petition circulating online has asked that all charges against Bryant be dropped until there is a thorough investigation. The petition currently has more than 48,000 signatures.
Mike Manko, a spokesman for the Allegheny County District Attorney's office, told The Huffington Post he was aware of the video but would not comment further.
Wilkinsburg Police Chief Ophelia Coleman declined to comment on the case when reached by HuffPost.
A preliminary hearing is set for Sept. 25, at which point the district attorney's office will take custody of the case, Manko said.
Like Us On Facebook |

Follow Us On Twitter |

Contact The Author