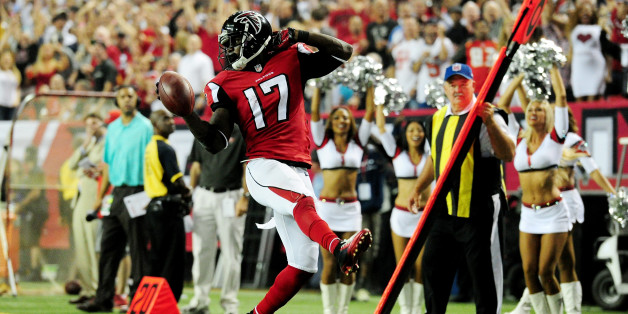 Those were high steps of respect.
When Atlanta Falcons wide receiver Devin Hester took his final celebratory strides into the end zone to finish off a historic punt return touchdown, he paid tribute to the player whose NFL record he was breaking. Hester surpassed Deion Sanders' mark for career return touchdowns, 19, with a 62-yard touchdown burst against the Tampa Bay Buccaneers on Thursday night in Atlanta.
With that return touchdown, Hester firmly established his place in NFL history.
Most Career Return Touchdowns: NFL History

Devin Hester 20
Deion Sanders 19
Rod Woodson 17
Ronde Barber 14

— NFL Network (@nflnetwork) September 19, 2014
Sanders, a Hall of Famer who earned the nickname "Prime Time" in part by making the high step his trademark move, was actually at the game as an analyst for NFL Network.
Prime approved.
@D_Hest23 like I said is the BEST EVER!! #TRUTH

— DeionSanders (@DeionSanders) September 19, 2014