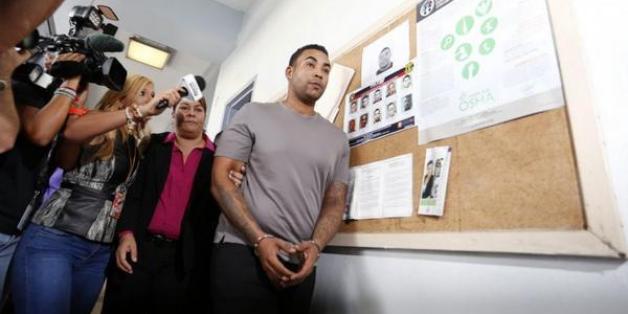 Less than 24 hours after reggaeton star Don Omar was arrested in Puerto Rico on allegations of domestic violence, the artist was charged, fined and ordered to wear an ankle bracelet before being released Wednesday night, according to El Nuevo Herald.
William Omar Landrón, known artistically as Don Omar, was arrested around 1 a.m on Wednesday morning in a neighborhood of Vega Alta for allegedly threatening his girlfriend, local authorities told El Nuevo Día.
By Wednesday night, Judge Jessica Morales from the Court of Bayamón had charged Landrón, 36, with domestic violence, abuse, threat of abuse, illegal possession of a firearm and for pointing a gun at his ex-girlfriend Rebeca López, 26.
A $600,000 bail was also imposed on Landrón, of which he paid $200,000 before being released wearing an electronic ankle monitor. The remainder of the bail, according to Primera Hora, will be paid through the Office of Services to Advance Judgment.
|@DonOmar quedó libre, pero llevará un grillete electrónico http://t.co/aET7pfzq8d pic.twitter.com/Ppyo9kOB6c

— Infobae América (@infobaeamerica) septiembre 18, 2014
One of the singer's legal representatives, Edwin Prado, said he
found the bail "excessive"
considering the charges, according to El Nuevo Herald.
"A $600,000 bail is a bail for murder," Prado said as he left court, the Florida newspaper reports.
Attorney Mibari Rivera presented the charges against Don Omar on behalf of López and detailed the former girlfriend's accusations.
"The charges against Don Omar are grounded on two incidents between August and September of this year," Rivera told reporters outside of court, according to Primera Hora. "In August he pointed a firearm [at López] and in September there was psychological verbal abuse and via text messaging."
On Thursday morning, the reggaeton star tweeted out "In the circus they have more than enough clowns to make us laugh" and signed it with his first initial and last name followed by the hashtag #laughs.
"En el circo lo que sobran son payasos para hacernos reir" W. Landrón #Rie

— DON OMAR (@DONOMAR) septiembre 18, 2014
BEFORE YOU GO