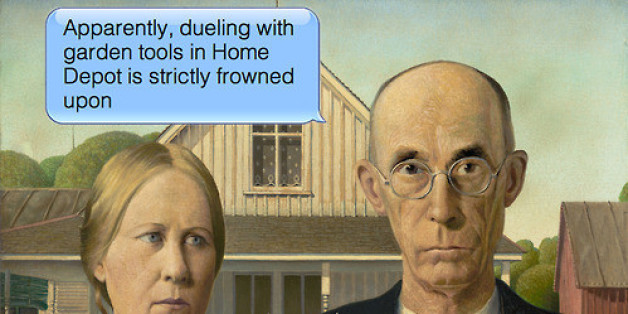 If only these walls -- or the paintings on them -- could talk.
Well, now they can. Or they can text, at least.
Thanks to the Tumblr blog "If Paintings Could Text," an apt mashup of iconic art and artful texts, the subjects of famous paintings can actually narrate themselves. What are the farmers in Grant Wood's "American Gothic" so disgruntled about? If Leonardo da Vinci's "Mona Lisa" could text, what would be her tone? Who would drunk-text? Who would booty call? Who would complain to a friend about last night's debauched decisions?
Look below to find out, in this delightful meeting of technologies old and new.
PHOTO GALLERY
If Paintings Could Text
h/t The Awesomer
BEFORE YOU GO
PHOTO GALLERY
George W Bush Reveals His Paintings Of World Leaders