Meriam Ibrahim is safe on American soil -- and her faith has never been stronger.
The young Christian mother, who spent six months shackled to a prison floor in Sudan for refusing to renounce her faith, opened up to Fox News' Megyn Kelly about how religion helped her survive.
"Faith means life. If you don't have faith, you're not alive," Ibrahim said through a translator during her first American TV interview since the ordeal.
The woman and her family arrived in New Hampshire in July after international pressure helped secure her release, the BBC reports.
She was born to a Sudanese Muslim father. According to Sudan's interpretation of Islamic law, daughters are supposed to follow their father's faith.
But Ibrahim's dad reportedly abandoned the family when his daughter was a child. She was raised by her Ethiopian Christian mother.
After marrying a Catholic man, Ibrahim was charged with adultery, since Muslim women are banned from marrying outside their religion. The more serious charge of apostasy was added to her case after officials realized she wasn't willing to give up her faith.
Ibrahim was thrown into a Khartoum jail with her toddler son and sentenced to hang.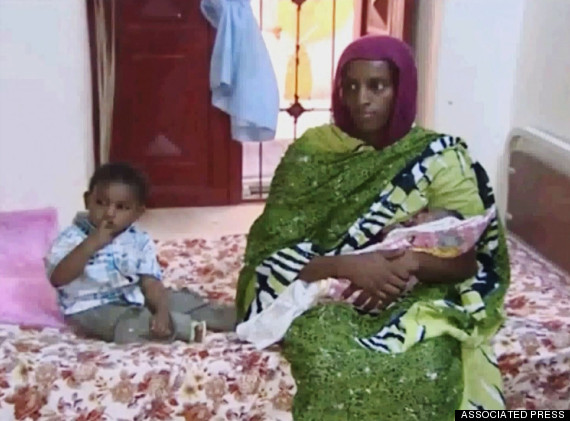 The young mom was pregnant at the time and her jailers refused to let her give birth in a hospital. Ibrahim delivered her child in a prison cell, her feet still shackled to the floor.
"The situation was difficult but I was sure God would stand by my side," Ibrahim told Kelly.
Ibrahim remembered how a group of Muslim scholars visited her in jail in an attempt to force a conversion.
"My faith was the only weapon that I had in these confrontations with imams and Muslim scholars because that's what I believe," she said.
Since Ibrahim's husband has American citizenship, the American embassy began to work on her case. Her charges were dropped by an appeals court.
But she says her heart still aches for other women who are still being persecuted in Sudan.
According to Human Rights Watch, women and girls are disproportionately targeted by authorities for crimes relating to personal relationships and sexuality. The punishments for these behaviors regularly include lashing and stoning.
"There are many Meriams in Sudan and throughout the world. It's not just me," Ibrahim said.
CORRECTION: A previous version of this article misidentified Ibrahim's father as Ethiopian. He is Sudanese.

BEFORE YOU GO
PHOTO GALLERY
Christian Women You Should Know