It's Election Day in Scotland. We have the latest on what the Scottish polls are predicting and the challenges they face. Republicans have a good day in Senate polls. And Gallup finds views of both parties now about equally lukewarm. This is HuffPollster for Thursday, September 18, 2014.
SCOTLAND DECIDES WHETHER TO BECOME INDEPENDENT - Tom O'Grady: "On [Thursday] Sept. 18, Scottish voters will take part in a referendum asking one simple question: 'Should Scotland be an independent country?' Until recently, the consensus amongst politicians and pollsters alike was that the Scots would say 'no, thanks' — to use the favorite slogan of the anti-independence 'Better Together' campaign. All year, polls have given the 'no' camp leads of at least 10 percent. But this week everything changed. A shock opinion poll published Sept. 7 gave independence a 2 percent lead. Other polls have confirmed a substantial narrowing of the race to essentially a statistical dead heat, although overall the 'no' camp seems to have a slight edge." [WashPost]
Should we trust the polls? - Anthony Wells: "The Scottish polls at the end of last week and the weekend were broadly clustered around a small No lead. There are a couple of days campaigning left, but perhaps a more likely route to a YES victory is if the polls are underestimating the level of YES support for some reason. Over the last couple of days I've seen several blogs or articles pondering whether the polls could be wrong, could they be underestimating YES or NO? It would be hubris to suggest the polls couldn't be wrong. Obviously they can [be]....The Scottish referendum is a bigger challenge for pollsters than an election would be because it's a one-off. In designing methodology for voting intention the experience of what worked or didn't work at previous elections weighs heavy, and most companies' weighting schemes rely heavily upon the previous election – if not directly through weighting by recalled vote, in using the data from the previous election in designing and testing other weighting targets. For a referendum you can't take that direct approach, pollsters needed to rely more on modelling what they think is an accurate picture of the Scottish electorate and hoping it reflects the Scottish people well enough that it will also reflect their referendum voting intentions." [UK Polling Report]
The problem of undecideds - Stephen Fisher: "We also have to consider how the Don't Knows will split. Research from Canadian electoral reform referendums suggests that Don't Knows split disproportionately towards the status quo, and many commentators think that that is what will happen on Thursday. This does seem more likely than a split in the other direction, though an especially big movement from Don't Know to No in the last hours of the campaign also seems unlikely. If someone is still undecided at the end of a long and intense campaign on such an important issue it probably means they really are not sure which way they will go." [What Scotland Thinks]
Claire Durand doubts the 'Yes' vote will prevail - Durand: "In Scotland, the 'No' side did not move that much over the past year and was always well ahead. Then suddenly, in the past two weeks, the 'Yes' side went up like it did in Quebec in 1995, and some polls showed 'Yes' ahead. When people see that there is a possibility that "Yes" will win for real, they realize that voting 'Yes' isn't the same as saying in a poll that you'll vote 'Yes.' A vote has very real consequences, and when some people see that they start thinking about the risks and they'll back off. I maintain my prediction: If I see the 'Yes' side getting something like 55% in the polls, then I might believe they will win." [Pew]
Latest Update: No Side Still Ahead - More from Durand: "I include in my analysis all the polls published [Tuesday and Wednesday] -- before 2 PM Montreal time (I do not have the YouGov and the TNS yet, I may update later on if I have time). Let us examine what the polls tell us of the likely portrait of support for Scottish independence. First, a graph including the non-disclosers, i.e., don't knows and those who say they will not vote. The graph shows that the two sides are still close to each other but with the No side ahead. In addition the proportion of non-disclosers has stopped declining...If I perform a non-proportional attribution of non-disclosers, giving 67% of them to the No side, which, according to many political scientists is realistic, I get [a] the difference between Yes and No at more than seven points....If polls are not incredibly wrong, my analysis shows that the No side is likely to win with a good margin." [Ah! les sondages]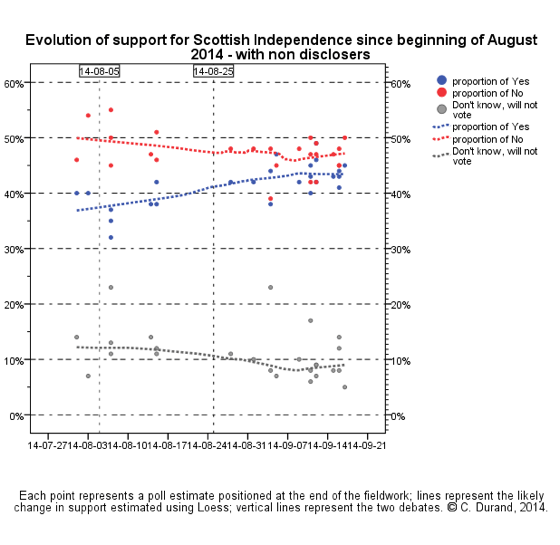 Why do some Scots want independence? - More from O'Grady: "The Conservative party, in power in London, has virtually no support in Scotland. Its pro-austerity policies are deeply unpopular amongst the more progressive Scottish electorate. In addition, Alex Salmond, the leader of the Scottish National Party, is far more popular than the pro-union leaders. This suggests two linked explanations for the popularity of independence. First, political science research tells us that when faced with a complex issue such as independence, voters often simply adopt the policies favored by their own party. This cue-taking is a shortcut, helping voters understand how people like them should approach a question. So there is probably an element of follow-my-leader in support for independence. Second, the referendum has arguably ceased to be about independence at all. The Scottish National Party has framed independence as an opportunity for Scotland to enact a more liberal set of policies, ending forever the prospect of Tory rule." [WashPost]
But what do Americans think? - Kathy Frankovic: "Only half the American public is paying attention to Thursday's referendum on Scottish independence – so it's no surprise that Americans overall aren't sure what to think about the vote: they are evenly divided on whether Scotland should become independent or remain within the United Kingdom. But in the latest Economist/YouGov Poll, those who are paying attention hope Scotland remains part of the U.K. There is support for independence in some places: the South, which once seceded from the rest of the United States, is more supportive of independence for Scotland. And even those Southerners who are following news about the referendum are more likely than those in the rest of the country who are paying attention think Scottish secession is the right thing." [YouGov]
BACK IN THE USA: A BETTER POLLING DAY FOR THE GOP Wednesday brought 13 new statewide poll results in statewide contests, including Fox News' first batch of live interviewer polls, released in four key U.S. Senate battlegrounds. The HuffPost Pollster Senate forecast has been stable around a 50/50 probability that Republicans could take over control, but Wednesday's new data nudged the probability of a Republican majority of the Senate up slightly from 48 to exactly 50 percent. The current polling snapshot gives Republicans at least a nominal advantage or better in exactly the 21 Senate contests they the would need to win in 2014 to attain a majority, but the races in three of those states -- Kansas, Iowa and Arkansas -- are near 50/50 tossups with margins of less than 2 percent separating the candidates in our poll tracking model averages as of this writing. [HuffPost Senate Outlook]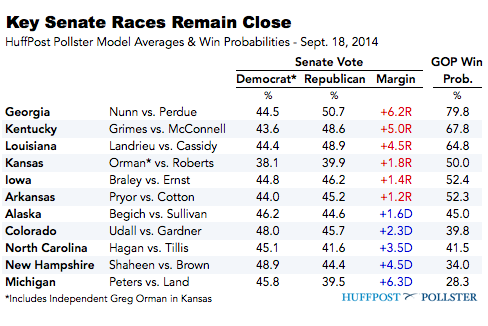 Louisiana Senate - The new Fox News poll is the first live interviewer telephone poll without partisan sponsorship conducted so far in 2014 to test a potential run-off election, and it shows incumbent Sen. Mary Landrieu (D) trailing Republican challenger Bill Cassidy by a wide margin (38 to 51 percent). That result is far more pessimistic for Landrieu than other polls conducted since July, which differed on the leader and put the margin in either direction at 3 percentage points or less. Although our poll tracking model discounts the new poll, it gives it enough weight to give Cassidy an advantage of just over 4 percentage points, and a 65 percent probability of winning a run-off election in December, as of this writing (Louisiana holds its non-partisan primary on November 3; recent polls put Landrieu well below the 50 percent need to avoid a runoff).
[Fox news, Pollster charts for Louisiana run-off, primary]
Kansas Senate - A new live interviewer Fox poll lines up with what other surveys have shown since Democrat Chad Taylor decided to withdraw from the race: it's close. The survey, which didn't tell voters that Taylor was out of the running, found Sen. Pat Roberts (R) taking 40 percent to independent Greg Orman's 38 percent, with Taylor at 11 and libertarian Randall Batson at 2 percent. (In a head-to-head between the two main candidates, Orman takes a 6-point lead over Roberts, 48 percent to 42 percent.) HuffPost Pollster's chart finds Roberts just a point ahead of Orman, with Taylor still taking about 10 percent. [Fox, Kansas chart]
Iowa Senate - On the heels of a Quinnipiac poll giving Joni Ernst (R) a 6-point lead over Bruce Braley, (D) the Fox poll finds both candidates tied, lining up with other recent data. HuffPost Pollster gives Ernst a 1.4 point edge over Braley, and just over a 50 percent chance of winning. [Fox, Iowa chart]
-Colorado Senate: Two new Colorado polls show a close race between Sen. Mark Udall (D) and challenger Cory Gardner. A Suffolk/USA Today poll puts Gardner up one point, while a poll for the Democratic-leaning Project New America has Udall 2 points ahead. A Quinnipiac University survey released Thursday morning differs, showing Gardner leading by 8 points among likely voters -- a significant change from July, when their poll of registered voters had Gardner up just two points. HuffPost Pollster's model, which doesn't yet account for the Quinnipiac results as of this writing, gives Udall a 2.3 points lead. [Suffolk, Quinnipiac, Myers, Colorado chart]
-Colorado governor: The three surveys also paint vastly different pictures the race between Gov. John Hickenlooper (D) and Bob Beauprez (R): Quinnipiac gives Beauprez a 10-point lead, while Suffolk/USA Today gives Hickenlooper a 2-point edge and the Project New America (D) survey finds Hickenlooper up 7. No other polls since mid-July had found more than a 4-point spread between the candidates, and the polling average suggests that the two most extreme new findings are both outliers, with Hickenlooper and Beauprez running closer to a tie. [Suffolk, Quinnipiac, Myers, Colorado chart]
-Florida governor: A SurveyUSA poll for WFLA-TV gives Rick Scott (R) a 5-point lead over Charlie Crist (D), 44 percent to 39 percent. Recent surveys remain mixed on which candidate is ahead, with the Pollster model giving Scott a 2-point edge, but even odds of winning. [SurveyUSA, Florida chart]
-Wisconsin governor: The Marquette Law School poll, which found Democrat Mary Burke 3 points ahead of Gov. Scott Walker (R) in August, now has Walker back narrowly ahead, with a 3-point lead. A newly-released Rasmussen poll has similar results, with Walker up 2. HuffPost Pollster's model gives Walker a slim edge over Burke. [Marquette, Wisconsin chart]
GALLUP: PARTY RATINGS CONVERGE - Jeffrey M. Jones: "Americans' views of the Democratic and Republican parties are now similar, mainly because of their more positive ratings of the GOP. Since bottoming out at 28% last fall during the government shutdown, Americans' opinions of the Republican Party have grown more positive and are nearly back to pre-shutdown levels. Over the same time period, ratings of the Democratic Party have generally held steady. Americans view both parties negatively overall, with a 40% favorable and 57% unfavorable rating for the Republican Party, and a 42% favorable and 54% unfavorable rating for the Democratic Party. This net-negativity toward both major political parties has generally been the case since 2010, apart from President Barack Obama's re-election year in 2012, when on several occasions Americans had slightly more positive than negative views of the Democrats." [Gallup]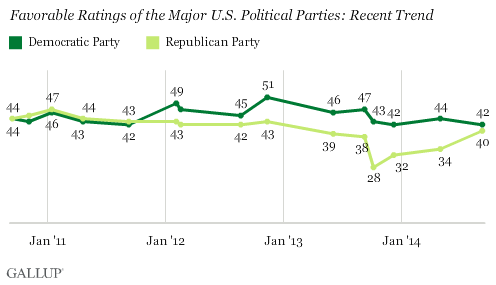 OBAMA'S RATING ON TERRORISM SINKS - Julie Hirschfeld Davis and Dalia Sussman: "For the first time in his presidency, more Americans disapprove of President Obama's handling of terrorism than approve of it, as discontent about his management of foreign affairs and the fight against Sunni militants in Iraq and Syria weighs on an anxious and conflicted public, according to the latest New York Times/CBS News Poll. As Mr. Obama broadens the military offensive against Islamic extremists, the survey finds broad support for United States airstrikes in Iraq and Syria, but it also demonstrates how torn Americans are about wading back into battle in the Middle East. A majority is opposed to committing ground forces there, amid sweeping concern that increased American participation will lead to a long and costly mission." [NYT]
HUFFPOLLSTER VIA EMAIL! - You can receive this daily update every weekday morning via email! Just click here, enter your email address, and and click "sign up." That's all there is to it (and you can unsubscribe anytime).
THURSDAY'S 'OUTLIERS' - Links to the best of news at the intersection of polling, politics and political data:
-Most Americans don't know that violent crime rates have dropped. [YouGov]
-Democrat Muriel Bowser leads in D.C.'s mayoral race. [WashPost]
-Taegan Goddard talks to Nate Silver. [Political Wire]
-Jim Henson and Joshua Blank explain divergent polls on the Texas governor's race. [TribTalk]
-Andrew Gelman looks at changing partisanship by state [WashPost]
-Ezra Klein argues in favor of political science. [Vox]
-Americans estimate that the federal government wastes half of each tax dollar. [Gallup]
-Daily Kos' dreaminonempty (D) looks at who's conducting most of the polling this year. [Daily Kos].
-GOP pollsters Alex Bratty and Megan McNally say voters are rooting for the other party to lose. [POS]
-Liberals smell better to other liberals than conservative. Seriously. [WashPost]
BEFORE YOU GO
PHOTO GALLERY
Scottish Independence: Who Stands Where