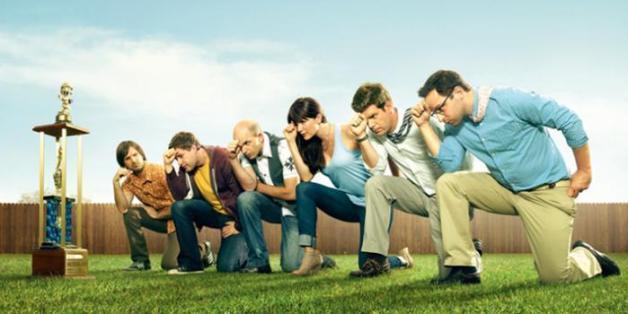 We kick off episode 3 with Ruxin announcing his banishment to Korea as punishment for juicing up Baby G's baseballs. Andre interrupts Ruxin's lamenting, denim vest and all, and presents the rest of the guys with Polo cologne-scented flowers as an apology for his previous collusion with Jay Glazer. As per usual, the guys get Andre all riled up when they won't tell him what his punishment will be for his "crimes." Oh, Andre.
Pete approaches his boss in the hopes of getting a raise, which goes abysmally. He even loses a bottle of Chardonnay in the process. So sad. He tells the gang as they convene to watch the game about his fail and they propose the idea of him getting leverage to bolster his credibility, or rather, lack there of. Andre interrupts with his increasing mania of not knowing what his punishment will be and Jenny is revealed to be a "height supremacist" because she only drafts tall players. She's all about football being a "big man's game." Get it, girl.
Taco approaches Pete, a TacoCorp board member, about a prospective idea which triggers Pete to use a fake job offer from TacoCorp as the leverage he needs at his real job for his raise. After a typical erratic encounter with Taco, Pete convinces Taco to sign a job offer from TacoCorp for $150,000.
Back in Kevin and Jenny's world, the duo attends a work function for Kevin. In an effort to schmooze his boss, Kevin sends over Jenny to make nice and she ends up making a fool of herself in front of Mr. Lipscum. Yup, that's his name. God, it must be fun writing for this show. But ANYWAY. After mixing Mr. Lipscum up with a tall waiter, Jenny has to prove that she's not "Adolf Height-ler" in order to save face.
The gang rags on Jenny, accompanied by Ruxin in Korea via iPad. Jenny vows to fix the problem and in her planning to rectify the situation, she's interrupted by perhaps the most disturbing thing The League has ever brought to the small screen: Andre in drag. Andrea, as he calls himself, is alleging that this is him punishing himself for his actions but the gang's not having it. The blue eyeshadowed ensemble is just more fuel for the Andre hate-fire and honestly, I just wish I was in the bar with them because it is just downright AMAZING.
Jenny concocts an elaborate plan to get Darren Sproles from the Eagles, a Philly team (where Mr. Lipscum's from), to take Ellie to her Sadie Hawkins dance. Jenny forces Ellie to make a scripted video, accompanied by a cheesesteak, and somehow manages to procure a "yes" from Mr. Sproles. Things are looking up?
Pete heads to his boss with the signed offer from TacoCorp and manages to get what he wanted, telling the rest of the gang at their usual game night at Kevin and Jenny's. Taco is infuriated by Pete not accepting his fake offer and he fires Pete from TacoCorp. Pete's unfazed. Andre is still hung up on the idea that he's awaiting an unforeseen punishment and refuses to leave the room to even pee, causing him to get a UTI. Tefl-Andre has become "Yeastmode." I need a friend like Andre.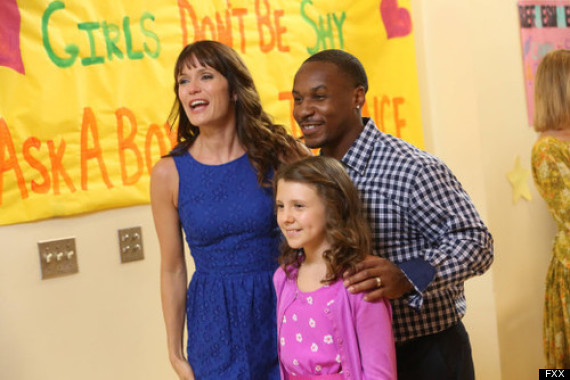 At Ellie's Sadie Hawkins dance, Darren Sproles escorts her in and Kevin and Jenny are WAY more excited than she is... as is the rest of the gang who randomly shows up. Ruxin via iPad outs Jenny as a height supremacist and Darren Sproles is not enthused when she hands him a fun-sized candy bar. Pete abuses the situation and trade-rapes Jenny mercilessly in front of everyone. Things continue to heat up when Andre can't hold in his pee long enough to wait for a free bathroom and proceeds to urinate in the middle school's water fountain. FOREVER UNCLEAN. Mr. Lipscum finally appears and Kevin introduces him to Darren Sproles. Sproles is suddenly thirsty and in an effort to save him from the pee fountain, Jenny defers him to the smaller water fountain adjacent to it and only manages to further offend everyone. Heil, Height-ler.
Leaving the Sadie Hawkins dance, the gang runs into Taco and finds out that Taco has sold EBDb to his friend Mark from Cuba for $1.1 million. Mark from Cuba ends up turning out to be Mark Cuban from Shark Tank -- an EPIC cameo. Cuban thinks the EBDb is "a radical new platform in the social media space" and Pete is infuriated on missing out on the business opportunity. I always believed in Taco. If only the rest of them did too.
THINGS TO NOTE:
"Classic bottom."
Taco's mini bonsai.
Chardonnay.
"You don't get to decide when you get mugged." "I'm going to get mugged?!"
"When Steve Jobs invented the first job..."
Taco's "good friend" Mark from Cuba.
"There's Peter Dinklage, there's Mr. Lipscum, and then there's the rest of us."
"I'm a naughty girl in a dirty little world."
Andre's Manolo Blahniks.

Keep up with "The League" recaps here every week. "The League" airs on Wednesdays at 10 p.m. ET on FXX.
BEFORE YOU GO
PHOTO GALLERY
The Walking Dead