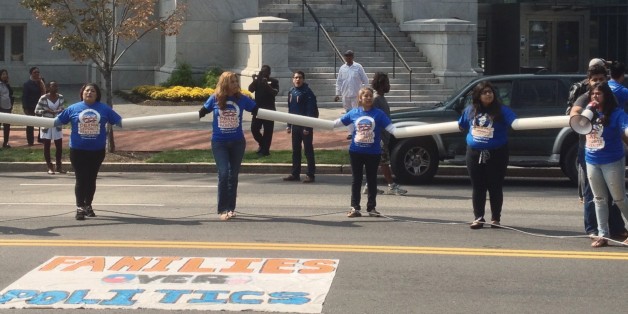 WASHINGTON -- Immigration reform advocates held a rally Friday outside a major women's event in Washington to accuse the president and other Democrats of ignoring their community's suffering. Inside, major Democrats gathered to address the Women's Leadership Forum of the Democratic National Committee.
"This is supposed to be a convention for women, and there no Latinas representing the undocumented community," said Maura Pereira, a political organizer from North Carolina. "I hope they do notice that we're all also women and Latinas living the struggle."
Pereira and seven other protesters linked to the advocacy group United We Dream formed a human chain across the stretch of Washington's busy Massachusetts Avenue directly in front of the convention venue. In addition to familiar slogans such as "Undocumented, unafraid," their chants included women-specific messages like, "Everywhere we go, people want to know who we are, so we tell them: We are the women, the mighty, mighty women, fighting for justice and for our families!"
President Barack Obama and former Secretary of State Hillary Clinton were among the speakers at the DNC event Friday, following first lady Michelle Obama and House Minority Leader Nancy Pelosi (D-Calif.) on Thursday. For Democratic leaders, the event was a chance to mobilize women voters ahead of the 2014 midterm elections, which will determine whether their party retains control of the Senate. In the 2012 elections, Democrats leaned heavily on support from both women and Latinos.
But the message from the immigrant advocates was that many Latinos now believe neither party can be trusted to provide relief for tens of thousands at risk of deportation.
"It's families. We're standing with each other; we're not standing with any political party," Pereira said.
Buzzfeed reports that this is the third time Dreamer activists have protested an event featuring Clinton, a presumed frontrunner for the 2016 Democratic presidential nomination.
The president recently angered immigration reform advocates by breaking a self-imposed deadline to take executive action on immigration by this summer. Concerns about Republican criticism and close Senate races are understood to have fueled his decision: Given that Republicans already blame the flood of young undocumented immigrants arriving at the border over the past year on the president's effort to stop deporting certain young undocumented immigrants within the U.S., any further move to ease the rules is risky. But the advocates say the president's delays have left them skeptical of both his administration and his party.
"As he's in there talking about the future [role] that women will play in America, we want him to really remember the mothers he's deported," said Mario Carillo, communications director for United We Dream. "We want him to remember the children he's torn from their families, from their mothers."
The Congressional Hispanic Caucus issued a resolution Thursday demanding that the president act on immigration reform before the end of the holiday season. Though he was impressed with the strength of the lawmakers' language, Carillo said, their willingness to accept a further delay disappointed his group.
Asked about the Hispanic Caucus' action, Pereira said, "I guess they don't stand with us as Latinos."
The protesters, who included Dreamers brought to the country as children and currently benefiting from Obama's last executive order on immigration reform, and their supporters used the hashtag of the Democratic conference -- #DemWomen -- to spread their message:
.@Dreamdefenders with us! Standing in solidarity with the undocumented community #NoMoreDelays #DemWomen pic.twitter.com/Hcbi9o6BYa

— UnitedWeDream.org (@UNITEDWEDREAM) September 19, 2014
"The time is now 2:23 and you are now under arrest." - Sgt. Mejia. #DemWomen choose politics over families once again. #fail

— MyrnaOrozco (@Myrna0rozco) September 19, 2014
#DemWomen this is what leadership looks like #poderosasmujeresymadres standing up & fighting back against injustice pic.twitter.com/ZQDYR4PsRX

— Julieta Garibay (@dreamelder) September 19, 2014
Two and a half hours after the protest began, D.C. police arrested the activists.
Seargent Mejia from #DC police giving 2nd warning. "I am SOMEBODY!" #DemWomen this is on you! pic.twitter.com/uoenNyP2k5

— MyrnaOrozco (@Myrna0rozco) September 19, 2014
BEFORE YOU GO
PHOTO GALLERY
11 Ways Immigration Reform Helps The Economy