These people know they could've pre-ordered the new iPhone online, right?
About a week and a half after announcing two new iPhones -- the new, bigger iPhone 6 and even biggerer iPhone 6 Plus -- Apple officially began selling its new handsets in stores on Friday morning.
That means only one thing: The hundreds of people who've waited in line for days since the iPhone announcement finally had the fleeting moment of joy that comes with the purchase of any new Apple product.
Here's what iDay looked like around the world.
The lines got long at Apple Stores.
Here was the scene in Singapore this morning.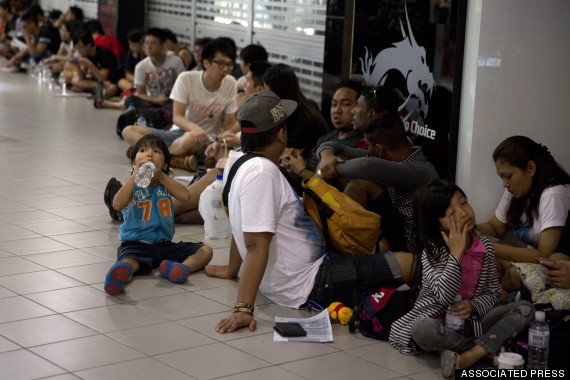 (AP Photo/Ng Han Guan)
We mean really looong.
Here what it looked like outside the Berlin store.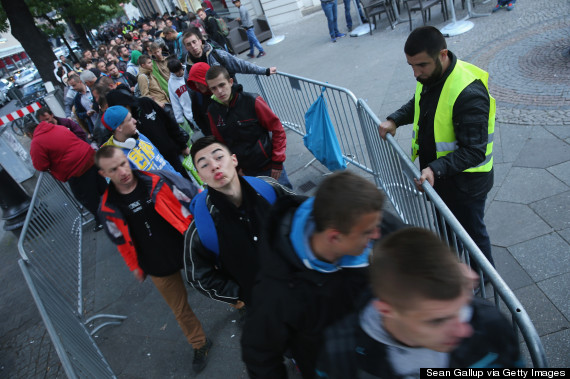 (Photo by Sean Gallup/Getty Images)
Some Apple fans literally camped out.
Like these guys in London.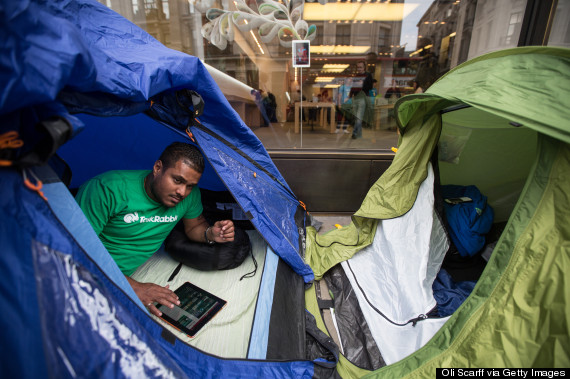 (Photo by Oli Scarff/Getty Images)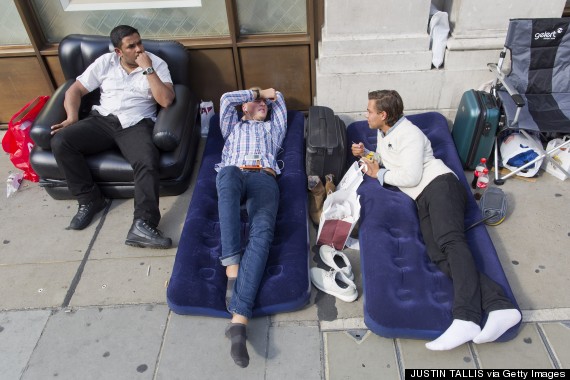 (JUSTIN TALLIS/AFP/Getty Images)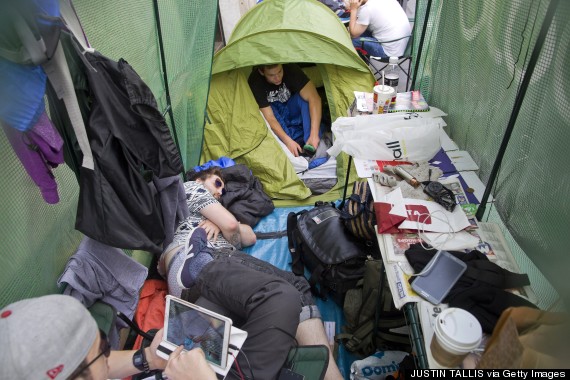 (JUSTIN TALLIS/AFP/Getty Images)
Sometimes, things got weird.
At least in Tokyo. Here's someone wearing a Steve Jobs mask, holding an apple (the fruit).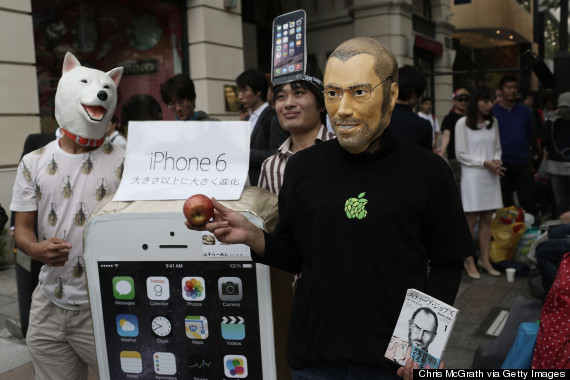 (Photo by Chris McGrath/Getty Images)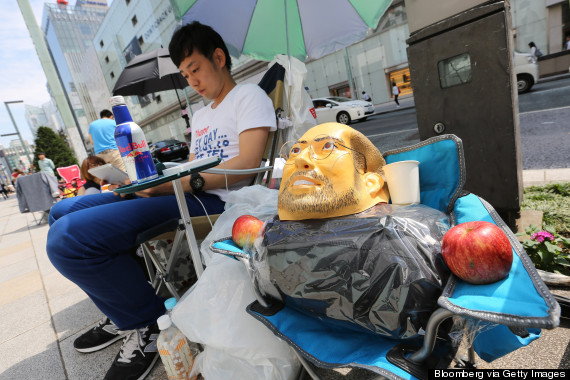 (Yuriko Nakao/Bloomberg via Getty Images)
At least there was free coffee in Sydney.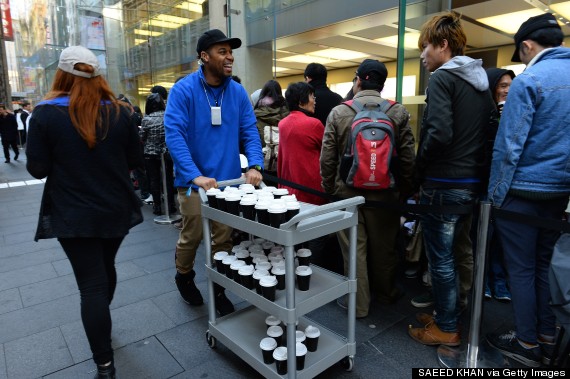 (SAEED KHAN/AFP/Getty Images)
Not to be outdone, New York had free chicken.
A team of KFC employees, including one dressed as Colonel Sanders, visited the Apple Store line in New York in honor of the Kentucky Fried Chicken founder's 124th birthday this month.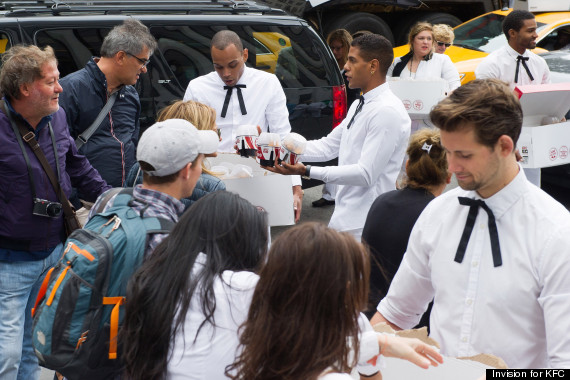 (Photo by Charles Sykes/Invision for KFC/AP Images)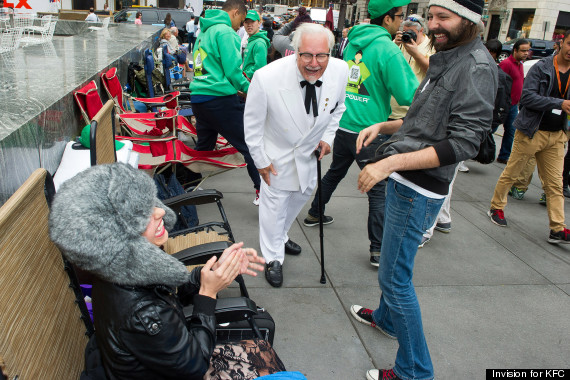 (Photo by Charles Sykes/Invision for KFC/AP Images)
All that chicken may have something to do with this.
(We're glad no one took a picture of this one.)
@TheStalwart People are pooping in bags while they wait to buy the iPhone 6.

— Jay Yarow (@jyarow) September 19, 2014
We guess things are bound to happen when that many people come together. The line for Apple's flagship store in New York stretched 12 blocks along Central Park, according to Business Insider.
But the wait paid off once Apple fans got their new phones.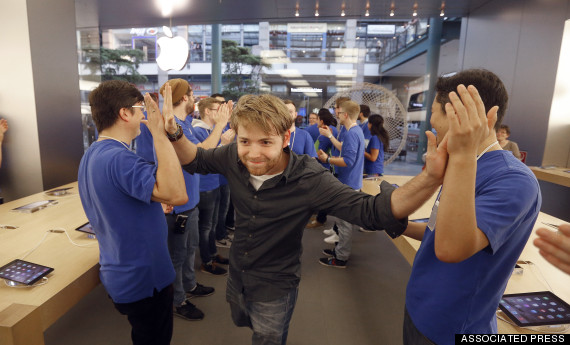 (AP Photo/Frank Augstein)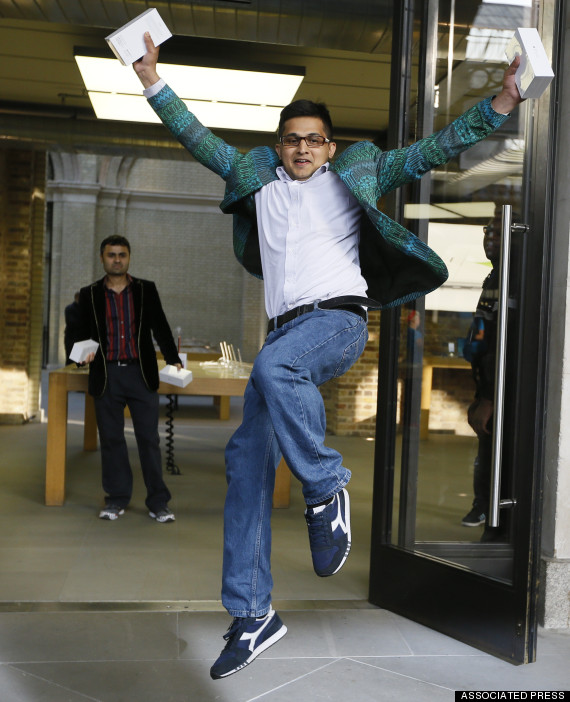 (AP Photo/Kirsty Wigglesworth)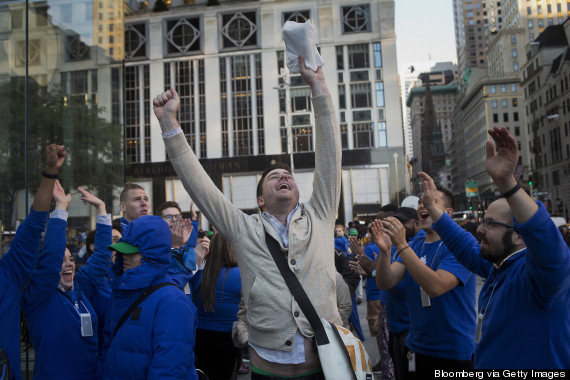 (Victor J. Blue/Bloomberg via Getty Images)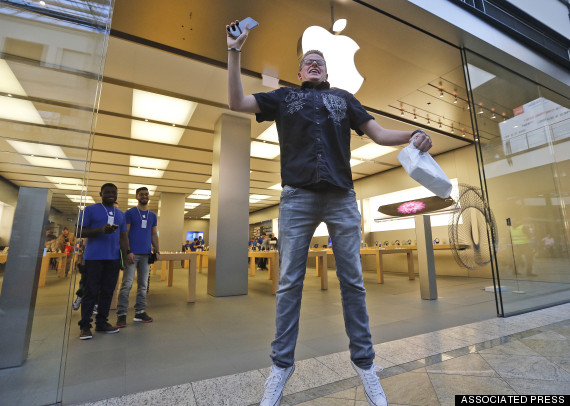 (AP Photo/Frank Augstein)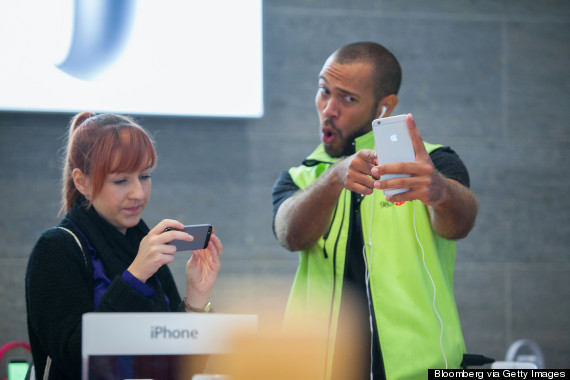 (Krisztian Bocsi/Bloomberg via Getty Images)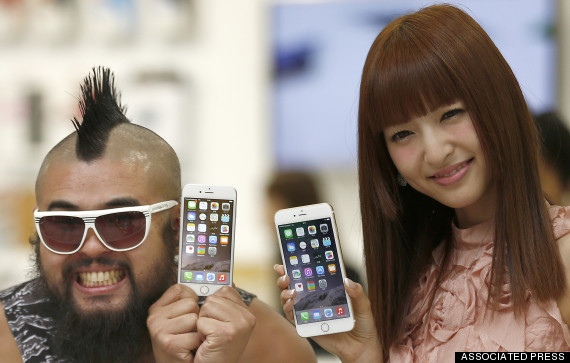 (AP Photo/Shizuo Kambayashi)