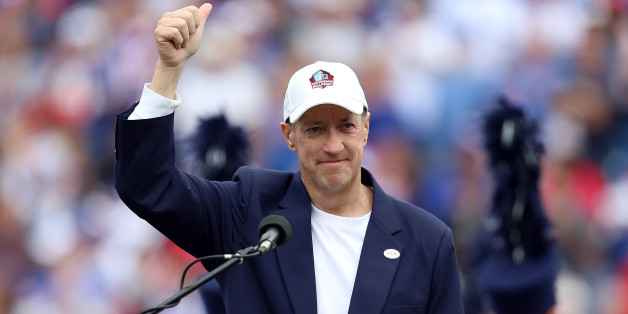 Over the course of his Hall of Fame NFL career, Jim Kelly learned a thing or two about disappointment. A five-time Pro Bowler and one of the premier quarterbacks of his generation, Kelly took his Buffalo Bills to the Super Bowl every year from 1990 to 1993. The Bills are the only team in NFL history to make it to the big game four years in a row. They're also the only team to lose four in a row. "These things always happen to the Bills," said Kelly's teammate Andre Reed after the team's fourth Super Bowl loss, to the Dallas Cowboys. "It rips the heart out of you."
Two decades on, though, Jim Kelly has made his peace. "People always ask, would you rather win one time or go four times and lose," he told USA Today in 2011. "It's a hard question. But to be honest with you, I would rather go four times and lose."
Kelly was as much a thinker on the field as he was a strong-armed assassin. He gained notoriety for calling his own plays while directing the infamous "K-Gun," no-huddle offense. Today, at 54, Kelly is still improvising. And while the Bills' four Super Bowl losses led many observers to view Kelly's career as a disappointment, it's clear that his professional heartbreaks only served to enhance the strength, resilience and grace with which he has met other, off-field setbacks. Though the peak of NFL success eluded him, Kelly has found a higher calling in his life after the league.
As a father, Kelly faced a challenge greater than any he'd ever encountered as a quarterback. In 2002, when he was inducted into the Pro Football Hall of Fame, he closed his speech with praise for his young son, Hunter. "It's been written that the trademark of my career was toughness," he said. "The toughest person I ever met in my life was my hero, my soldier, my son, Hunter. I love you, buddy."
Hunter was diagnosed at a young age with Krabbe Disease, a rare generative disorder that affects the nervous system. He died in 2005, at age 8. Raising awareness about the disease, and helping other families coping with it, became Kelly's great cause. He and his wife Jill have started several organizations to further this mission, from the nonprofit Hunter's Hope, founded shortly after Hunter's birth, to the Hunter James Kelly Research Institute, which conducts research on the disease at the University of Buffalo.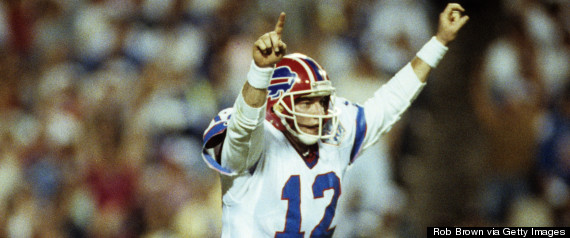 In a September 2012 appearance on "The 700 Club," Kelly reflected on the moment he learned of Hunter's death. "I was met by a couple doctors who said 'We're sorry, your son is gone,'" he said. "And I didn't have the opportunity to say 'bye' to him, but I got to spend many minutes with him, after, by myself, talking to him. I do not think [Jill and I] said too much to each other on the way home, and that's when it really hit rock bottom. Jill sought God. I went further away."
In 2013, Kelly faced another health crisis. Doctors diagnosed him with squamous cell carcinoma, and he underwent surgery to remove the infected area of his jaw, as well as many of his teeth.
"When you hear the word 'cancer,' it automatically scares you," Kelly said after the diagnosis. "It not only scared me, but my family. But it's like everything. It's another river to cross, another stumbling block. I've been to the top many times. And I've been to the bottom. It's just one of the roller coaster rides I've been on throughout my life."
The procedure was a success, doctors told him, but months later Kelly began to suffer from excruciating headaches. The cancer had returned, and the doctors discovered more cancer in his sinus. Yet after aggressive chemotherapy and radiation treatments, doctors have again declared him cancer-free.
Through it all, Kelly has drawn on his toughness, his resilience and his faith. And when Andre Reed, Kelley's former teammate, was inducted into the Hall of Fame in August, he had this to say in his speech: "The toughest individual I've ever met in my life is Jim Kelly, number 12."
Email me at jordan.schultz@huffingtonpost.com or ask me questions about anything sports-related at @Schultz_Report and follow me on Instagram @Schultz_Report. Also, be sure to catch my NBC Sports Radio show "Kup and Schultz," which airs Sunday mornings from 9 to 12 EST, right here.