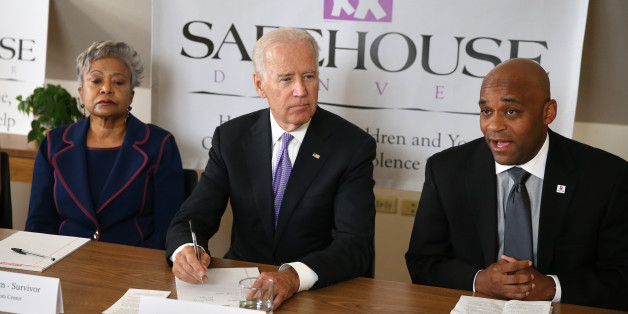 Vice President Joe Biden took time before a fundraising event in Denver Friday afternoon to attend a roundtable discussion on domestic violence.
Biden, seated with Denver Mayor Michael Hancock and a panel of domestic violence advocates, survivors, and service providers, applauded progress since the passage of the Violence Against Women Act 20 years ago -- a legislative victory during his time in the U.S. Senate -- yet acknowledged much remains to be done.
"We will have won," Biden said, describing what success in the fight against abuse might look like, "when every young woman in America knows it's never appropriate to ask, 'What did I do?'"
The vice president also promoted the White House's new "It's On Us" campaign, which encourages people to pledge to intervene when they see abuse, and "not be a bystander to the problem."
"Men ... have to understand you have an obligation to intervene when you see violence take place," Biden explained. "That's manhood. That's being a man."
Toward the end of his remarks, Biden grew fiery, raising his voice as he said, "Without consent, no man has a right to touch a woman."
In his introduction, Hancock touted Denver's forthcoming "Rose Andom Center," which he described as a "one-stop shop" for victims of domestic violence, who can find immediate refuge in the city center, instead of "re-victimizing the victim" by forcing them to various offices around the city.
The event comes amid heightened scrutiny of the NFL following high-profile domestic violence cases against former Baltimore Ravens player Ray Rice and Minnesota Vikings player Adrian Peterson. Commenting on the scandal Friday, Biden said "The NFL hasn't seen nothing yet."
BEFORE YOU GO
PHOTO GALLERY
Joe Biden Makes Faces At VP Debate