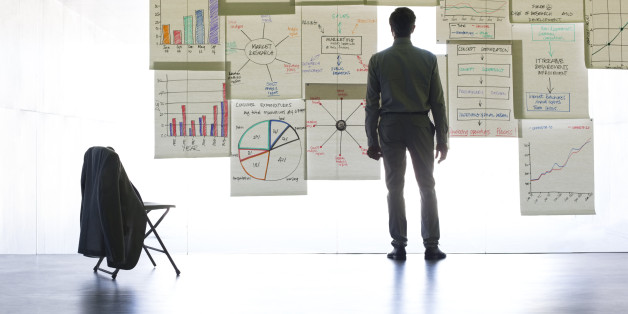 We recap the Senate model debate that you have (or haven't) been following all week. Polls in Kansas give the independent an edge without Chad Taylor on the ballot. And Republicans in 2014 may be likeable..enough. This is HuffPollster for Friday, September 19, 2014.
NERD FIGHT: THREE THINGS YOU SHOULD KNOW - Greg Sargent: "A public argument has erupted between two leading forecasters of the Senate battle — the internationally famous Nate Silver, and the little known Sam Wang, a professor of neuroscience at Princeton who dabbles in election forecasting as something of a hobby. The battle is being treated as a bit of a sideshow — as a duel of dweebs...In a nutshell, the dispute turns on the difference between their two models. Wang's model is a 'polls only' model that bases predictions on a median of all available public polling data. Silver's model is premised on the idea that polls alone aren't enough, and adds in a number of 'state fundamentals' to his model, including the generic ballot, Congressional approval ratings, fundraising totals, the background and ideology of the candidates, and so forth." [WashPost]
1) The models differ mostly in their degree of certainty about the outcome - They differ only slightly, however, in their projections of the most likely Senate seat count. Vox: "[The graphic below] shows the latest projections from forecasters of the most likely outcome. As you can see, they don't vary very much — each party is projected to win about half the seats. But an outcome of 51 Republicans and 49 Democrats will tip the Senate to the GOP, while a 50-50 result will keep the chamber in the Democrats' hands (because of Vice President Joe Biden's tie-breaking vote). That's why forecasting this year's Senate elections is 'a game of inches,' as Eric McGhee, co-creator of the Washington Post's model, put it to Vox." [Vox]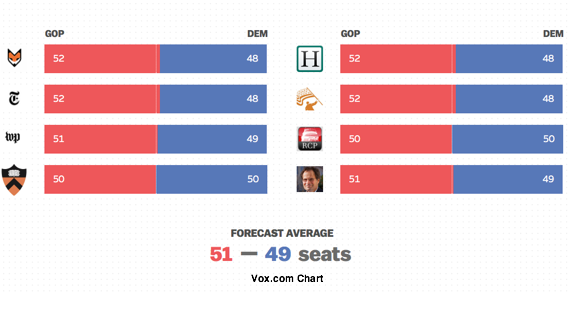 2) The outcome won't tell us which model was right Hans Noel: "Defenders of forecasting like to say that the forecast tests the model. If you're not willing to put your reputation on the line, you don't trust your science. In writing about the nerd fight, Greg Sargent says 'Soon enough, we'll find out whose model is superior.' No, we won't. The forecasts we have right now are all probabilities, as they should be. After all, the models all have uncertainty in them...There is a huge and meaningful difference between a 34 percent chance that the Republicans take the Senate and a 57 percent chance. But come Election Day, we won't observe enough to know which was right. One observation does not a probability distribution make. If the Republicans fail to control the Senate, this could easily be in the 50%, 46% or 43% of outcomes that the GOP-favoring models assign to that possibility." [Mischiefs of Faction]
3) Fundamentals explain little about differences in the current forecasts - Nate Silver, commenting on the overall probabilities reported yesterday by the Pollster and FiveThirtyEight models: "HuffPost (polls only) has GOP at 49%. We (polls + fundamentals) have them at 53%. It DOESN'T make much difference." More from Vox: These fundamentals, though, have already grown much less important, because every forecaster gives polls more and more weight as the election gets closer. For instance, the Post's model is already 'mainly polls,' Eric McGhee told Vox." [@NateSilver538, Vox]
YESTERDAY'S POLLS:
Alaska Senate - A Hays Research phone poll for Alaska's AFL-CIO (D) gave Sen. Mark Begich (D) a 5-point lead over challenger Dan Sullivan. Other polling on the race has been infrequent, inconsistent and largely partisan. In September, another recent Democratic poll, from Harstad, gave Begich a 5-point edge, while a CBS/NYT/YouGov online poll with a small sample size (412 voters) found Sullivan leading by 6. The HuffPollster model gives Begich an edge of just over Sullivan of one percentage point (43.2 to 42.0 percent) and both candidates a nearly equal chance of victory, as of this writing. [Pollster Alaska chart]
New Hampshire Senate - Thursday brought two new automated, recorded voice polls of New Hampshire voters, one conducted by New England College and another by Republican firm Vox Populi Polling that showed Democratic Sen. Jeanne Shaheen leading by 11 percentage points and trailing by 4, respectively. These two polls captured the extreme range of variation in a week featuring the release no less than seven surveys on the New Hampshire race. On the Pollster poll tracking model, which considers all polls but calibrates to the non-partisan polls with a record of accurate performance, Shaheen's margin over Brown has narrowed to just under just under four percentage points (48.6 to 45.0), as of this writing. The margin is now close enough -- given the time remaining, those still undecided and the potential for polls to be in error -- to rate Shaheen's probability of victory at just 61 percent, down from 77 percent in early September. [Pollster New Hampshire chart]
Georgia Senate - An automated Rasmussen poll gave Republican David Perdue (R) a 5-point lead over Michelle Nunn (D). While polling on the race continues to vary considerably, with recent surveys showing everything from Perdue up 10 to Nunn up 3, Rasmussen's result broadly agrees with releases from SurveyUSA, the Atlanta Journal-Constitution, and CBS/NYT/YouGov, which finds Perdue leading by a 3-6 point margin. HuffPost Pollster's model gives Perdue an 80 percent shot at victory. [SurveyUSA]
Overall outlook - HuffPost Pollster's overall assessment, based on the current polling snapshot, is that polls cannot say with certainty which side holds the advantage in the battle for the Senate. The poll tracking model currently rates the probability of Republican majority at 52 percent, based on margins of just over one percentage point favoring Republican candidates in three states -- Kansas, Iowa and Arkansas. Republicans would have a Democrats have similarly tiny margins in two more states -- Colorado and Alaska, with the poll tracking margins less than four percentage points in three more. If all candidates with at least a nominal lead as of this writing were were to win, Republicans would have a 51-seat majority, but the margins are so close that another round of new polls could tip the balance in the other direction. [Senate Outlook]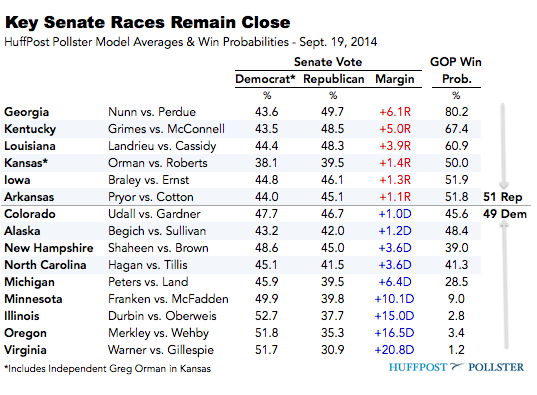 A note of caution on some GOP-friendly recent polling - Harry Enten: "Over the past 48 hours, new [Quinnipiac] polls have indicated that Republicans are very much alive in Colorado and Iowa….That said, we should be wary of these latest Quinnipiac surveys. Not only are the results the most Republican-friendly of the year in either state, but Quinnipiac's polls have previously been too pro-Republican at this point in midterm elections. Its likely voter polls in 2010 had Republican Tom Foley up by 9 percentage points in theConnecticut gubernatorial race; he lost by a point. Quinnipiac had Democrat Andrew Cuomo up by just 6 points in the New York gubernatorial race; he won by 29 points. It had Republican John Kasich up by 17 points in the Ohio gubernatorial race; he won by just 2 points. It's best to rely on an aggregate of all polls. That won't be a perfect indicator, but it's generally better than focusing on the outliers." [538]
WITH TAYLOR OFF THE BALLOT, POLLS GIVE ORMAN AN EDGE IN KANSAS - HuffPollster: "A Thursday night court decision knocking Democrat Chad Taylor off the Kansas Senate ballot may boost independent Greg Orman's campaign to unseat Sen. Pat Roberts (R-Kansas). While there's scant polling on the race, two surveys taken before the court decision suggest the bulk of Taylor's remaining supporters are likely to turn toward Orman. A Fox News poll found Orman 2 points behind Roberts, with Taylor and libertarian Randall Batson on the ballot, and gave Orman a 6-point lead, 48 percent to 42 percent, in a head-to-head against Roberts. Without Taylor on the ballot, Orman took 81 percent of the Democratic vote, 68 percent of the independent vote, and 21 percent of the Republican vote. A second survey, from the Democratic pollster PPP, gave Orman a 7-point lead over Roberts with Taylor and Batson on the ballot, and a 10-point lead in a matchup against just Roberts." [HuffPost]
How we'll deal with Kansas, Part II - HuffPollster's poll tracking model is currently based on the seven polls conducted since June that tested a three-way contest between Roberts, Orman and Taylor. The current estimate, which largely reflects three new polls conducted since Taylor dropped out of the race, gives Taylor just under 10 percent of the vote. Going forward, we will add new polls to the existing chart with Taylor omitted (assuming that no other Democrat's name is added to the ballot). The estimate will gradually adjust to whatever the new reality of the race turns out to be.
AMERICANS MAY NOT DISLIKE REPUBLICANS AS MUCH AS THEY USED TO - Yesterday's HuffPollster noted a Gallup poll finding Republicans' ratings improving since last year's government shutdown. Gallup's surveys aren't the only one to find a leveling off. Among live-caller, nonpartisan surveys, Republican unfavorability reached a height of more than 57 percent during the 2013 government shutdown, but have now returned to an earlier level of closer to 50 percent. [Gallup, Pollster chart]
WHY 2014 MAY NOT TELL US MUCH ABOUT 2016 - Harrison Hickman (D): "[N]o matter what the outcome, these Senate races will not predict what will happen in the 2016 Presidential race….Senators are elected for six year terms. Elections for those seats are divided into three classes, and the Senators elected by each state are in two of the three classes. As a result, approximately one-third of Senate seats are contested each two years in general elections. Seats contested this year are part of Class II….Class II states are not representative of the country as a whole. On most grounds, they are the least representative of the three classes. For example, Class II is much smaller than the other two 'classes' of Senate races….Second, Class II states were much more supportive of Mitt Romney than the nation or states in the other two classes….. Many assumed Democrats were well-positioned for Presidential elections in 1988 and 2004 based on the outcome of Senate elections two years before. Republicans were equally gleeful of their chances going into 2012 because of their success in the 2010 Congressional elections." [HuffPost]
PARTISANS DISAGREE ON MOST IMPORTANT VALUES TO TEACH - Pew Research: "As the public grows more politically polarized, differences between conservatives and liberals extend their long reach even to opinions about which qualities are important to teach children, according to a survey by the Pew Research Center. People who express consistently conservative political attitudes across a range of issues are more likely than other ideological groups to rate teaching religious faith as especially important – and the least likely to say the same about teaching tolerance. By contrast, people with consistent liberal opinions stand out for the high priority they give to teaching tolerance – and the low priority they attach to teaching religious faith and obedience." [Pew]
AMERICANS BELIEVE U.S. HAS OBLIGATION TO FIGHT EBOLA - HuffPollster: "A new HuffPost/YouGov poll finds that Americans, too, think the U.S. should act to stop the spread of Ebola in West Africa, though their level of support for different types of aid varies greatly. A majority of Americans -- 53 percent -- said the U.S. has a moral obligation to help fight the Ebola outbreak in West Africa, while 23 percent said it does not. Near equal percentages of Democrats, Republicans, and independents said the U.S. has a moral responsibility to act. When presented with specific types of aid the U.S. could provide, Americans showed much stronger support for medical aid than any other type of assistance. Eighty-two percent of respondents said the U.S. should send medical supplies to West Africa, while 8 percent disagreed...Only 17 percent of Americans support sending American troops to help enforce quarantines of Ebola patients, while 58 percent said they opposed doing that. Quarantines have been used in both Liberia and Sierra Leone to try to contain the spread of the outbreak, but both countries have struggled to enforce them. Obama said during his speech on Tuesday that U.S. military personnel would be sent to Africa to help train health care workers, erect new health care facilities, and provide logistical support -- a form of assistance not asked about in the HuffPost/YouGov poll." [HuffPost]
PUBLIC DISAPPROVES OF NFL, BUT WITH LITTLE CONSEQUENCE - Mark Murray: "Nearly 90 percent of Americans say the recent outcry about domestic violence in the NFL hasn't changed how much professional football they watch — and less than a third of the nation believes NFL Commissioner Roger Goodell should resign.That's the result of an exclusive NBC News/Marist poll, which also finds that a majority of Americans – including nearly six in 10 self-described football fans – say they disapprove of the way the NFL has handled the domestic-violence allegations." [NBC]
HUFFPOLLSTER VIA EMAIL! - You can receive this daily update every weekday morning via email! Just click here, enter your email address, and and click "sign up." That's all there is to it (and you can unsubscribe anytime).
FRIDAY'S 'OUTLIERS' - Links to the best of news at the intersection of polling, politics and political data:
-Sabato's Crystal Ball moves the North Carolina Senate race to Lean D. [University of Virginia]
-Dave Weigel argues Quinnipiac's Colorado polling didn't get the state's demographics right. [Slate]
-Most Americans can't name all three branches of government. [WashPost]
-A study of 850 Beltway insiders suggests Americans' dislike of Washington is mutual. [WashPost]
-Sean Trende and David Byler explain an index they created to track overall strength between the Republican and Democratic parties. [RCP]
-Jonathan Bernstein warns against hyping "poll blips." [Bloomberg]
-Kathy Frankovic contrasts Americans' support for Obama's anti-ISIS policies with their low ratings of his handling of the issue. [YouGov]
-Andrew Gelman is skeptical about a study on the politics of smell. [WashPost]
-DC voters are in favor of legalizing marijuana. [HuffPost]
-Most Virginians say they're not offended by the Washington football team's name. [CNU]
-John Stanton summarizes how most Americans probably feel about the 2014 war of the Senate models. [@dcbigjohn]