Looks like the pizza industry is going to pot -- literally.
L.A.-based Podey Pizza has started selling jars of pot-infused pizza sauce at marijuana dispensaries in Los Angeles, San Francisco, Washington State and Colorado.
Each 5-ounce jar of Podey Pizza sauce sells for $20 and contains 300mg of medical cannabis per jar, enough for one large pizza or two smaller ones, according to Steve Thomas, Podey Pizza's vice president of operations.
"You can eat three slices and be fully medicated," he told HuffPost.
Thomas believes his pot-laced pizza sauce is a good option for medical marijuana users who don't to rely on sweets like candies and cookies to get their cannabis.
But getting there wasn't easy.
"We spent a lot of time getting it right so the sauce didn't taste 'green,'" Thomas said. "We probably made 150-200 pizzas and would invite three or four people to try them. We even put ads looking for people who were 300 pounds plus to make sure the dosage was right."
Thomas said the sauce is slightly sweet and uses tomatoes, mixed with cannabis-laced safflower oil.
"We may come out with a garlickly version or more of a butter sauce," he said.
Podey Pizza is marketing itself as the world's first pot-laced pizza sauce, but since Colorado and Washington legalized marijuana, a number of companies have been trying to make a lot of dough by selling pot-infused pizzas, and pizza products.
Stoned Oven Gourmet Mandibles, also based in Los Angeles, just started selling six-inch pot pizzas for $10 each.
Each pizza contains 250 mg of ethanol-extracted tetrahydrocannabinol, otherwise known as THC concentrate, the Los Angeles Times reports.
Best of all: The company will deliver its cannabis pizzas to stoners who live in the right neighborhoods.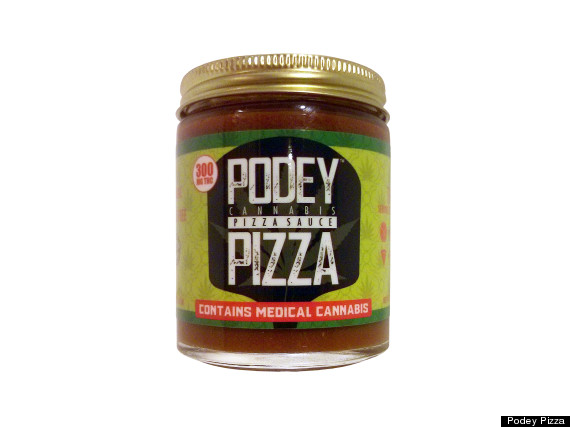 Earlier this summer, Vancouver's Mega ILL cafe made headlines by selling a "medicated pizza," which is drizzled with oil extracted from weed before being cooked.
Pizza and pot may be a natural combination, but Thomas says to prevent legal issues, sales are currently limited to dispensaries.
However, the success of recreational pot in Colorado and Washington has Thomas dreaming of the day when he can sell to regular pizzerias.
He already has a customer in mind: Denver Broncos quarterback Payton Manning, who owns a few Papa John's pizza franchises in Colorado and recently noticed the positive effects legalized pot was having on pizza sales.
"We would love to sell to Papa John's," Thomas laughed. "That's the dream."
Like Us On Facebook |

Follow Us On Twitter |

Contact The Author
BEFORE YOU GO
PHOTO GALLERY
Marijuana Porn