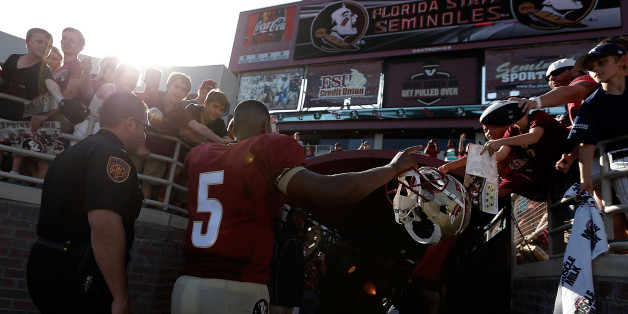 Florida State may have put it hopes of a repeating as national champion at risk by (eventually) suspending Heisman Trophy-winning quarterback Jameis Winston for an important game against a major rival. But, perhaps, it achieved, even if only reluctantly, a more important victory for its female students and fans.
Following a vulgar, misogynistic outburst on campus earlier this week, the redshirt sophomore superstar was sidelined for No. 1 Florida State's nationally-televised clash against No. 22 Clemson. The University initially suspended Winston for just the first half following the incident on Tuesday, but, amid criticism, increased the punishment to include the entire game on Friday. Winston, who won the Heisman Trophy and led Florida State to a national title as a freshman, has previously been accused of sexual assault and been caught stealing crab legs from an area supermarket during an up-and-down stint in Tallahassee.
With ESPN's "College GameDay" on Florida State's campus on Saturday, there was at least two female fans who seemed to appreciate the increased punishment for Winston's offensive and sexually charged exclamation. Amid the handmade "GameDay" signs with jokes about crab legs and digs at Clemson, there was one sign with a powerful message: "Women > Winning"
Among the boos at FSU anytime Winston's suspension is mentioned, there's this gem: Women > Winning! #GameDaySigns pic.twitter.com/l4TkmoT3Go

— Christina Henderson (@Miss_CTINA) September 20, 2014
In a pointed commentary segment on "GameDay" on Saturday, ESPN's Samantha Ponder referenced signs like this one while reporting that patience with Winston is wearing thin among Florida State's female fans.
"After the initial accusations of everything that has gone on in the last year or two, the Florida State faithful were just that, very faithful to Jameis Winston, defending him loyally," she said. "It seems like that's starting to change. Even the signs that you see in our audience today are a lot different than you would have expected from Jameis a couple of weeks ago. I've been talking to tons of fans and people around the program and the patience is wearing thin, especially from female fans."
Florida State's decision to lengthen Winston's suspension came just hours after NFL Commissioner Roger Goodell addressed that league's failures in dealing with violence against women. With the NFL facing a credibility crisis sparked by its mishandling of the Ray Rice domestic violence case, Winston's history of off-field misbehavior may make him less attractive as a prospect despite his talent.
"It'll hurt him significantly," an NFL scout told NFL Media's Albert Breer. "Especially with all the stuff going on in the league. This may force him to stay another year to clean up his image. He's a fraud. You can't believe anything he says, because he keeps doing the same things over and over."
BEFORE YOU GO