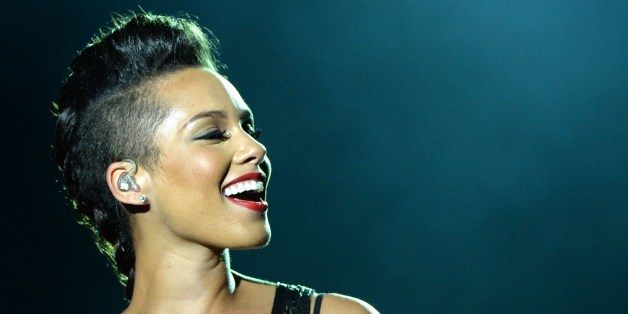 Alicia Keys has painted a peace sign on her pregnant belly and posted a nude photo to Instagram in order to "make the world a better place." According to the New York Times, she "knew this image would draw attention, which is just what she wants as she builds an army of fans who want to make the world a better place for all."
The photo is included in an op-ed in which Nicholas Kristof outlines Keys' plans to "gather an army" from her fans in support of 12 specific groups. Listed by Kristof, they are as follows:
All Out, a gay rights organization; CARE, the aid group; Equal Justice Initiative, which combats racial inequity in the criminal justice system; the Future Project, which empowers high school students in America; Girl Rising, which supports girls' education around the world; Keep a Child Alive, which helps children affected by H.I.V. and AIDS; Moms Rising, which supports universal prekindergarten, maternal leaves and tighter gun laws; Oxfam, which fights global poverty; Partners in Health, which tackles disease worldwide; the Trevor Project, which prevents suicide among gay and lesbian youths; the Trayvon Martin Foundation, which fights racial profiling; and War Child, which supports children in conflict areas.
Keys is expecting her second child in December, and Kristof notes that her idea for "the movement arises partly from her concern about the world that the child will inherit," as well as answering the question "Why are we here?" The answer to that is obviously a mixture of being galvanized by nude pregnancy Instagrams and making the world a better place.
Head over to Kristof's piece for more details on the We Are Here movement.
BEFORE YOU GO
PHOTO GALLERY
Celebrity News & Photos