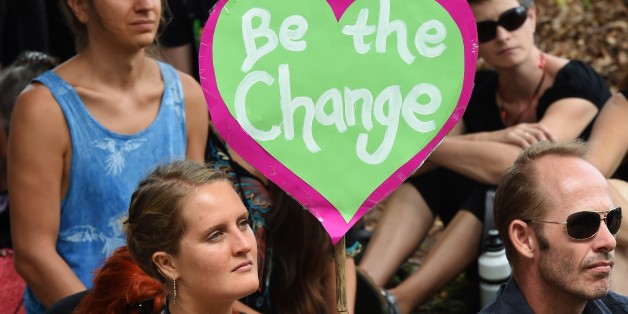 NEW YORK, Sept 21 (Reuters) - An international day of action on climate change brought tens of thousands onto the streets of New York on Sunday, with organizers predicting the biggest protest on the issue for five years.
Some 100,000 people, including United Nations Secretary-General Ban Ki-moon, New York City Mayor Bill de Blasio and U.S. senators were expected to join the People's Climate March in midtown Manhattan, ahead of Tuesday's United Nations hosted summit in the city to discuss reducing carbon emissions that threaten the environment.
Organizers said some 550 busloads had arrived for the rally, which followed similar events in 166 countries including Britain, France, Afghanistan and Bulgaria.
"Today I am marching for my children. I am marching so they can live in a world without worrying about the next big storm destroying their community," said Bill Aristovolus, the superintendent of an apartment building in New York City's working-class Bronx borough.
A crowd including U.S. senators Bernard Sanders of Vermont and Sheldon Whitehouse of Rhode Island lined up along a mile (1.6 km) long stretch along New York's Central Park, bearing signs reading "stop tar sands" and "keep the oil in the ground." Marchers carried pictures of sunflowers and, at the rally's head, a banner reading "front lines of crisis, forefront of climate change."
The march was due to step off around 11:30 a.m. ET (1530 GMT), covering a 2-mile (3.2-km) route winding past Times Square.
Organizers billed the event as the largest gathering focused on climate change since 2009, when tens of thousands gathered in Copenhagen in a sometime raucous demonstration that resulted in the detention of 2,000 protesters.
De Blasio on Sunday unveiled a new plan for the city to reduce its greenhouse gas emissions by 80 percent from 2005 levels by 2050.
All 3,000 major city-owned buildings would be retrofitted with energy saving heating, cooling and light systems by then, he said, though meeting the commitment will also require significant investments by private landlords.
"Climate change is an existential threat to New Yorkers and our planet," de Blasio said. "Acting now is nothing short of a moral imperative." (Additional reporting by Louis Charbonneau at the United Nations and Kylie MacLellan in London; Editing by Scott Malone, Bill Trott and William Hardy)

BEFORE YOU GO
09/21/2014 9:58 PM EDT
Oil Heirs To Divest From Fossil Fuels
The Rockefeller family is divesting its massive fortune from fossil fuels, the New York Times reported on Sunday. They will announce the landmark decision on Monday along with 49 other philanthropic foundations.
According to USA Today, the groups will give up any and all stock in the world's biggest oil and gas companies.
The Rockefeller Brothers Fund is especially noteworthy as its patriarch amassed his fortune by founding Standard Oil Company.
09/21/2014 6:57 PM EDT
No Arrests Reported
The New York City Police Department told Reuters that as of 3PM Eastern, there were no arrests at the People's Climate March in Manhattan on Sunday. In the hours since their statement, there have been no arrests reported.
As Reuters points out, the 2009 climate rally in Copenhagen ended with over 2,000 protesters detained. Earlier this year, another major environmental rally (a protest of the Keystone XL pipeline) saw hundreds of arrests.
09/21/2014 6:51 PM EDT
And We're Done!
The last #climatemarch marcher is finally done, 6 hours later. What a day!

— Bill McKibben (@billmckibben) September 21, 2014
09/21/2014 6:44 PM EDT
March Organizers: Over 2000 Events In 166 Other Countries
Climate justice marches similar to the one in New York on Sunday took place in at least 166 other countries. Organizers told Reuters that at least 270,000 participated in events outside of New York.
According to the Guardian, about 2,700 events took place this weekend.
One of the biggest marches took place in London, where 40,000 people rallied and celebrities like Emma Thompson showed up. Melbourne also saw a huge turnout, with at least 30,000 people showing up.
09/21/2014 4:06 PM EDT
'Defend Our Mother'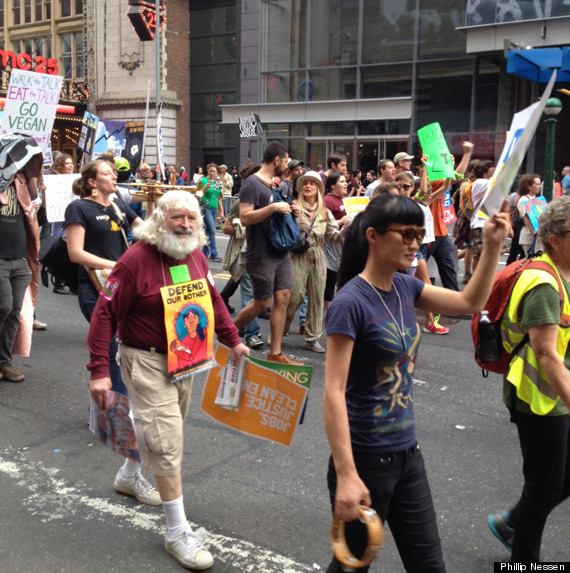 09/21/2014 3:57 PM EDT
'Older Is Bolder'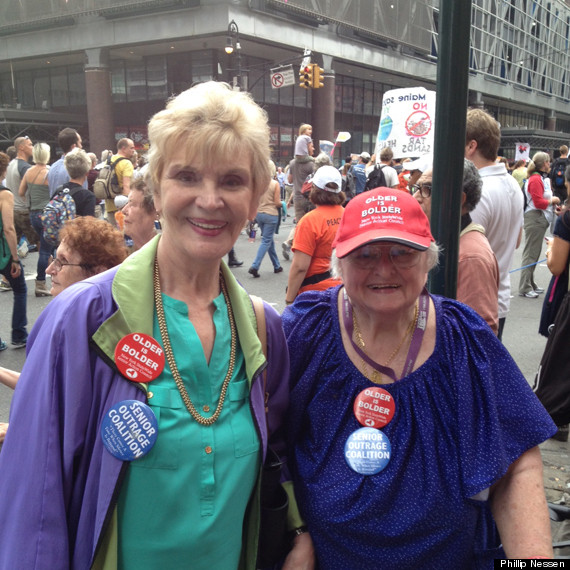 09/21/2014 3:08 PM EDT
Leading Climate Expert: May Be More Than 310,000 Marchers
Probably much larger than 310k-- but even at that the biggest protest about anything in America in a very long time

— Bill McKibben (@billmckibben) September 21, 2014
09/21/2014 2:54 PM EDT
310,000 People Marching
At least 310,000 people are marching on Sunday in support of climate change action, the march's organizer's said.
09/21/2014 1:59 PM EDT
'Fossil Fuels Have Got To Go'