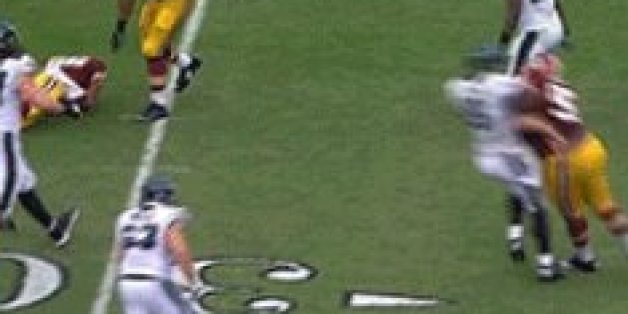 A punishing hit to Philadelphia Eagles quarterback Nick Foles sparked a sideline brawl between NFC East rivals that led to two player ejections. Washington defensive lineman Chris Baker ignited the melee by delivering a crushing hit to Foles after an apparent interception on Sunday.
The sequence began in the fourth quarter when Washington cornerback Bashaud Breeland appeared to have picked off a Foles pass attempt (it was later ruled to be an incomplete pass), and began returning the ball into Eagles' territory As Foles jogged toward where Breeland was eventually tackled, Baker caught him off guard with a big hit, sending him sprawling onto his back.
(GIF via @CorkGaines)
Former NFL Vice President of Officiating and current FOX Sports rules analyst Mike Pereira described the hit as a "cheap shot" and Foles' teammates seemed to agree.
QB's get added protection after an INT.

So for those asking, yes, the hit on Foles was a cheap shot.

— Mike Pereira (@MikePereira) September 21, 2014
As Baker walked away from Foles, Eagles offensive lineman Jason Peters appeared to have seen hit and ran after him. The two got into a scuffle, which sparked the big melee. Both Baker and Peters were ejected.
After the referees eventually restored order, Foles managed to stay in the game and the Eagles went on to win 37-34.
BEFORE YOU GO
PHOTO GALLERY
PHOTOS: NFL Week 3