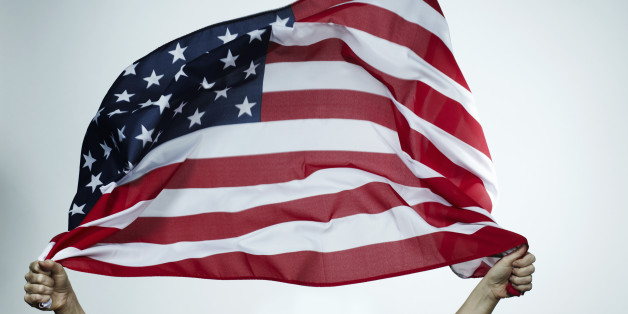 With the Scottish referendum over, we look back at how the pollsters did. A new survey that finds a quarter of Americans open to their state seceding. And most in the U.S. back airstrikes even though far fewer expect that they'll work. This is HuffPollster for Monday, September 22, 2014.
GRADING THE SCOTLAND POLLS - On Thursday, Scotland said 'no' to a historic independence referendum. Reuters. With all 3.6 million votes counted, 55 percent rejected the call for independence while 45 percent supported it. Anthony Wells: "The final pre-election polls had all tightly converged around the same figures – Yes 48%, No 52%, with every company was within one point of this. In fact the level of No support was three points higher than this. For a single poll a three point error would be within the margin of error, but every poll being off in the same direction suggests some systemic error." [Polling Report UK]
Durand's forecast anticipated a 'no' underestimate - Claire Durand, who predicted on Wednesday that "the No side is likely to win with a good margin": "Here is the graph that I published in my previous message on Wednesday afternoon [reproduced below]. It shows the likely result when I attribute 67% of non-disclosers to the No side. The results of the vote (55.3% No, 44.7% Yes) tell us that the No vote is underestimated by almost two points, even with this non-proportional attribution. Two polls were published on Election Day: YouGov put the No at 54% and Ipsos-Mori at 53% (this poll was conducted before Election Day however). This may mean that there was some last minute movement. I checked whether my estimate would have been much different if I had given 75% of non-disclosers to the No side. It does not change enough in the prediction to warrant publication....As with the Quebec 1995 referendum, the polls underestimated the No vote and this, even when we allocate two-thirds of non-disclosers to the No side. This seems like a systematic bias that we will have to take into account in future referendum votes. However, the opt-in panels did not fare better nor worse than other polls at the end of the campaign." [Ah Les Sondages]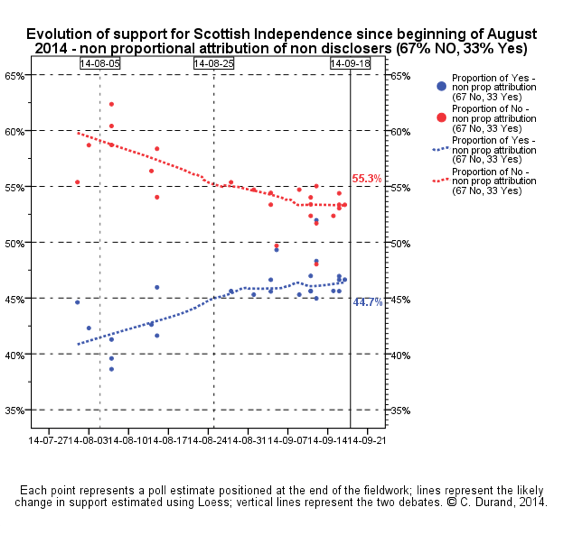 Durand was not alone in anticipating an underestimate of the "no" vote:
-Patrick Murray, Sept. 12: "Re #ScotlandIndependence #polls, assume most undecideds will be "No" (not evenly divided as UK pollsters think). I predict Yes--45/No--55." [@pollsterpatrick]
-Robert Moran, Sept. 15: "When will people learn? Don't drop the undecideds and re compute... Again:
Dropping the undecideds is a mistake." [@robertpmoran]
After the vote, others focused on the margins:
FiveThirtyEight says Scotland polls were "pretty bad" - Nate Silver: "I don't pretend to have any particular authority to discuss Scotland's results. But the 'no' side's margin of victory, by 10 to 11 percentage points, might give us some pause. To be clear, most of the polls had 'no' ahead in the closing days of the campaign. But they suggested a considerably closer election than actually happened. There's a parallel to the final days of the 2012 U.S. presidential election, when the polls showed Barack Obama ahead of Mitt Romney. Those polls 'called' most outcomes correctly but nevertheless had a significant bias, underrating how well Obama — and Democratic candidates for the Senate — might do." [538]
Justin Wolfers sees a "a loss for pollsters and a win for betting markets" - Wolfers: "I'm calling it a loss not only for the pro-independence movement — the 'No' campaign won 55.3 percent of the vote — but also for the pollsters. To be fair, I should start by acknowledging that most of the election-eve polls correctly predicted a majority No vote, but they all underestimated the margin, and many missed by quite a lot. The polls were volatile; they often gave conflicting signals; and it took them until the last few weeks to even start to suspect that this would be a close race. The major polls in the past week ranged from a 6-point lead for the Yes vote to a 7-point lead for the No vote....The prediction markets, on the other hand, yielded much more reliable forecasts. Despite the demise of Intrade, these markets remain extremely active, and over at Betfair, bettors rated the chances of a No vote at around 80 percent, an estimate that remained remarkably stable over the past week, fluctuating by only a few points. [NYTimes]
Reactions to the reaction:
-Nick Gourevitch (D): ".@JustinWolfers says Scotland a win for betting markets, loss for pollsters. Perhaps markets full of people who know how to interpret polls?" [@nickgourevitch]
-Alex Burns: "Stop this: 'I can't believe a poll from almost a month ago didn't capture everything the 'no' campaign did in the subsequent three weeks'...You spend that money because even if the top lines are a few points off, you want to know what's driving voters to go where they're going" [@aburnspolitico here and here]
And more:
-UK pollsters explain why the underestimated the 'no' vote. [538]
-Josh Tucker sees a win for poll aggregator Arkadiusz Wiśniowski. [WashPost]
-Anthony Wells recaps YouGov's polling. [YouGov]
ALMOST ONE IN FOUR AMERICANS OPEN TO SECESSION - Jim Gaines: "For the past few weeks, as Scotland debated the wisdom of independence, Reuters has been asking Americans how they would feel about declaring independence today, not from the United Kingdom, but from the mother country they left England to create. The exact wording of the question was, 'Do you support or oppose the idea of your state peacefully withdrawing from the United States of America and the federal government?'...Almost a quarter (23.9 percent) of those surveyed said they were strongly or provisionally inclined to leave the United States, and take their states with them...Secession got more support from Republicans than Democrats, more from right- than left-leaning independents, more from younger than older people, more from lower- than higher-income brackets, more from high school than college grads. But there was a surprising amount of support in every group and region, especially the Rocky Mountain states, the Southwest and the old Confederacy, but also in places like Illinois and Kansas. And of the people who said they identified with the Tea Party, supporters of secession were actually in the majority, with 53 percent." [Reuters]
MOST BACK AIRSTRIKES AGAINST ISIS...BUT DON'T THINK THEY'LL WORK - Emily Swanson: "Americans remain big supporters of airstrikes against the Islamic State militants, even though few think they'll do any good, a new HuffPost/YouGov poll shows. According to the poll, 66 percent of Americans now support the decision to conduct airstrikes against the Islamic State, while only 19 percent are opposed. Seventy percent of Democrats, 75 percent of Republicans and 59 percent of independents back an air campaign against the extremist group also known as ISIS. Support for military action is strong even though only 32 percent of Americans think taking such action against the Islamic State will improve the situation in Iraq and Syria. Twenty-five percent said military action won't make any difference, and 17 percent said it will make things worse. Twenty-six percent said they weren't sure. Republicans (44 percent) were notably more likely than Democrats (30 percent) or independents (28 percent) to think that military action will improve the situation in Iraq and Syria." [HuffPost]
Flashback to earlier this year - HuffPollster, writing in April about public opinion on the situation in Ukraine: "Recent polling (all conducted before Putin unexpectedly reached out to Obama last Friday to discuss possible diplomatic solutions) found that a broad majority of Americans support the imposition of economic sanctions against Russia, while few disapprove. But despite that support, few believe that sanctions will work. In four recent surveys, a third or fewer of Americans said they thought sanctions would be effective in changing Russia's actions." [HuffPollster]
RECAPPING THIS WEEKEND'S POLLS - Friday brought a rare post-Labor Day lull in polling, with relatively few surveys released.
A trio of Rasmussen polls show close races in competitive states. - Rasmussen found Bruce Braley (D) tied with Joni Ernst (R) at 43 percent in Iowa's Senate race, and Georgia Gov. Nathan Deal (R) effectively tied with challenger Jason Carter, 45 percent to 44 percent. In a Kansas poll taken before Democrat Chad Taylor successfully cleared his name from the ballot, Sen. Pat Roberts (R) took 39 percent to Orman's 38 percent, with Taylor taking 9 percent. When voters were told Taylor withdrew from the race, Orman took a 5-point lead over Roberts, 45 percent to 40 percent, with Taylor retaining 3 percent of support. [Kansas chart, Iowa chart, Georgia chart]
Massachusetts gubernatorial poll shows narrow edge for Dem - Jim O'Sullivan: "Democratic Attorney General Martha Coakley enters the general-election stage of the gubernatorial campaign with a slight lead over Republican Charlie Baker, who, as the lesser known of the two candidates, has more room to flesh out his public image in the eyes of the large swath of undecided voters, according to a Globe poll. In a five-way matchup that includes the three unenrolled candidates in the race, Coakley leads Baker, 39 percent to 36 percent, with 19 percent of likely voters undecided. One in four Democrats — who make up 35 percent of those polled — remain uncommitted to any candidate, a sign that Coakley hasn't yet fully persuaded her own party. Seventy percent of unenrolled voters, who account for the majority of the state's electorate, have not yet decided on a candidate. The survey suggests a race that could tilt in either direction based on the campaigns' maneuvers in the coming weeks. While 98 percent of voters recognize Coakley's name, only 84 percent know Baker, indicating that his image among the electorate remains somewhat elastic." Other polls of the race have been more bullish for Coakley, with the latest MassINC/WBUR, CBS/NYT/YouGov, and UMass Lowell/7 News polls giving her a lead of 8 to 9 points. [Boston Globe, Massachusetts chart]
MEMBERS OF BOTH PARTIES EQUALLY LIKELY TO SAY CONTROL OF CONGRESS MATTERS
- Lydia Saad: "Two months ahead of the midterm elections that may very well change the balance of power in Congress, four in 10 Americans say the specific party that controls Congress matters a great deal to them, while 29% say it matters a moderate amount and another 30% say it generally doesn't matter to them….While the views of Democrats (including independents who lean Democratic) on this question have been steady across the three midterms -- roughly 45% each year have said the party in control mattered a great deal to them -- Republicans' concern has varied. Currently, 43% of Republicans (including Republican leaners) say party control matters a great deal. It was a whopping 61% in 2010, but that was up from 42% in 2002. The 2002 and 2010 elections were favorable to Republicans, as the GOP retained majority control of the U.S. House of Representatives and regained control of the Senate in 2002, and recaptured control of the House in 2010 with an enormous seat gain. Thus,
while rank-and-file Republicans' concern about party control is not nearly as high today as it was in 2010, when Democrats controlled both houses, it is comparable to 2002
-- which could suggest that conditions are still favorable for the GOP. Missing from this midterm trend, however, is 2006, which was a strong Democratic year. Therefore, it is not entirely clear how levels of concern on this question relate to each party's performance." [
Gallup
]
HUFFPOLLSTER VIA EMAIL! - You can receive this daily update every weekday morning via email! Just click here, enter your email address, and and click "sign up." That's all there is to it (and you can unsubscribe anytime).
MONDAY'S 'OUTLIERS' - Links to the best of news at the intersection of polling, politics and political data:
-Gallup finds the percentage of conservative Democrats in Arkansas declining. [Gallup]
-Ben Casselman and Reuben Fischer-Baum find economic recovery in 2013 was weakest in areas hardest hit by the recession. [538]
-Hispanics are significantly more likely than Americans on the whole to say immigration is the most important problem in the U.S. [Gallup]
-Americans see Hillary Clinton as more hawkish than Rand Paul, but hawks still prefer Paul over Clinton. [YouGov]
-Nate Cohn argues Kansas and Alaska have become the wild cards in the race for control of the Senate. [NYT]
-Jonathan Bernstein recaps the strange Kansas Senate race. [Bloomberg]
-A Hickman (D) poll gives Sen. Mark Pryor (D) 46 percent to Tom Cotton's 43 percent. [Politico]
-Frank Newport reviews Americans' priorities for their elected representatives. [Gallup]
-Thirty-seven percent of Americans think the press should get government approval before reporting on national security matters. [WashPost]
-A POS (R) poll for a conservative interest group says that voter intensity is against Obamacare. [Weekly Standard]
-Bloomberg and the Des Moines Register will team up to poll in Iowa. [DMR]
BEFORE YOU GO
PHOTO GALLERY
Secession Attempts