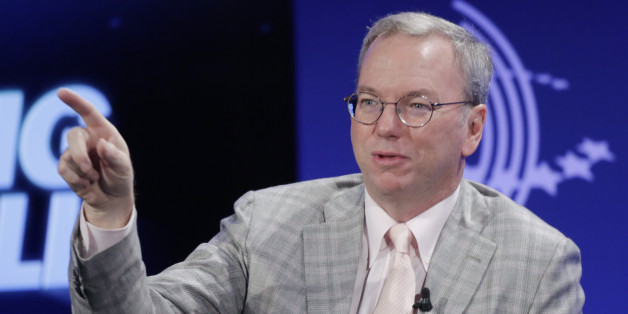 Google executive chairman Eric Schmidt said on Monday that his company's support for the American Legislative Exchange Council was a "mistake," adding that it should avoid aligning with groups that deny climate change.
"We funded [ALEC] as part of a political campaign for something unrelated [to climate change]," Schmidt said on NPR's "The Diane Rehm Show." "I think the consensus within the company was that that was some sort of mistake and so we're trying to not do that in the future."
"The company has a very strong view that we should make decisions in politics based on facts -- what a shock. And the facts of climate change are not in question anymore," Schmidt continued. "Everyone understands climate change is occurring and the people who oppose it are really hurting our children and our grandchildren and making the world a much worse place. And so we should not be aligned with such people -- they're just, they're just literally lying."
Activists have criticized Google's support for ALEC since last year, when it was revealed that the company had paid membership dues to be a part of the organization's communications and technology task force. Other tech companies including Facebook, Yelp and AOL were also ALEC members in 2013.
Brant Olson, campaign director for the grassroots organization Forecast the Facts, praised Schmidt's comments in a statement. Forecast the Facts and other environmental groups launched a "Don't Fund Evil" campaign last year urging Google to stop funding ALEC.
"We hope Google will also take this opportunity review its over $699,000 in contributions since 2008 to another group that is 'just literally lying'–climate change deniers in Congress," Olson said.
ALEC is an organization made up of conservative state legislators and private sector interests that drafts model legislation for various states. In addition to promoting fossil fuel interests and climate change skepticism, the group has also attracted attention for drafting bills that weaken labor unions and gun restrictions and impose voter identification rules.
Schmidt said that Google is "trying" to avoid funding ALEC in the future, but he did not confirm whether the company is severing all ties with the group. A Google spokeswoman declined to provide additional comment Monday afternoon.
Google states on its website that it is committed to eventually operating on 100 percent renewable energy and that it has made agreements to fund more than $1.5 billion in renewable energy projects.
"We're helping create a clean energy future that's better for our business and the environment," the company says.
UPDATE 9/24: Following Schmidt's comments, Facebook announced that it too would distance itself from ALEC, reported the San Francisco Chronicle.
"While we have tried to work within ALEC to bring that organization closer to our view on some key issues, it seems unlikely that we will make sufficient progress so we are not likely to renew our membership in 2015," Facebook said in a statement to the Guardian.
A Yelp spokesman also confirmed to the Guardian that it was no longer an ALEC member.
BEFORE YOU GO
PHOTO GALLERY
Connect The Dots On Climate Change