Olivia Zieglar was understandably confused when a package arrived last week at her doorstep, full of VHS tapes from her mother. At first, she thought her 76-year-old mom was having a "senior moment."
Then she opened the package, revealing an unfathomably long journey in the U.S. mail system: 15 years to be exact. What Zieglar found inside, though, turned out to be a great surprise: two VHS tapes commemorating her mother's 51 years in music ministry, along with a newspaper article about the event.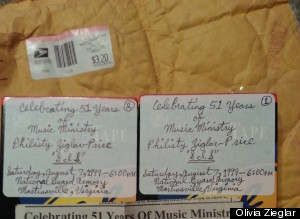 "It was the last time my family was able to celebrate my mother together. We sing. We've been singing together all our lives. So it was also the last time my family was able to sing together."
In the three years after Zieglar's mother sent the package in September 1999, each September brought a hardship. 2000 saw her father pass away, while the 9/11 attacks happened the next year. Zieglar's brother passed away in September 2002. The tape served as a reminder for Zieglar of her close-knit family, and of the heartbreak and love they shared together.
"I watched it with mixed emotions. I cried a little. I laughed a lot. To know my family, we are crazy. We loved to laugh and have a good time. We were full of laughter and joy."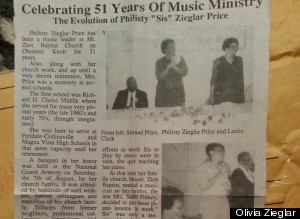 Zieglar was especially close to her brother. She said that in the years that have passed since his death, she realized — before receiving the long-lost tapes — that she had forgotten what her brother's voice sounded like. Thanks to the late-arriving package, she can hear her brother sing and laugh whenever she pleases.
"It was really odd to see these tapes come when they did. And to see him laughing and joking and then to hear him, on tape, and see him singing with us, it was overwhelming."
For Zieglar's mother, she's just relieved the package finally arrived.
"She's relieved she's not going crazy," Zieglar said with a laugh.
Watch the rest of the clip above, and catch the full HuffPost Live conversation here.

Sign up here for Live Today, HuffPost Live's new morning email that will let you know the newsmakers, celebrities and politicians joining us that day and give you the best clips from the day before!
BEFORE YOU GO
PHOTO GALLERY
HuffPost Live's Celebrity Guests