We're all trying to save a buck. But giving up things like, say, shopping, can be challenging, even for the thriftiest among us. The good news is that there are ways to get creative on a shoestring. You can decorate your home, or yourself, in an array of fashions, totally affordably--and creatively.
We partnered with Suave to get inspiration on how where to find the best #upcycling products from Pinterest. Here's to getting creative—and saving money!
Lainer knows a thing or two about garnering a following; she's got almost 79,000. She calls herself a "Craft addicted, gum chewing, running obsessed, dumpster diving, repurpose upcycle type." Check her out to get great ideas for DIY jewelry, clothing, furniture and more (wine bottle candles=who knew?). She blogs about crafts at Saved by Love Creations.
It's no wonder Johnston has 14,042 admirers. Her board is precisely curated and laden with info on food, books, crafts, and fashion ideas. Particularly cool is her "I Could Make That" board, with everything from pebble hangers to lightbulb balloon ornaments. For real.
3. Hipcycle

Hipcycle is a Jersey City based design community dedicated to all things repurposed. Here you can find like-minded upcyclers thrilled to connect with you. If you'd rather buy their funky wares than make 'em yourself, just go to their web site at hipcycle.com.
4. Upcycle That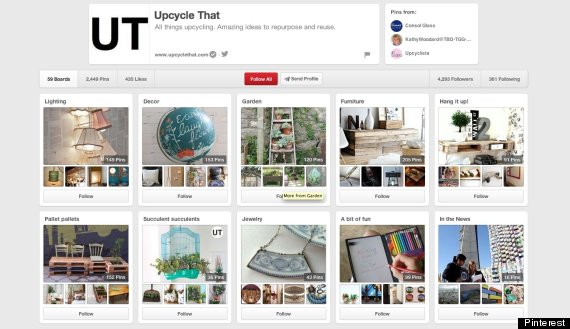 This brand claims to have "amazing ideas to repurpose and reuse." Happily, it doesn't disappoint. With boards about gardening, lighting, jewelry, gardening (love the cello flower pot! http://www.pinterest.com/upcyclethat/in-your-next-musical-life/), and gifts for guys (http://www.pinterest.com/pin/205899014188730744/), it offers truly original ideas.
5. Katie Nathey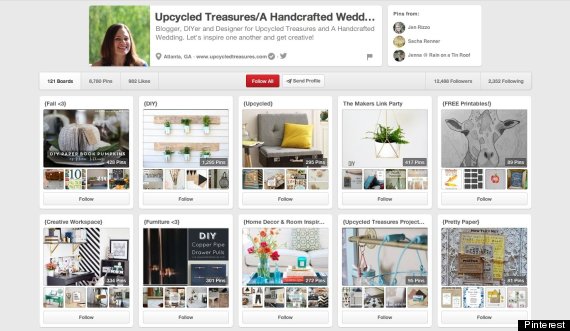 This Atlanta blogger at UpcycledTreasures.com, designer, and die-hearted DIYer will inspire you to "reimagine the old to create something new." That means amazing wall hangings, decorative wedding items and creative uses for the Mason jar. Don't miss it.