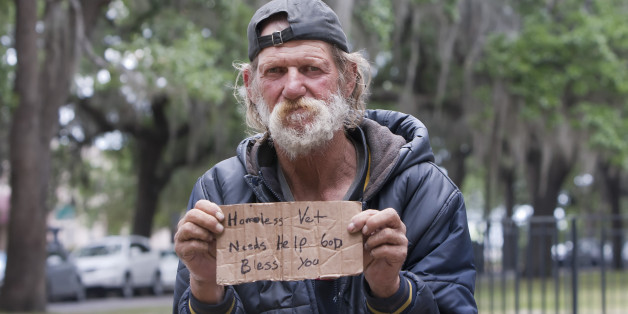 Casey Cooper believes he should be able to lay his head to rest in public. But the City of Fort Lauderdale, Florida, thinks otherwise.
Cooper is one of the city's homeless that will be affected by a local ban on sleeping outside -- an ordinance passed last week that prohibits "camping" within the downtown limits. An individual who violates the ordinance faces a $500 fine and 60 days in jail, the Sun Sentinel reported.
"I have to worry about where I'm going to sleep at, where's the next meal at, how am I going to get the next piece of clothing, worry if the cops are going to mess with me, and you're going to try to pass a law that's ... going to ban homelessness?" Cooper asked city commissioners during a public meeting to discuss the measure, according to Think Progress. "Sleep is a human right."
A separate ordinance, also passed last week, bans panhandling at intersections of public streets. The law also bars those trying to raise funds for charitable causes. Those who violate the ordinance face a potential $500 fine and 60 days in jail as well.
Fort Lauderdale hasn't been the most accommodating to its homeless population. In 2011, USA Today reported on the city's controversial move to purchase one-way bus tickets for homeless people -- a step that other Sunshine State cities have also implemented that, according to some, only panders to voters without addressing the real issue of homelessness.
"It looks like the city is choking out every avenue for the homeless to survive in the city," Haylee Becker of homeless advocacy group Food Not Bombs told the Sun Sentinel of the most recent Fort Lauderdale laws. "I think that they're all terrible ordinances, but coupled together, it's a death sentence."
Florida has been "in the midst of a crisis" in regards to combating homelessness, according to the Florida Coalition for the Homeless, which points to inadequate services and the inability to access affordable housing as major hurdles perpetuating the issue. Deemed the most dangerous state for homeless people last year, Florida had 8 percent of the total U.S. homeless population, or 47,862 people, according to a survey conducted in January of 2013 by the U.S. Department of Housing and Urban Development.
BEFORE YOU GO
PHOTO GALLERY
Most Dangerous Cities In Florida, According To Neighborhood Scout