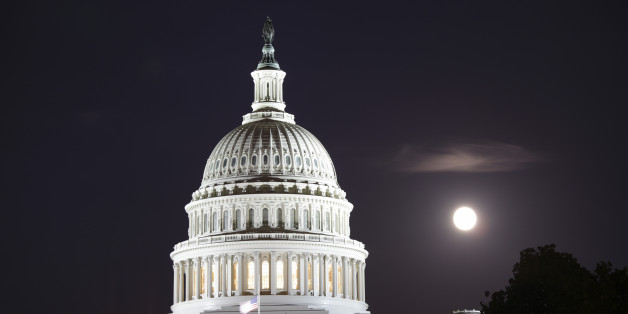 New U.S. Senate polls released over the past week bump up the chances of a Republican majority. State surveys look better for the Democrats than the generic House vote. And Kansas and Alaska could use more polling. This is HuffPollster for Tuesday, September 23, 2014.
SLIGHT REPUBLICAN EDGE IN BATTLE FOR SENATE - While the HuffPost Pollster tracking model had shown the probability of Republicans winning a U.S. Senate majority hovering at or near 50 percent since launching in early September, new polls released over the past week have given Republicans a modest boost. In particular, recent polling increased GOP leads in Kentucky and Louisiana, while reducing already-narrow Democratic advantages in Colorado and Michigan. As of this writing, the current polling snapshot puts the probability of a Republican majority at 58 percent, still barely better than a coin toss. [HuffPost Senate Forecast]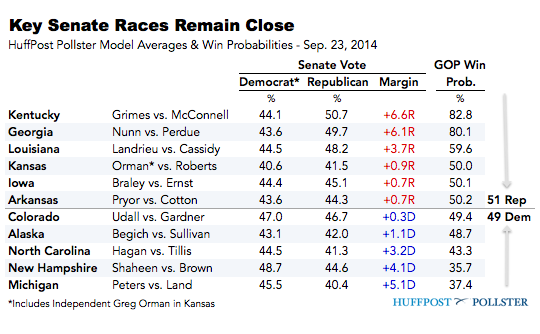 To hold their Senate majority, Democrats will need to prevail in at least three of five contests that appear excruciatingly close: Alaska, Arkansas, Colorado, Iowa and Kansas. In Alaska, the uncertainty owes in part to a relative scarcity of reliable polling. In Kansas, it is also compounded by an unprecedented circumstance: a Democratic candidate withdrawing from the race and the subsequent Kansas Supreme Court ruling that his name must be removed from the ballot.
The uncertainty in Kansas -- where our poll tracking model currently rates the contest a 50/50 toss-up - illustrates how easily a shift there could alter the national assessment. Two surveys taken before the Court ruling suggested that independent Greg Orman could gain a few percentage points with no Democratic candidate on the ballot. However, if Republican Sen. Pat Roberts were to regain a clear lead, it would make the Democrats path to retaining Senate control far more daunting.
Kansas & Alaska lead 538's 'poll impact index' - Harry Enten and Walt Hickey: "We're still more than a month out from Election Day, and there are several races where a new poll could effect a big swing. Two characteristics make a race more sensitive to new data: competitiveness and a lack [of] polling. Usually there's little overlap in these two categories; pollsters tend to survey competitive races. But polling has been spotty this year. So we put together a 'Poll Impact Index' — dividing competitiveness (the percentage chance the non-leading candidate(s) has of winning) by the amount of polling we have (the cumulative weight of the polls our model is using)....Not surprisingly, the state most sensitive to new polling is Kansas….The matchup between Republican Pat Roberts and independent Greg Orman is also one of the closest in the country. A couple of new polls in Kansas could go a long way in changing the outlook. The same is true for Alaska, where there hasn't been a single non-partisan poll conducted by a live interviewer this entire campaign. Indeed, there have been only two non-partisan polls of any type conducted since last month's primary." [538]
The Latest Polls:
Michigan Senate - Democrat Gary Peters (D) extends the streak of polls showing him ahead to 8, with three new surveys giving him a lead over Republican Terri Lynn Land (R). We Ask America gave Peters a 3-point lead, while a Magellan Research (R) poll gave him a 5 point lead, and a PPP (D) poll for the League of Conservation Voters gave him a 7-point lead. Both PPP and Magellan have surveyed the race before for different clients, with very similar results: PPP has given Peters a 5-7 point lead in the race over three polls this year, while Magellan has shown a a 5-9 point advantage. Pollster's model gives Peters a 5-point lead and about a 63 percent chance of winning. [Michigan chart, PPP, We Ask America, Magellan]
Kentucky Senate - The first state-level Ipsos/Reuters poll of the cycle gives Senate Minority Leader Mitch McConnell (R) a 4-point lead over Alison Lundergan Grimes. Not much beyond Grimes' internal polling is showing her ahead these days, but a few recent polls from NBC/Marist, Gravis and Magellan (R) had her trailing McConnell by a wider 8-10 point margin. The Ipsos/Reuters result tracks more closely with the polling conducted in August and early September, which gave him a nearly uniform 4-5 point advantage. The HuffPost model now gives McConnell an edge of more than 6 points and an 83 percent chance of victory -- a significantly bump up from 67 percent a week ago. [Kentucky chart, Ipsos]
North Carolina Senate - A High Point University poll gives Sen. Kay Hagan (D) a 2-point edge over Thom Tillis (R), marking the eighth straight poll to show her at least nominally ahead. Our model gives her a slim 3-point advantage, with about a 57 percent chance (just better than a coin flip) of winning. [North Carolina chart, HPU]
New Hampshire Senate - Another PPP (D) poll for the League of Conservation Voters gave Sen. Jeanne Shaheen (D) a 6-point lead over Republican Scott Brown. Recent polling is split on the race, with nonpartisan surveys in September finding anything from a tie (CNN) to an 11-point Shaheen lead (New England College). The Pollster model gives her a 4-point edge, and a 64 percent chance of victory. [New Hampshire chart, PPP]
Massachusetts governor - A Rasmussen poll found Martha Coakley (D) and Charlie Baker (R) tied at 42 percent, among the two worst findings for Coakley to date in this very well-polled race. Better numbers for the Democrat from MassINC and YouGov mean that our model still gives her a more than 75 percent chance of winning, [Massachusetts chart, Rasmussen]
-Illinois governor - We Ask America had Bruce Rauner (R) up 3 points over Pat Quinn (D). While two recent polls, one from the Chicago Tribune, and the other an internal survey for the DGA, showed Quinn ahead, the vast majority of polling this year gives Rauner the lead. The Pollster model gives Rauner an edge of less than 3 points, and a just better than 50 percent chance of winning. [Illinois chart,We Ask America]
-Michigan governor - PPP (D) and We Ask America's Michigan polls also surveyed the state's gubernatorial race, with the former giving Gov. Rick Snyder (R) a 2-point edge over Mark Schauer (D), and the latter finding it tied. Our model gives Snyder about a 2-point edge, and a 56 percent chance of victory. [Michigan chart, PPP, We Ask America]
-Kansas governor - Rasmussen is the fourth pollster in a row to find Paul Davis (D) leading Gov. Sam Brownback (R), and the third to show him up by exactly 4 points. The Pollster model puts Davis up about 3 points, with a 58 percent chance of winning. [Kansas chart, Rasmussen]
THE 'GENERIC HOUSE' QUESTION STILL DOESN'T LOOK LIKE THE SENATE MAP - Nate Cohn: "Republicans have taken a clear lead over the last month on the question of whether likely voters favor a Republican-controlled Congress or one dominated by Democrats. Some polls using this generic question show the Republicans ahead by as many as 7 points among likely voters, a tally rivaling the polls immediately before the Republican landslide in 2010. Yet Republicans have made few, if any, polling gains in their fight for control of the Senate. Their position might have even deteriorated….The term 'wave election' is not formally defined, but the current Senate polling picture bears little or no resemblance to the outcomes of the 2006 or 2010 midterm elections. How are the Democrats holding up so well, even while the polls show Republicans faring well nationally? Here are four possibilities — in no particular order: There isn't a wave, just a turnout gap...The generic congressional ballot doesn't apply to the Senate….Democratic campaigns are overcoming the national environment….There is a wave — it just hasn't hit the shore." [NYT]
CONCERNS GROW OVER GLOBAL WARMING - Marjorie Connelly: "While few Americans regard the environment as the nation's foremost challenge, most say it should be a priority, according to the latest New York Times/CBS News poll. And more than half say global warming is caused by human behavior, the highest level ever recorded by the national poll….Even at the risk of limiting economic growth, 58 percent said protecting the environment should be a priority….Partisan and generational divides were reflected throughout the survey. About half of Republicans considered the economy more important than the environment, while nearly two-thirds of Democrats said the environment should take priority….More than seven in 10 of those 65 and older expected to see no impact from global warming in their lifetimes, but many younger people did, including 50 percent of those under 30." [NYT]
HUFFPOLLSTER VIA EMAIL! - You can receive this daily update every weekday morning via email! Just click here, enter your email address, and and click "sign up." That's all there is to it (and you can unsubscribe anytime).
TUESDAY'S 'OUTLIERS' - Links to the best of news at the intersection of polling, politics and political data:
-John Sides summarizes four truths of 2014 election forecasting. [WashPost]
-Seth Masket explains why we shouldn't freak out about outlier polls but probably will anyway. [Pacific Standard]
-Americans continue to trust local government more than state government. [Gallup]
-Only 46 percent of Democrats think it would help candidates in their state if Obama came for a visit. [Rasmussen]
-Half of Americans oppose D.C. statehood. [YouGov]
-FactTank offers 5 takeaways about religion and politics before the midterms. [Pew]
-Aaron Blake finds Democrats more willing than Republicans to give their own side high marks on the issues. [WashPost]
-Lori Weigel (R) says voters are ready to jilt Congress. [POS]
-Harry Enten looks at the racial gap on global warming. [538]
-The Census is still trying to figure out how to count gay marriages. [Pew]
-The White House is pushing colleges to implement surveys about campus sexual assault. [HuffPost]
-The American National Election Studies (ANES) receives $10.2 million to conduct voter surveys in 2016. [Stanford]
BEFORE YOU GO
PHOTO GALLERY
The Bush Family Tree