When Dax Shepard wears striped Dickies overalls and a cutoff "Wizard of Oz" T-shirt to lunch with you in a hip neighborhood of Los Angeles on a Monday afternoon, you know it's going to be a good day. Embarrassed that he wore those same overalls at the lunch spot just last week, Shepard says under his breath, "I think they're onto me."
But Shepard and his wife, Kristen Bell, aren't just meeting up to chow down. (For sartorial completists, the noticeably pregnant Bell has her hair pulled back in a classic ballet bun, wears neon Nike running shoes and not a drop of makeup for our date). The two are promoting a Samsung commercial that feels so authentic to what we imagine (slash hope) their daily lives are like (it comes as no surprise they came up with much of the concept together).
But before we even get to Samsung, and before the food has arrived, we are on the topic of spray tans and being naked in front of a complete stranger -- and this is Shepard unloading, to clarify -- not Bell.
He plays the ultimate jerk in this month's "This Is Where I Leave You" and succeeds in making Jason Bateman's life completely miserable. He does all this with such a severe tan that I have to ask him how many sprays he endured for the filming of the role.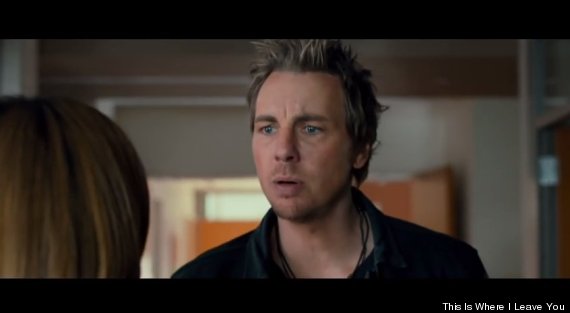 "I only got one, but the one I got was atomic level," Shepard admits with a huge grin. "It was the type where you go to a Beverly Hills salon and you're stark naked in front of a young female. It was the most borderline cheating thing I've ever done."
Bell turns to him. "He came home really guilty and I was like, 'What did you do?' And all he said was, 'Spray tan.'"
Shepard, laughing as bowls of organic soup and salad arrive, clarifies: "The part where they're blowing soft air around your testicles and penis is stimulating, but there was a very specific moment that felt borderline to me and that's when she goes, 'This looks great,' and then we stand in front of a full length full mirror and I'm just standing naked next to a female and at that moment I thought -- 'This is real grey.'"
Shepard never meant to be in the film, in fact. Already juggling the final season of "Parenthood" and filming "The Judge," which stars Robert Downey Jr. and Robert Duvall, he went along to a table-read for "This Is Where I Leave You" as a quick favor to filmmaker Shawn Levy. Two days later, he got a call while on vacation with Bell and had been offered the role.
"Rave reviews. 'Everyone wants you in the part,' they said. Textbook Shepard," Bell chimes in. She ordered the black bean soup, but when a cup of broccoli appears next to her kale chopped salad instead, she says, "I don't mind. I'll take the broccoli! Watch this. Took it!" and slides it closer to her plate.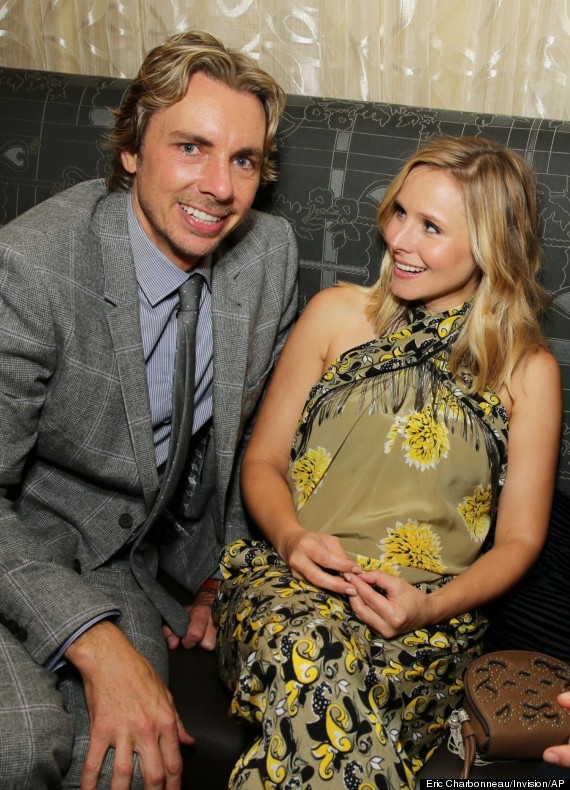 It would seem cliché to say that these two finish each other's sentences, but they kind of do. At one point she rests her head on Shepard's exposed shoulder (remember, he's in overalls), her blue eyes shining brightly pressed next to the red of his cherry blossom tattoo.
His arm rests around her chair often and when we talk about the success of their No Kids Policy -- a movement they started earlier this year to shed light on the violent and troubling behavior of paparazzi around celebrity children -- they both grow passionate and choose their words with care.
"We feel strongly about the fact that we are allowed to share details about our experiences, but opening the kimono on her life is something we always want to make sure we are conscious of," Bell says, referring to their 18-month-old daughter, Lincoln.
Shepard adds, "We don't try to deny we are parents, but we don't want to get into details about our daughter. With the full understanding that we are going to have to eat a ton of crow when she's eight and decides to be a child actress. So you know," he says with a laugh. "But until she expresses that…"
The cause has garnered support from high-profile celebrities like Halle Berry, Adele, Jennifer Garner and Minnie Driver. People Magazine, Entertainment Weekly, The Huffington Post, BuzzFeed, "Entertainment Tonight," "The Insider" and others have all pledged their solidarity.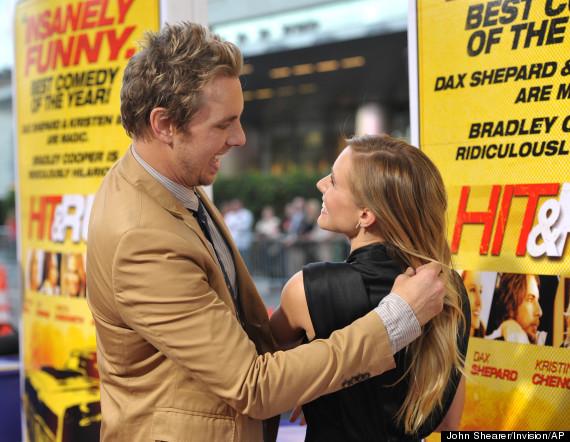 Both Bell and Shepard use the word "shocking" to describe the kind of success they have seen so far. "We had very low expectations. When I say low, I mean we thought we could maybe get The Wall Street Journal," Shepard admits.
"In truth, we were doing it for our own sanity and desire to sleep at night knowing we were trying for our daughter," adds Bell.
"What we discovered is that there was a real lack of awareness about how those images of children were generated. I don't think your average reader who loves kids had any idea that it entailed five guys following them into a playground and pushing and scaring kids," Shepard says.
Once people started to digest that information, they started to share it. The movement has picked up a steady force of momentum, but part of that success, Shepard points out, is because of how hard Bell has fought. "It's primarily because of Kristen's willingness to go meet with all these publications and be her wonderful, beautiful self. She moved the needle."
Bell did in fact call up news outlets to talk face-to-face with executives about why this issue is so important. "I wanted to make it a human issue. It's not a celebrity issue; it's a parenting issue," she states.
"There are times to roll over and times where you cannot. You cannot justify me one time that it is acceptable to roll over for something on behalf of your child," Bell says with resolution. "You fight for them, always -- for the healthiest, safest situation for them at all times, every minute you're alive."
Today, they already see a difference. Shepard says they don't get hounded nearly as often as they used to and if they do, they know that they're at least fighting to protect their child. It has become a national topic of conversation.
"We have no misconception that this is the biggest problem out there," Bell points out. Shepard cuts in: "In the laundry list of plights in America, it's near the bottom. But for us it's near the top. This isn't dueling with ISIS."
Their general lightness and humor together come through not only over lunch, but really in everything that they do. After turning down many offers from brands who wanted to work with them as a couple, Samsung got their attention by letting them be their truest selves on camera.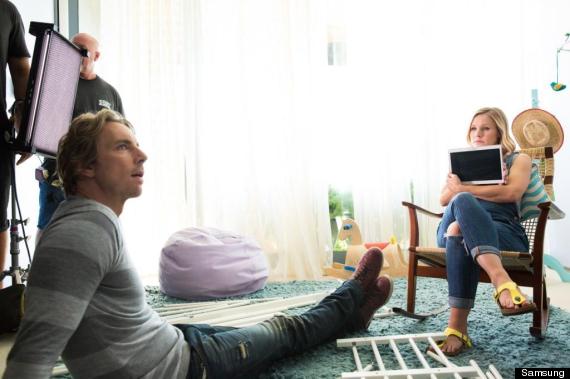 In the ad for the Samsung Galaxy Tab S, the two play around with their devices all day -- using video chat from different rooms in the house, playing games and even staying home from a black tie event to watch "The Princess Bride."
"The thing that felt very organic is how regularly we choose to do pretty mundane, home-sy things over what are seemingly exciting, high-profile things," Shepard explains.
"That's very authentic. The desire to stay home from an event is very common for us," Bell adds, laughing.
Shepard sips his drink. "I don't know how we would have done a Taco Bell commercial and been true to who we are."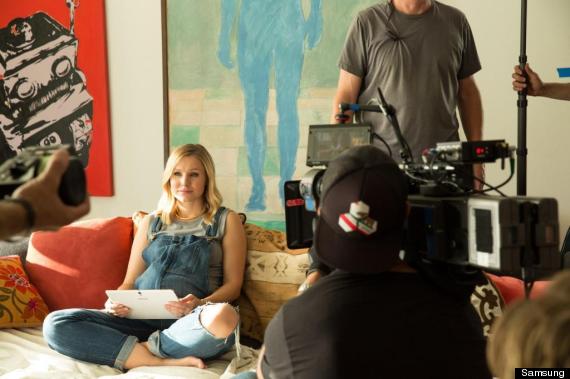 Shepard helped write much of the ad and even shot some of the footage on his own tablet, running around LA. "When Dax gets his hands on something, the impressive part from my perspective is how much he owns it and how well he interprets things," Bell states.
"She has Stockholm syndrome, as you can see. I've convinced her I have above average intelligence," Shepard jokes.
The part of the ad where he runs out to get a pregnant Bell food (perogies, kale salad, frozen yogurt) and shows her the dessert on his tablet is actually something they do, the couple admits. The honesty of the ad seems to be working for them -- as of Sept. 23, the video has over 10 million hits online.
"As egomaniacal as we are, we had no idea that people would watch it that much on YouTube," Shepard concedes. "If every one of those views was someone who bought a $10 ticket to a movie, it would be a hundred million dollar movie in four days. Neither of us has ever been in a hundred million dollar movie -- well, other than 'Frozen.'"
Bell glides in. "It's the most successful thing we've ever been a part of." They both laugh as Shepard corrects her. "No. Your sloth video is number one."
BEFORE YOU GO
PHOTO GALLERY
Celebrity News & Photos